Good, if you're reading this, then it means the words "pumpkin spice" in the title didn't scare you off. I know, I know, trust me. The world, or at least the U.S., has gone over board with pumpkin spice. This time of year, it's exceedingly difficult to avoid the seasoning, scent, mention of it. But, I was an early adopter, as in I wish we could bake with this trifecta of spices year round. So, I'm not offering any apologies for this Pumpkin Spice Chex Mix recipe.
I will confess, though, that before making this, I never tasted chex mix. I can hear the collective gasps. Chex mix is some rite of passage, I think. Also, when I write Chex mix, should I be adding that little registered trademark symbol? Probably, I imagine, but oh well. I'll come back in and correct it if the Chex police come knocking.
Anywho, I love the combination of cinnamon, nutmeg, ginger, allspice, and cloves. That, my friends is what you'll find in those little jars of pumpkin pie spice. So, stop buying that, and start mixing your own blend to bake with. I ditched the nutmeg and allspice here, though. Is it okay to still call it Pumpkin Spice Chex Mix?
Why would anyone do this to a beloved classic recipe? Does pumpkin spice have a place in chex mix?
Well, it was quite easy for me since I've never tasted the original. In fact, this recipe teeters between sweet and savory, thanks to the addition of flaky sea salt. What I really wanted was to make something reminiscent of granola, but nothing cloyingly sweet. It's a great little snack you can pop in your purse, or add to the kids' lunchboxes.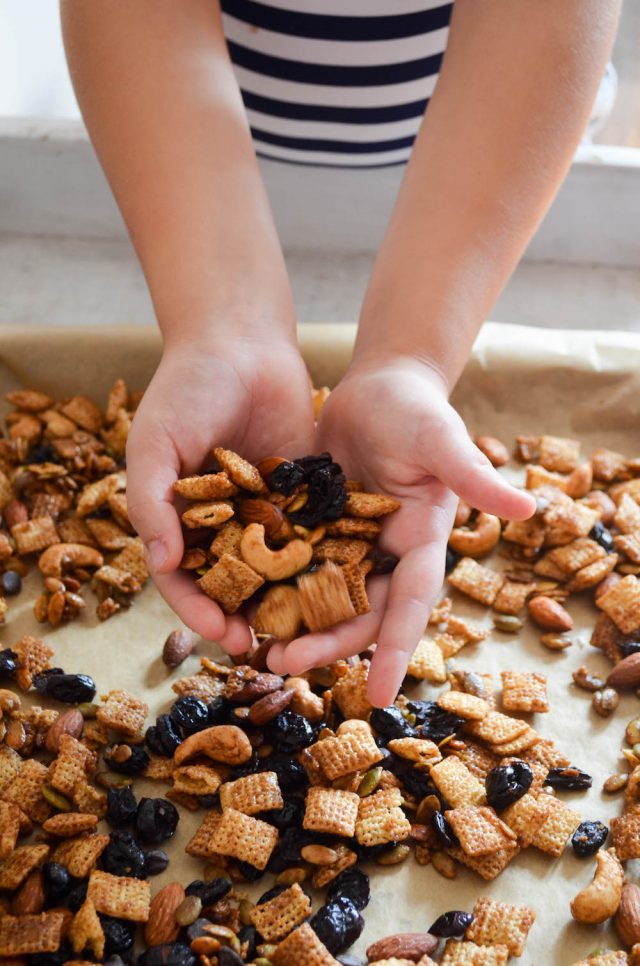 Should you have more of a sweet tooth, you might want to double the maple syrup. As far as the ingredients go, the only thing I'd say is absolutely required here is the rice chex. Go with all almonds, and nix the cashews, or swap in another nut you like better. Just don't leave them out, otherwise it'll throw off the liquid to dry ingredients ratio.
I opted for olive oil instead of melted butter to keep this Pumpkin Spice Chex Mix vegan. Feel free to use butter, if you prefer. Using maple syrup also means it's free of refined sugars, another snack win in my book. Hope you all enjoy!
From the Archives
Seven Years Ago: Sweet Potato, Ricotta & Leek Souffle
Six Years Ago: Pear & Ricotta Crepes
Five Years Ago: Vegetarian French Onion Soup
Four Years Ago: Brown Butter Pumpkin Seed Cookies
Three Years Ago: Pumpkin Scones
Two Years Ago: Sweet & Savory Candied Walnuts
One Year Ago: Grain-Free Chocolate Chip Cookies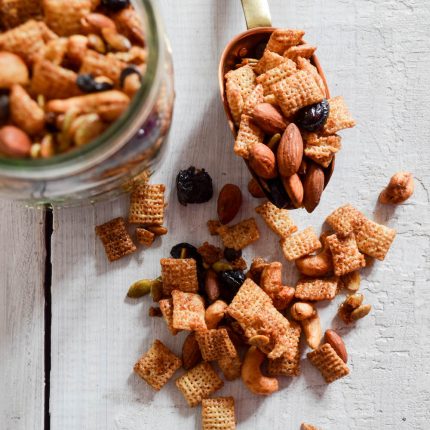 Pumpkin Spice Chex Mix
Ingredients
4

cups

rice Chex

108 grams

1/2

cup

62 grams pumpkin seeds (raw & untoasted)

1/2

cup

68 grams raw, untoasted cashews

1/2

cup

69 grams raw, untoasted almonds

3

tablespoons

olive oil

30 grams

¼

cup

46 grams pure maple syrup

3/4

teaspoon

4 grams sea salt

2

teaspoon

4 grams cinnamon

1/8

teaspoon

cloves

1/2

teaspoon

1 gram ginger

2

handfuls dried cranberries

1

handful dark chocolate chips

I like this vegan brand)
Instructions
Preheat the oven to 300ºF (150ºC).

Add the chex, pumpkin seeds, cashews, and almonds to a deep bowl.

Add the oil, maple syrup, sea salt, cinnamon, cloves, and ginger to a separate small bowl. Whisk until well blended. Pour over the chex mixture. Using a rubber spatula, stir until everything is well coated. Spread the mixture in a single layer on to a rimmed 11-inch by 17-inch (28-cm x 43-cm) baking sheet.

Bake 35 minutes, stirring halfway through, until the mixture is golden and fragrant. Remove the tray from the oven, and stir in the cranberries while it's still warm. Set the tray on a wire rack to let mix cool completely. Once cooled, stir in the chocolate chips. Store in an airtight container, in a cool, dry place, for up to 1 month.