DIY Homemade Vanilla Extract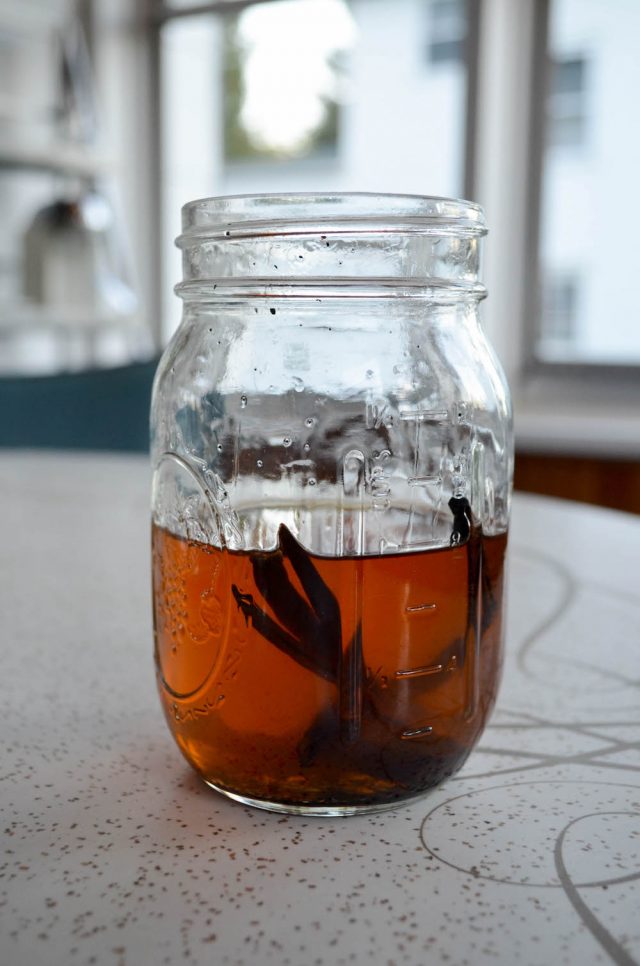 Here we go again. Much as I love short work weeks, there's something about holiday Mondays that makes the rest of the week feel like it's dragging its feet. Am I right? For that reason, I decided a no-bake, no-brainer recipe would be most fitting today. Hello, DIY Homemade Vanilla Extract!
I know, you're thinking "that's a no-brainer" recipe? At least, I know Mikey is somewhere. Actually, if he were here, he'd probably say why can't you just buy vanilla extract like everyone else. This from the man who incessantly teased me by asking when I was going to learn to make my own water. I bet if Bill Nye and I were friends, he could help with that recipe.
So, why make your own vanilla extract? Um, because it's really easy, and you'll never have to worry about running out to the grocery store, or ordering it online again. Seriously, all you need are three ingredients—vanilla beans, vodka, and a glass jar.  The glass is non-negotiable, as the alcohol will leach volatile compounds from plastic, and who wants that stuff infused in their vanilla extract?
Once you have vanilla beans, vodka, and a glass jar, you're all ready to get your Homemade Vanilla Extract started.
Patience is most definitely a virtue here. There is no instant gratification in Homemade Vanilla Extract (but that's not a reason to shy away from trying it out). In fact, that's why I'm sharing this recipe with you now because it takes 2 months for the vanilla to properly infuse into the vodka. So, get it started now, and you'll be ready to use it just in time for December's marathon baking sessions, or simply gift it to friends and family. It makes a lovely hostess gift, too (at least if I were the hostess).
From the archives
Seven Years Ago: Brown Butter Brussels Sprouts & Butternut Squash
Six Years Ago: Homemade Creamed Corn
Five Years Ago: The Most Amazing Vegetarian French Onion Soup
Four Years Ago: Brown Butter Pumpkin Seed Cookies
Three Years Ago: Carrot Persimmon Cake
Two Years Ago: Ricotta & Mascarpone Cannoli
One Year Ago: Pumpkin Buttercream Frosting
DIY Homemade Vanilla Extract
Make sure to choose a jar that is close to the exact amount of vodka you're using. This way the vanilla beans will stay submerged under the liquid, avoiding any fungus or mold from forming. Also, a glass jar is the only kind I recommend for this. Plastic is not suitable, as the alcohol will leach the volatile materials from the plastic into your extract. If you can find brown tinted bottles (I buy them whenever I see them at vintage shops and flea markets), that is best for transferring it into smaller quantities and gift giving, as sunlight affects the quality of your vanilla extract.
Ingredients
3

vanilla beans

1

cup

vodka

Glass jar with tight-fitting lid

or cork
Instructions
Cut the vanilla beans lengthwise, leaving them slightly attached at the tip. Push them down into the jar. Pour in the vodka. Screw the cap on tightly, and give it a good shake to release the pods from the beans (you'll see little brown specks in the jar.

Store the jar in a cool, dark place (I keep mine in the family room closet). Give it a shake daily for the first week, then once a week thereafter. You'll notice the extract get deeper in color (the one pictured in the post was only a few days old. The extract will be ready to use in two months, but will store indefinitely.