DIY Homemade Anise Extract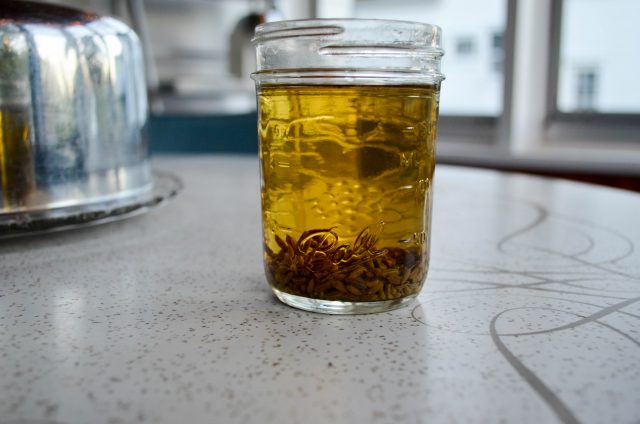 Unlike homemade vanilla extract, making homemade anise extract is something that never crossed my mind. I use it once a year to make pizzelles, and while I'm absolutely smitten with pizzelles, I never use anise extract beyond the month of December.
Well, I think that's all about to change. The fennel went insane in my garden this summer. No joke. While the base didn't develop into those gorgeous, pear-shaped bulbs you see at farmstands and grocery stores, the stalks went wild. I'm talking 5 foot stalks. OF FENNEL. Who knew it could grow like that? Certainly, not me.
The stalks were totally edible, but the real treat was collecting all the seeds as summer slipped into fall. I've been drying them out in the back porch, and it smells divine if you love that black licorice laced scent. My mind wandered to thoughts of pizzelles when I saw the windfall of seeds I'd be saving.
Could I possibly make my own homemade fennel extract?
I mean, that's the principle behind vanilla extract—soak some beans in vodka, and voila! In just a couple of months you have DIY vanilla extract. A little research proved that I could indeed make my own homemade anise extract.
I was hesitant to post this recipe. I'm not sure how many of you use anise extract, or for that matter have fennel seeds in your garden. The latter shouldn't stop you, since you can buy fennel seeds at the store. Set it up now, and by mid-December, you'll be ready for holiday baking. As for me, I intended to up my game when it comes to recipes using anise extract, so expect to see more than just pizzelles flowing from my kitchen in the coming months.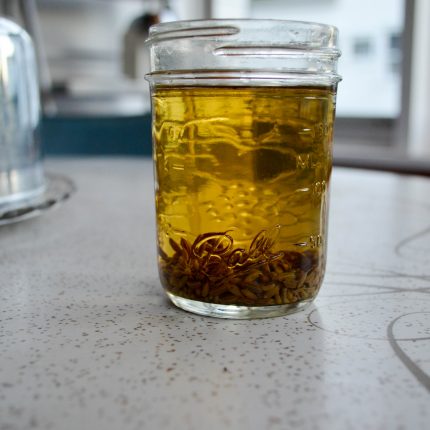 DIY Homemade Anise Extract
Ingredients
2

teaspoons

4 grams dried fennel seeds

8

ounces

237 ml vodka

Glass jar with a tight fitting lid.
Instructions
Add the fennel seeds and vodka to the jar. Cover tightly with a lid. Give it a good shake a few times a day for the first few days. Then let it sit in a cool, dry spot for 2 to 3 months, shaking once a week, or so.