Apple & Fennel Scones, a small batch recipe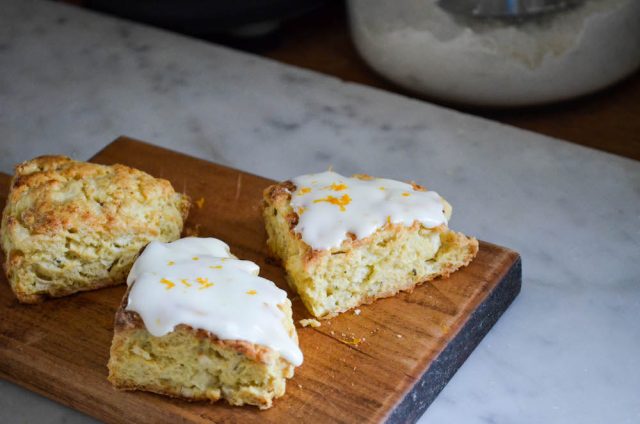 Do I lead with how amazing these Apple & Fennel Scones taste, or on the defense, explaining why it's a wonderful flavor pairing? I realize it's not a very typical combination, teetering between savory and sweet, but the result is a surprisingly delicious one. One might think I was plotting and planning in making this, but it was a rather spontaneous recipe.
Embracing my toaster oven beyond a tool for reheating food has inspired me to up my small batch baking game. Turning on the oven to make four scones seems silly, at least to me. The toaster oven is a game changer, and makes perfect sense. Small batch baking also allows me to explore and play with flavor pairings I know are more my speed than the kids. A whole batch of Apple & Fennel Scones would've lingered here past their prime. A little batch of just four was perfect for moi.
It began with a half an apple hanging out in the fridge. Actually, it was a half eaten apple. My kids drive me crazy when they do this. I find apples on the dining table and in the fridge that have been chewed like little critters invaded my house. I'm working on getting them to stop this annoying habit, but in the meantime, I trim away the eaten area, and put the remaining half to use. On one such day, scones were the remedy to rescue an apple.
But then I got to thinking what I could pair with it, besides the usual suspects of say cinnamon or allspice. I remembered I still had some fennel seeds in the fridge that I collected from the garden, and dried out last summer. Fennel is a strong, black licorice-like flavor, so I went with a small amount, just 1/4 teaspoon. I wanted an essence, just enough to taste without it overpowering the scones. Feel free to increase it to 1/2 teaspoon if you want a more prominent fennel flavor.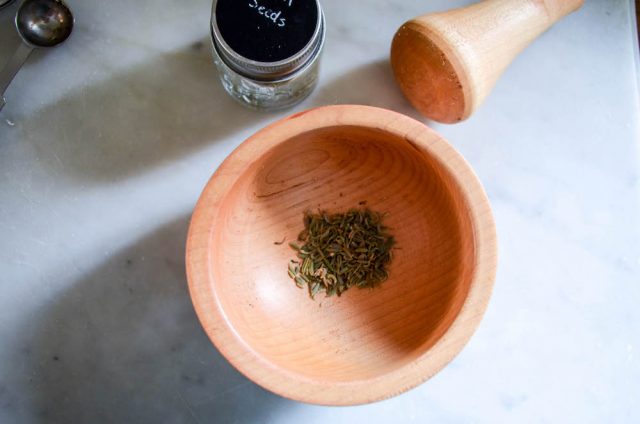 I used my mortar & pestle to crush the seeds just enough to release their aroma, so the scones have some whole seed bits in them. You can use the back of a chef's knife to do this, carefully, please. A coffee mill that's dedicated to grinding spices works too, just don't grind them to a powdery texture. I suppose anise extract would work, as well. Let me know if any of you go this route, and how much you decide to use.
The apple gets diced quite fine, so you get little bits of it with each bite. I thought about grating it, and you can certainly give that a try. Often, I sauté apples before adding them to muffins or scones, but found that raw ones worked nicely here.
Now, let's talk about how to finish and serve these Apple & Fennel Scones.
On their own, I preferred them with an orange glaze. Without it, they felt like they were missing something. Perhaps my palate prefers a trinity when it comes to flavors, and fennel, apple & orange get along really well together.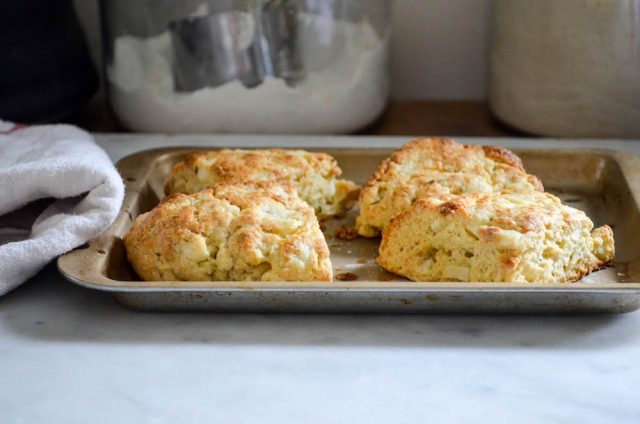 BUT, if I were serving a cheeseboard, well, these scones, without the glaze would be a wonderful surprise instead of bread. Can you see it, too, or am I crazy? I haven't tried it yet, but I get a little giddy at the thought of spreading a triple cream cheese like Délice de Bourgogne on them.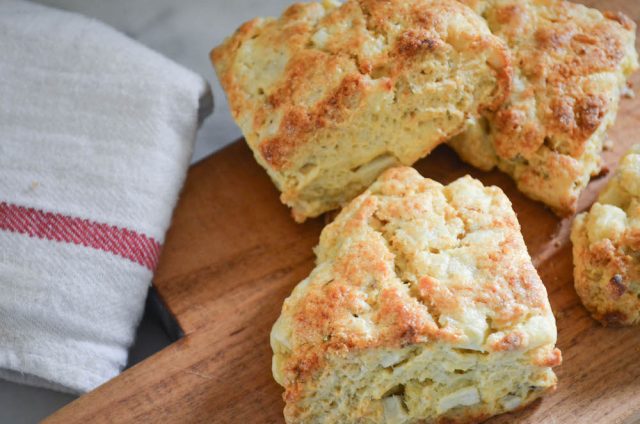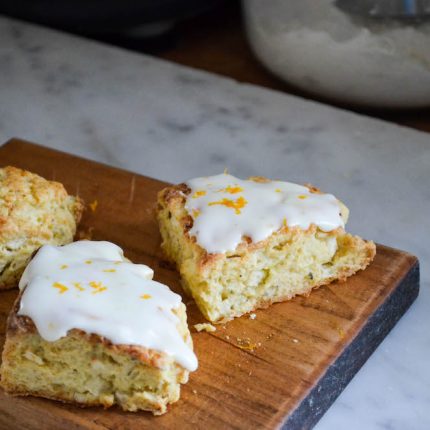 Apple & Fennel Scones, a small batch recipe
Ingredients
1

cup

150 grams all purpose flour, plus more sprinkling

1

tablespoon

granulated natural cane sugar

1

teaspoon

5 grams baking powder

¼

teaspoon

fennel seeds

crushed in a mortar & pestle

Pinch

fine sea salt

3

tablespoons

42 grams very cold unsalted butter, cut into 6 pieces

½

Granny Smith apple

peeled & chopped fine

1

egg yolk

3

tablespoons

plus 1 teaspoon

50 ml heavy cream

½

cup

confectioner's sugar

2

teaspoons

freshly squeezed orange juice

2

teaspoons

butter

melted

Freshly grated orange zest

to garnish (optional)
Instructions
Preheat the oven to 425ºF (220ºC). Line a small rimmed baking pan with parchment paper.

Add the flour, sugar, baking powder, crushed fennel seeds, and salt to a medium bowl. Whisk to combine. Scatter the butter over the flour mixture, and rub together quickly with your fingers, until it forms a sandy-looking texture with some pebble-sized pieces.

Stir in the apple.

Using a fork, lightly beat the egg yolk and 3 tablespoons of cream together in a small bowl. Pour over the flour mixture, and stir to combine (it'll look very sgraggly)

Knead the dough in the bowl once or twice until it forms a shaggy-looking dough.

Turn the dough out onto a lightly floured counter. Knead it once or twice to give the dough a smoother appearance. Using your fingertips, press the dough out into a 1/2-inch thick circle. Cut the dough into 4 triangles.

Place the scones on the prepared baking sheet, and brush with tops with the remaining teaspoon of cream.

Bake 12 to 14 minutes, until bottoms are deep golden and the tops are golden. Remove from oven and rest tray on a wire rack. Let cool completely before adding glaze.

To make the glaze, combine the confectioner's sugar, orange juice, and butter in a small bowl. Whisk until smooth, and sugar is completely dissolved. Drizzle over the scones. Sprinkle some orange zest on top, if using. Let the glaze set for 15 to 20 minutes before serving.
SaveSave