Apple & Fennel Scones, a small batch recipe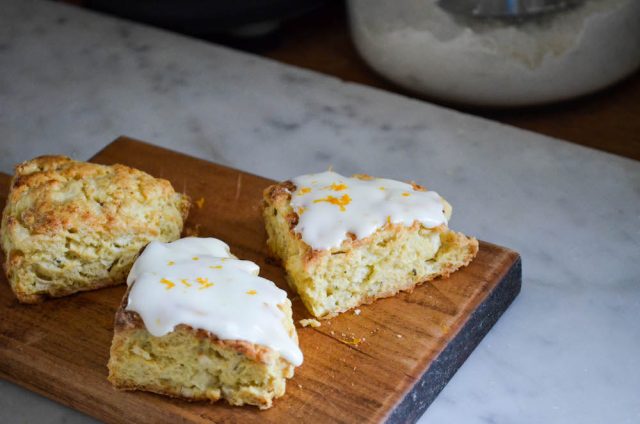 Do I lead with how amazing these Apple & Fennel Scones taste, or on the defense, explaining why it's a wonderful flavor pairing? I realize it's not a very typical combination, teetering between savory and sweet, but the result is a surprisingly delicious one. One might think I was plotting and planning in making this, but it was a rather spontaneous recipe.
Embracing my toaster oven beyond a tool for reheating food has inspired me to up my small batch baking game. Turning on the oven to make four scones seems silly, at least to me. The toaster oven is a game changer, and makes perfect sense. Small batch baking also allows me to explore and play with flavor pairings I know are more my speed than the kids. A whole batch of Apple & Fennel Scones would've lingered here past their prime. A little batch of just four was perfect for moi.
It began with a half an apple hanging out in the fridge. Actually, it was a half eaten apple. My kids drive me crazy when they do this. I find apples on the dining table and in the fridge that have been chewed like little critters invaded my house. I'm working on getting them to stop this annoying habit, but in the meantime, I trim away the eaten area, and put the remaining half to use. On one such day, scones were the remedy to rescue an apple.
But then I got to thinking what I could pair with it, besides the usual suspects of say cinnamon or allspice. I remembered I still had some fennel seeds in the fridge that I collected from the garden, and dried out last summer. Fennel is a strong, black licorice-like flavor, so I went with a small amount, just 1/4 teaspoon. I wanted an essence, just enough to taste without it overpowering the scones. Feel free to increase it to 1/2 teaspoon if you want a more prominent fennel flavor.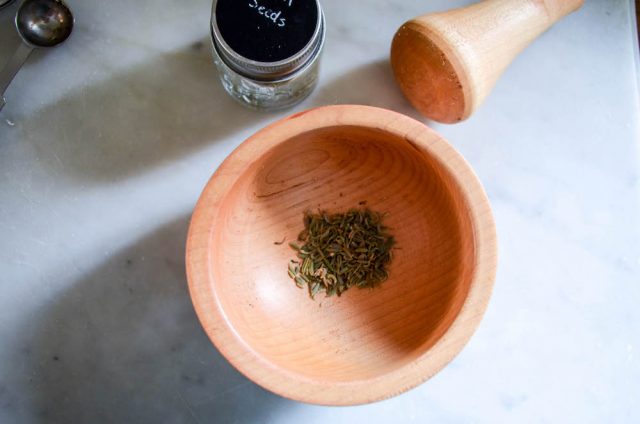 I used my mortar & pestle to crush the seeds just enough to release their aroma, so the scones have some whole seed bits in them. You can use the back of a chef's knife to do this, carefully, please. A coffee mill that's dedicated to grinding spices works too, just don't grind them to a powdery texture. I suppose anise extract would work, as well. Let me know if any of you go this route, and how much you decide to use.
The apple gets diced quite fine, so you get little bits of it with each bite. I thought about grating it, and you can certainly give that a try. Often, I sauté apples before adding them to muffins or scones, but found that raw ones worked nicely here.
Now, let's talk about how to finish and serve these Apple & Fennel Scones.
On their own, I preferred them with an orange glaze. Without it, they felt like they were missing something. Perhaps my palate prefers a trinity when it comes to flavors, and fennel, apple & orange get along really well together.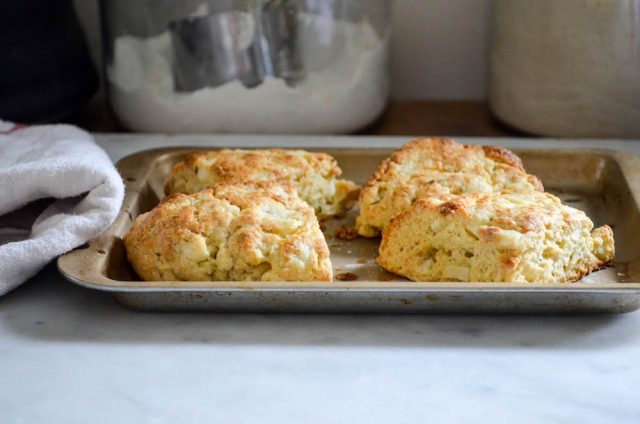 BUT, if I were serving a cheeseboard, well, these scones, without the glaze would be a wonderful surprise instead of bread. Can you see it, too, or am I crazy? I haven't tried it yet, but I get a little giddy at the thought of spreading a triple cream cheese like Délice de Bourgogne on them.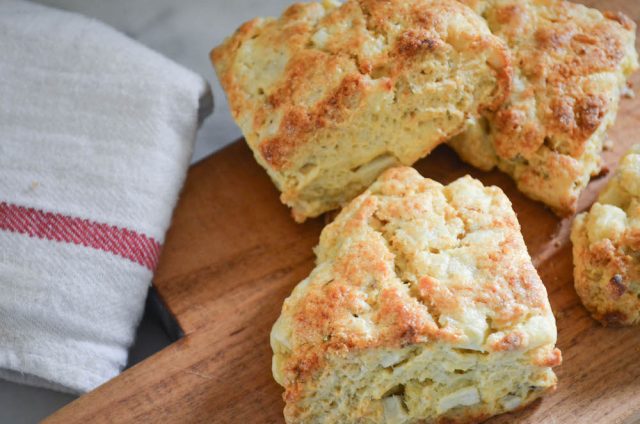 This recipe is now part of my new site, Simmering. It can be found here.
SaveSave