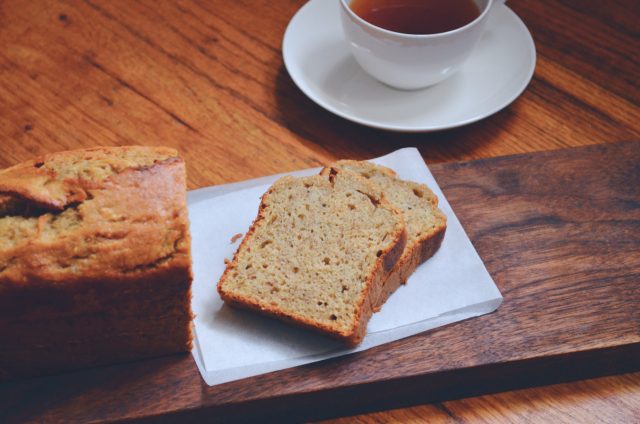 I don't know what to say, really. I pressed the publish button on my last post with much hesitation. I've shared some tough moments here, but talking about my perceived faults as a mother was not easy. Regardless of how much I struggle with it, though, being a mom is the single most important thing I will ever do with my life. The Mr. used to often say a test should be required to have children. I knew exactly what he meant. It wasn't about being perfect all the time, rather the ability to understand the overall responsibility. It's so much easier to manage this delicate balance when you're part of a team. You can hand over the baton when patience runs thin. There's also someone else to remind you that one bad moment doesn't erase the many good ones.
Thank you for being there, for reminding me that I'm not alone, even in the moments when the weight of my emptiness feels unbearable. A recipe for banana bread doesn't seem quite the right thanks for the kindness and love you've all shown these last few years. And do we really need another banana bread recipe? If like me, you always seem to have overripe bananas in need of a home, then I think the answer is yes. I'd been staring at three of them on the kitchen windowsill for a few days, but just didn't have the time to do anything with them. Really, I think it was because I'm not really a fan of banana bread. Sure, I have a few favorite recipes, but when I'm looking for a piece of cake to nibble on, and satisfy a craving, banana bread just doesn't cut.
The girls love it, though, and the night I made this one was also that night I talked about in my last post. After I got them off to sleep, I went into the kitchen to clean up. I had such regret for the way our night ended, and aside from uttering the words, the next best way I know how to show someone I love them is to cook for them. So, I mashed up the bananas, and set about making them a treat for breakfast the next morning.
No matter how challenging they were the day before, regardless of how many times little feet shuffled out of bed, I approach each day as it is—a new one. A clean slate. My friend once told me a lovely story of how her mother, Helen, did the same thing, turning over a new leaf, when they had a disagreement. I think of Helen on mornings like this one especially, and can imagine her whispering those words to me.
A new leaf. A new recipe. There's room for all of it in this hot mess of a life in progress.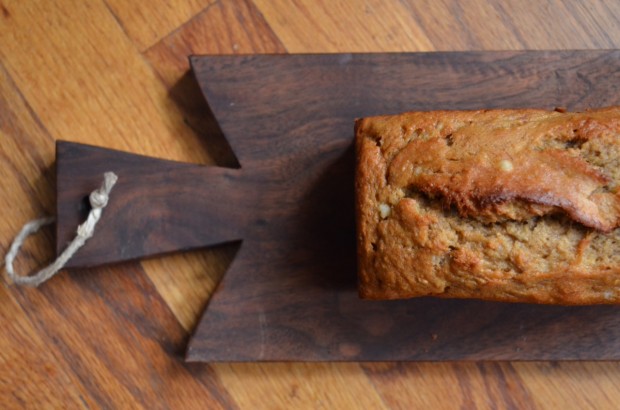 More ideas to use up ripe bananas:
Banana, Walnut & White Chocolate Chunk Scones
Brown Butter Banana Nut Muffins
Makes One Loaf
Music Pairing: Here Comes the Sun by The Runaways
PLEASE READ BEFORE SHARING MY RECIPES: I really appreciate that you like my recipe enough to want to share it with your readers. I work hard at developing them, and the only way to way to truly show your thanks is to LINK to the recipe. If you feel the absolute need to reprint the recipe, then you must rewrite the directions in your own words, and give credit as "recipe by In Jennie's Kitchen" with a link back to this page. If you make sufficient changes to the recipe, then you may list it as "adapted from In Jennie's Kitchen", again with a link back to this page. Thank you!
1 1/4 cups (180 grams) whole wheat pastry flour (white all-purpose flour will work, too)
1/3 cup (66 grams) packed brown sugar
1/2 teaspoon (3 grams) baking powder
1/4 teaspoon (1 gram) baking soda
1/4 teaspoon (1 gram) sea salt
Fresh grated zest from 1/4 of a lemon
3 very ripe bananas, mashed
2 large eggs
1/4 cup grapeseed oil (canola or vegetable oil will work fine, too)
1 teaspoon (5 ml) pure vanilla extract
Preheat the oven to 375F. Line an 8-inch by 3-inch loaf pan with parchment, letting the paper hang a bit over the sides (this will act as makeshift "handles" to lift the loaf out once it's cooled).
Add the flour, brown sugar, baking powder, baking soda, salt, and lemon zest to a medium bowl. Whisk to mix well.
In a separate bowl, beat the eggs, bananas, oil, and vanilla to combine. Pour over the flour mixture, and stir with a fork until just mixed, and there are no visible signs of flour (it's okay if the batter is lumpy). Pour the batter into the prepared loaf pan. Bake until deep golden, and a metal skewer inserted in the center comes out clean, about 45 minutes.
Remove the oven, and set pan on a wire rack. Let cool for at least one hour before serving. I usually slice leftovers, and wrap them individually in plastic wrap, then store them in a ziptop bag in the freezer. This way I can take out what I need, and heat them in the toaster.