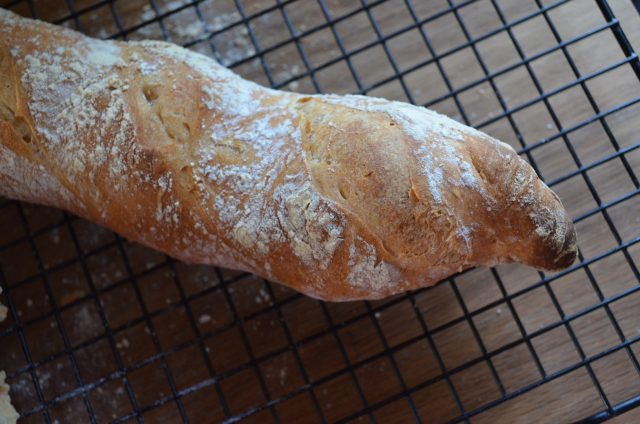 There's simply no sweet way to sugar coat my behavior a few nights ago. I take my life into my hands every night I tuck my girls in. Maybe my drama is in overdrive, but have you ever stepped on a tiny Lego? If so, then you understand the pain it induces when it burrows itself deeply between your big toe and whatever we call the one next to it.
Almost three years ago my life fell apart. I've been struggling to put it together, piece by piece, but the reality is it can never go back to what it was. There are so many hard things about accepting this truth, but one of the most difficult is being thrown into single motherhood. I know women who have gone through extraordinary feats to become mothers. Their need to have a child was something so deep, they couldn't imagine life without one.
I was never one of those women. This is not to say that I do not love my daughters. On the contrary, I can't imagine my life without them. The thing is I never set out to be a single mother. Fate made that decision for me, and I've pushed back against it so hard, that when the wall came crashing down, I didn't like the person I met on the other side.
Something snapped in me the other night. As I entered the kids' rooms for bedtime, and saw yet another mess covering every square inch of their floor (in their defense, it's a small room; in my defense, it was a mess even when they had an enormous room), I lost it. Not immediately, though. For a brief moment, I began to slowly pick up little bits and pieces of toys, in an effort to clear a path into their room. And then, it happened.
I picked up one toy, and hurled it to the corner of the room. And that was the crack that burst the dam within myself. Next thing, I was furiously throwing toys over my shoulder, screaming that I was tired of it all. I was done with being the only parent. I was done pleading with them for help.
I was just done.
Then I heard water trickling, and realized I broke a snowglobe. Little flakes of "snow" covered the top of the bookcase, water flowed down the sides, shards of thin glass scattered everywhere.
It was the lowest of low parenting moments.
I woke the next morning with an emotional hangover. I have very few happy memories from my own childhood. Much of what I do recollect is my father in drunken rages. I hadn't had so much as a glass of wine that night, but I was intoxicated by grief. I let it overtake me, and can only hope we will build enough good memories to bury the events of that night. When the kids woke up I apologized for my behavior. I was honest, and told them I never set out to do this job alone. I told them I imagined how disappointed their father was in my behavior, and that I will try harder to manage this journey without him.
I also told them I need their help doing it. I can't walk this path alone, and frankly they are old enough to take responsibility for their stuff, at the very least. That morning, Isabella came into the kitchen, and asked if she could help do anything while I was preparing breakfast. I told her she could put some jam into little pots, and some butter on the board. She came back, and took down dishes to set the table.
Virginia, well as my friends who know her can attest, she's a strong willed spirit. I coddled her a lot after Michael died. She was only three years old, and I felt like I had to hold onto her babyhood, preserve it, and shelter her somehow. Now, it is my job to undo what I helped created. It is my job to be patient, and wait through the tantrums. It is my job to be patient, and not return her screams with bellows.
I watched Eat, Love, Pray for the first time tonight. And while I didn't really love the movie, one line stuck with me—
You want to get to the castle; you've  got to swim the moat.
I want to feel whole again, whatever that means. Time, and patience, are the keys that will lead me there.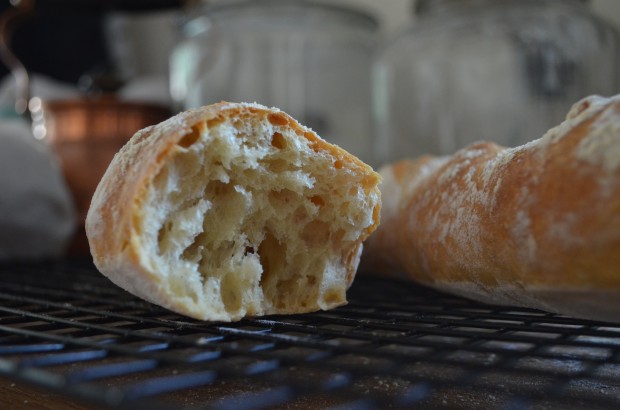 French Bread Dough
makes four 16-inch loaves, six to eight batards, or four pizzas
Adapted from Peter Reinhart's Artisan Breads Every Day
Music Pairing: Walking on Broken Glass by Annie Lenox
Some of you have followed along with my bread making endeavors on Instagram. The ingredients are from Reinhart's book noted above, but I've adapted the technique. For starters, he calls for bread flour. I'm obsessed with Antimo Caputo "00" pizzeria flour, and that is what I use. He also notes to let the dough rise overnight. I say it needs to go even longer to develop that crisp crust, and more importantly, the air pockets that are a sign of truly great bread.
A few things I feel are non-negotiable to achieve the bread I made, and the kind of bread I set out to make in the first place are as such: you need a pizza peel, and baking stone, and you can't skip adding a pan of water to the oven (see directions). And the real key—patience. The dough can't be rushed. At first, it will seem impossible. Then you will fall into a groove, and enjoy the rewards as you portion your dough out in the morning to bake fresh bread. Patience is an ingredient that costs nothing, but is often in short supply.
That said, this doesn't mean you can't make excellent bread using just bread flour, or using a preheated baking pan. It just means that your bread won't look like the one pictured, so please keep that in mind before leaving a comment saying so. Okay, I can sense I'm getting a little cranky from that last sentence. It's likely because I should've gone to bed hours ago. I will let you be, and good luck with your breadmaking endeavors.
680 grams bread flour (I use "00" pizzeria flour), plus more for kneading
7 grams dry active yeast
14 grams sea salt
454 grams water
oil (grapeseed or olive oil), to grease the container
Add the flour, yeast, and salt to a deep bowl. Whisk to mix well. Pour in the water, and stir with a wooden spoon until it forms a scraggly-looking dough. Scrape the dough out onto a lightly floured surface. Knead until it forms a smooth, somewhat tacky but not sticky, dough.
Wipe a large plastic bucket lightly with oil. Place the dough inside the bucket, cover, and refrigerate for at least 36 hours, and up to 4 days.
When ready to use, cut off the amount of dough you need about two hours before baking (a little less for more dough, a little longer for a larger piece of dough). If making bread, shape into a baguette, and set on a floured board. Cover with a light towel, and let rise until doubled in volume (it will feel light and airy to the touch). If making pizza, place the dough in a lightly oiled bowl, and cover with plastic wrap.
For making bread, adjust one rack to the center position, and put a pizza stone on it. Adjust another rack to the lowest position, and place a deep, metal baking dish onto it (do not use glass!). Turn the oven to 550F to preheat 45 minutes before the dough is ready.
Meanwhile, bring a pot of water to a boil.
When ready to bake the bread, score the dough. Do this by using a very sharp paring knife to cut deep diagonal slices every couple inches across the loaf. The depth of the cut should be about 1/3 of the way through the loaf. Transfer the loaf to a floured peel (wooden board).
Carefully pour the boiled water into the pan on the rack under the pizza stone. Be careful! The water will immediately bubble and evaporate, so keep your face away from the pan. Reinhardt suggests putting a towel over the oven door glass to avoid it cracking, but mine got pretty singed in just the few seconds it was there. I don't use the towel anymore, and just pour the water slowly, and carefully. With a quick flick of the wrist, slide the dough onto the stone, and close the door immediately. Turn the oven down to 450F.
Bake for 18 to 22 minutes. I like to bake my bread to a very deep brown color. Remove it from the oven (use the peel or tongs), and set it on a wire rack to cool for at least 20 minutes before eating.
TO MAKE PIZZA
Follow directions for preheating the oven, except skip adding the pan for water. Shape the dough into a circle. Place on a lightly floured peel. Add desired toppings, tomato sauce, cheese, sausages, vegetables. Slide onto the pizza stone. Bake until crust is golden, and cheese is bubbly, 7 to 9 minutes.