Baked Fish Tacos + My (favorite) Kitchen Addiction
One more week left of my Cape Cod vacation, and this next post seems perfect with all the local fish I've been indulging in. These Baked Fish Tacos are courtesy of today's guest blogger Jen Schall over at My Kitchen Addiction. Jen's recipes are easy, delicious and can we talk about her photography chops? My husband keeps asking for her pop tarts, so I'm adding them my "to bake" list when we get back (unless you want to send some UPS Jen!).
-Jennifer
p.s. Update February 2016: below is a link to buy my new magazine. Thank you for your continued support!
***
In the last year or so, I have developed a love for fish tacos.  Whenever I see them on a restaurant menu, I can't help myself… I just have to order them!  The unfortunate thing about fish tacos, though, is that the fish is typically deep fried.  While I think that deep fried fish is absolutely delicious, deep frying is one culinary skill that I have chosen not to master.  If I were to master the art of deep frying, I'm afraid my waistline may never recover, so I have chosen to leave it to the professionals.
Enter panko bread crumbs. These Japanese bread crumbs are made from bread with no crust, producing a lighter and crunchier bread crumb than the traditional breadcrumbs that we are all familiar with.  And, they stand up well to baking instead of frying!  Using the panko bread crumbs, I have managed to reproduce many of my favorite fried foods in a much healthier, baked form. Even my beloved fish tacos!
My favorite fish tacos, when eating out, are from the Houlihans in Hershey, PA. They are topped with both a chipotle mayo (which I always think tastes more like sour cream) and a sweet honey-cumin dressing as well as napa cabbage and pico de gallo.  I love the flavors, but when I am cooking at home, I like to keep things simple.  After all, I don't have a whole kitchen full of cooks to do my prep and cleanup!  Instead of tackling two separate sauces and other toppings, I combined the flavors of the two sauces in a creamy honey chipotle slaw that I use to top each fish taco.  It's quick, easy, and (in my opinion) a pretty close substitute for the real thing when I'm cooking at home!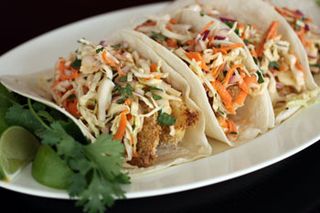 The recipe yields four large fish tacos (two pieces of fish in each taco), with some extra slaw left over.  If you prefer smaller tacos, you could use smaller tortillas and place only one piece of fish in each taco, yielding eight.  The remaining honey chipotle slaw can be kept in the refrigerator, and will do double duty as a side dish or as a topping for your favorite sandwich (I think it would be especially delicious with grilled chicken).
– Jennifer Schall

www.mykitchenaddiction.com
Baked Fish Tacos
4 tilapia fillets, cut in half lengthwise
(read more here on how to buy sustainable tilapia)
1 cup flour
1 teaspoon chili powder
2 eggs, beaten
1 cup
panko breadcrumbs
Kosher salt
Freshly ground black pepper
3 cups cabbage, shredded
1 cup red onion, finely chopped
1 cup carrot, shredded
Handful fresh cilantro, chopped
1 teaspoon chipotle pepper in adobo, chopped or mashed
4 ounces sour cream
1/4 cup honey
Juice from 1/2 lime
4 flour tortillas (fajita size)
Additional lime wedges and cilantro for garnish (optional)
Preheat the oven to 425°F.  Cover a large baking sheet with a piece of aluminum foil, and spray with cooking spray.  Set aside.
In three separate shallow dishes, set up the breading stations.  In the first dish, combine the flour and the chili powder.  In the second dish, beat the eggs.  Place the panko breadcrumbs in the third dish.  Season each of the three dishes with salt and pepper.


Prior to breading, season each piece of fish (on both sides) with salt and pepper.  Then, dip each piece of fish in the flour and shake off any excess.  Transfer to the egg mixture, coating all sides, and allowing any extra to drip off.  Finally, place the piece of fish in the panko bread crumbs and coat evenly, gently pressing the bread crumbs into the egg coating. Place the piece of fish on the baking sheet and repeat until all of the fish has been breaded.  To avoid messy, clumpy fingers when breading, use one hand for the dry ingredients and one hand for the wet ingredients (I always use my right hand for the dry ingredients, and my left hand for the wet ingredients).  As long as you can keep your hands straight, which can be easier said than done, you can avoid breading your fingers along with the fish!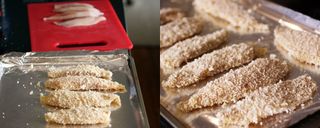 Bake the fish for approximately 15 minutes, turning once.  The outside of the fish will be golden and crisp, and the inside will be moist and flaky.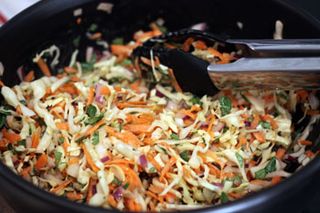 While the fish is baking, prepare the slaw.  In a large bowl, combine the cabbage, onion, carrot, and cilantro.  In a separate small mixing bowl, whisk together the chipotle pepper in adobo, sour cream, honey, and lime juice.  Once combined, pour over the cabbage mixture.  Use a pair of tongs to toss the slaw, evenly coating the cabbage mixture with the dressing.

To assemble the tacos, place two pieces of fish on each tortilla and top with the honey chipotle slaw.  If desired, garnish with additional lime wedges and cilantro leaves (the lime wedges work well to prop up the edges of the tacos).  Serve immediately, and enjoy!