The Secret to Perfect Shrimp Cocktail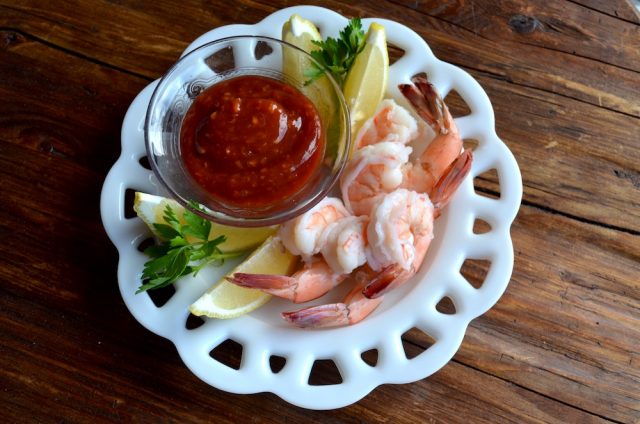 It happens every year, the lead up to these last days of the year feel so long, then boom–it's December 22nd. My mind is wandering a lot to the Christmas Eve dinners of my past, and shrimp cocktail was always a part of our family dinner. That's why I felt it my duty to share the secret to perfect shrimp cocktail. It's so much easier than you might think.
Full disclosure—I'm not sure my uncle ever made it from scratch. He had a busy cooking line up, and probably ordered it from the fish market already prepared. Christmas Eve dinner began with an assortment of cold appetizers (shrimp cocktail, included!) and antipasto but never, ever any meat. Italians, at least Italian-Americans refrain from meat on Christmas Eve.
Is there really such a thing as Feast of the Seven Fishes?
I'm only an authority on growing up Italian-American, and having never spent a Christmas Eve in Italy, s I can't vouch for the authenticity of Feast of the Seven Fishes. Rumor has it it's an Italian-American thing. Dinner at my uncle's house was always a fish feast, though, on Christmas Eve.
What is the secret to perfect shrimp cocktail?
The simplicity of preparing it also makes it an easy, elegant-seeming upgrade to any menu whether it's a holiday or not. The trick is to make a quick stock from the shells, which then serves as a poaching liquid for the shrimp. The shrimp is best served well-chilled, so making these the night before means less prep to do the day company is arriving.
After the cold appetizer course was done, we'd have pasta. Uncle John would make crab sauce, clam sauce and a plain marinara sauce for any fish haters (it was definitely NOT the not to be at his house if you disliked seafood).
Then came the king crab legs. Were they served as their own course or with the baked clams? I can't remember. By this point, usually about hour two of dinner, I'd already zoned out—it's the only way to survive a loud group of Brooklyn Italians. The last savory course of the evening was like the finale of Macy's firework show—fried shrimp, fried flounder, fried scallops, baked flounder, maybe some other baked fish, too? He'd set the deep fryer up in the garage since his wife didn't allow him to fry inside and stink up the house.
Italians do not believe in just one dessert—it's go big or go home.
There was a pause to digest with some fruit while dishes were washed (my uncle used to host 12 to 15 people and we used all real dishes and glassware). And then came the parade of desserts. Italians do not believe in just one dessert—it's go big or go home. There were always pastries from the Italian pastry shop (usually Alba, Villabate or Court Pastry). I made cream puffs for a few years. Someone else would bring pie, and my aunt would bring homemade cookies.
Dinner, which began sometime around 7:00pm was finally done around midnight, if we were lucky. Getting from the dinner table to the car was nothing short of a miracle, unsure if I even had the use of my legs anymore.
Those days are so far behind me, and I didn't know then how much I'd miss them, as I looked repeatedly at my watch, urging the hands to move faster, but miss them, I do. While we're not celebrating Christmas, even though I have a tiny tree up this year, I'm going to celebrate December 24th in my own way, chasing ghosts as I understand what it finally means when they say youth is wasted on the young.
On the Sweet Side
On the Savory Side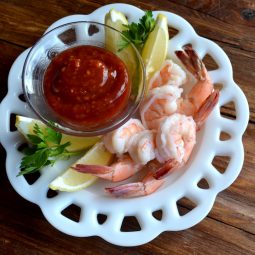 The Secret to Perfect Shrimp Cocktail
Ingredients
1

pound

large shrimp

shelled & deveined (save the shells)

1

garlic clove

smashed

Handful of fresh flat-leaf parsley

1

teaspoon

black peppercorns

1/2

cup

of ketchup

1

tablespoon

horseradish

1

teaspoon

Worcestershire sauce

1/2

teaspoon

of hot sauce

Freshly squeezed juice of 1/2 a lemon

Lemon wedges

to garnish
Instructions
Add the shrimp shells, garlic, parsley, peppercorns, and 3 cups of water to a medium pot. Bring to a boil over medium high heat. Reduce heat to low, and let simmer for 8 to 10 minutes.

Remove the pot from the heat. Add the shrimp, and cover tightly with the lid. Set aside for 10 minutes.

Meanwhile, prepare an ice bath by filling a large bowl with ice cubes and water. Drain the shrimp, and add them to the bowl of ice water. Remove after the shrimp have cooled a bit, about 1 minute (this helps stop the cooking process). Store the shrimp in a covered container in the fridge until chilled completely, at least 2 hours or overnight.

To make the cocktail sauce, add the ketchup, horseradish, Worcestershire sauce, hot sauce, and lemon to a small bowl. Stir until well mixed.

To serve, spoon the cocktail sauce into a small bowl. Place the bowl in the center of a platter. Arrange the shrimp around the cocktail sauce. Garnish with lemon wedges.