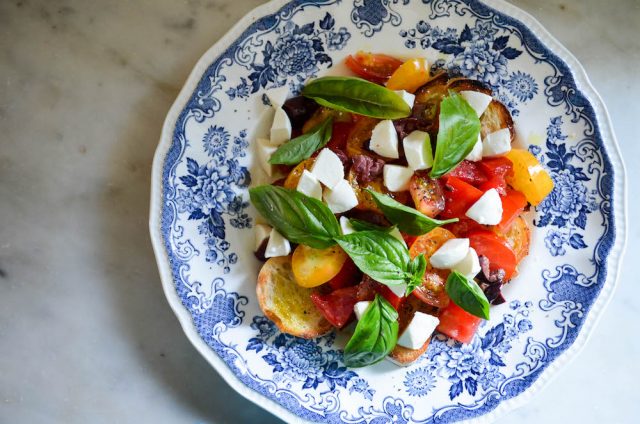 I tend towards salads and no-cook meals as summer peaks, especially when tomatoes are involved. Perhaps it's the feeling of wanting a last hurrah, or just enjoying the season's bounty before it comes to a seemingly abrupt halt. This Caprese Bruschetta doubles as an appetizer or salad course if sharing with friends, or in my case an easy fuss-free dinner.
Even better? You can use day-old bread (or even two-day old bread) to make the base for this Caprese Bruschetta. Stale bread that's dried out a bit doesn't even need toasting. Lately mine tends to just get soft and lose its crunch with the humidity that's invaded us here. A few minutes on the grill, lends a crispy, charred flavor that adds an extra feeling of summer to the salad.
I'm going to miss plucking fresh basil from the garden in a couple of months. Truthfully, if I don't get down in the soil this weekend, and do some major weeding, I'm not sure it'll last much longer. I feel awful about my garden neglect. The weather has been so wet this summer, and I find myself busy on the days when it's dry and sunny to garden. I also wonder if maybe I took on too much this year. Every summer I extend my garden adventures, experimenting with new crops and plants. The amount of watering required this year felt daunting. Perhaps next year it's time to explore an irrigation system? Does anyone have experience with this, or thoughts about what's worked for them in handling it?
Wow, how did I fall down that gardening rabbit hole? Let's get back to this Caprese Bruschetta. What I'm sharing here is more a gathering of ingredients, than a recipe. This is the kind of dish where you shouldn't feel worried to wing it, adding as much as you like of pretty much everything—no joke.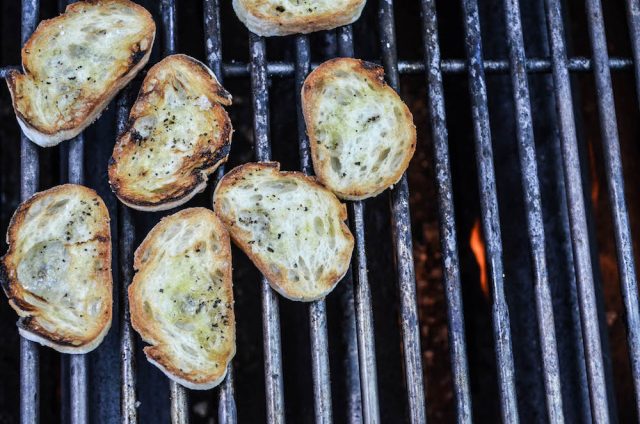 You'll need mozzarella (fresh is always preferable for me), tomatoes, basil, olive oil, red wine vinegar, salt, and black pepper. Since they're all simple, basic ingredients, the way to elevate this dish is to make sure they're all stellar and high-quality.
This is the time to use that good quality extra virgin olive oil you have in the pantry. Juicy, ripe tomatoes make this bruschetta sing, and if you can find heirloom tomatoes, that just makes it extra special.
Is salt worth talking? I think so. Would you be surprised if I told you I currently have four different kinds of salt in my pantry? Actually, it might be five…anyway, the type of salt matters beyond it's ability in seasoning the bruschetta. In a dish like this, with soft layers of cheese and tomatoes, salt offers the opportunity to add texture. A coarse salt, something as simple as Maldon Sea Salt Flakes does the job. I love using fleur de sel, too. I stock up on on it when I go to Montreal, where it tends to be a lot less expensive than in the U.S.
And pepper—can we agree to always use freshly ground? If you decide to skip this, fresh basil lends a peppery kick, so that's okay. It all comes together easily, and I plan to enjoy this as much as possible over the next few weeks.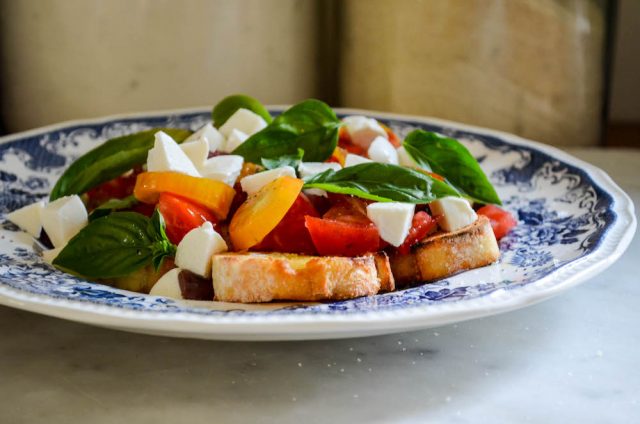 Eight Years Ago Fried Green Tomatoes, Peach Raspberry Tart, and Trutas.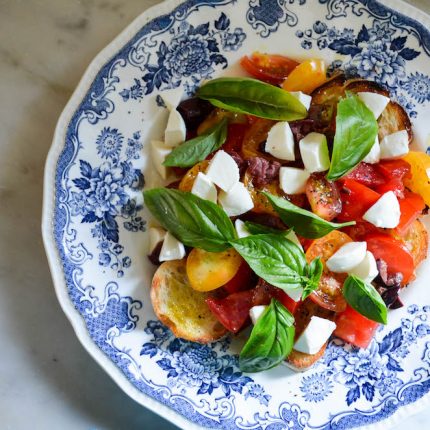 Caprese Bruschetta
Ingredients
1/2-

inch

thick slices of baguette or ciabatta bread

Extra virgin olive oil

Coarse sea salt & Freshly ground black pepper

Fresh mozzarella

cubed

Tomatoes

diced

Fresh basil leaves

torn

Red wine vinegar
Instructions
Drizzle some oil on the bread slices. Sprinkle with salt and pepper. If your bread is fresh, toast or grill it it to provide a sturdy canvass for your toppings.

Arrange the bread on a dish or platter, depending on if it's a main course or appetizer.

Scatter the mozzarella, tomatoes, and basil over the bread. Drizzle the oil on top. Season with salt and pepper. Give a few shakes of vinegar.

Let sit for at least 10 minutes, and up to 30 minutes before serving.
SaveSave