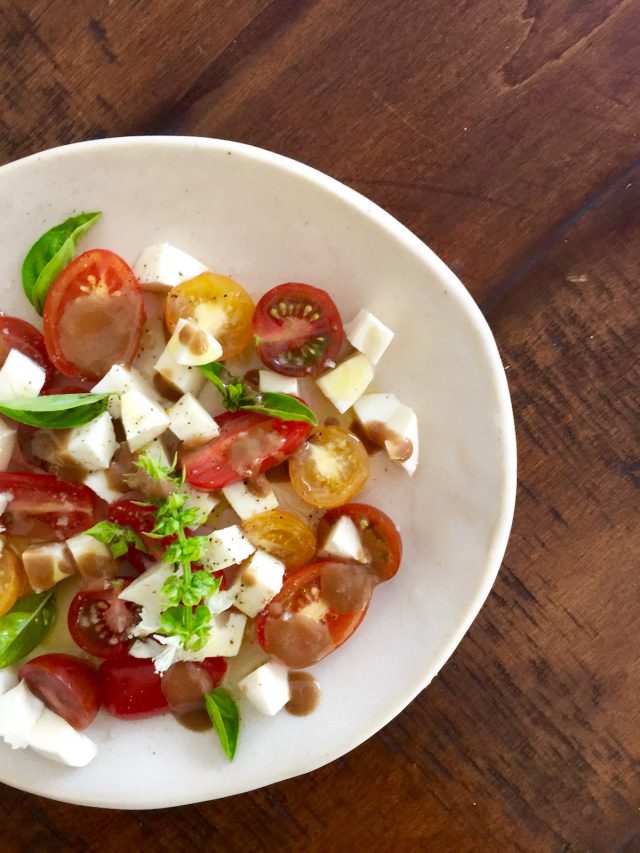 A classic caprese salad, is a combination of fresh mozzarella cheese, tomatoes, and basil seems like a no brainer, right? That's true, mostly, especially this time of year when farmers' markets are filled with ripe, sun-kissed tomatoes. A little thought, though, and you can up your caprese game big time. I discovered a few new-to-me tricks this summer that elevate it from a humble combination to a star-worthy salad.
First off, let's talk about the basil. I used to cut larger leaves into ribbons. This year I decided to swap in smaller ones. They have a sweeter flavor, and less peppery bite than more mature leaves. Plus, it's one less thing to prep—just pinch a few from the garden, it's they're ready to use. You can even pick some of the flowers that bud when your plant is telling you it's time for a trim—they make for a beautiful garnish.
While thick, juicy slices of beefsteak tomatoes are wonderful, quartered grape tomatoes, or simply chopping up those beefsteaks is a fun approach. The same goes for your mozzarella—diced it, or use smaller bocconcini, and cut them into halves or quarters. Your caprese now becomes a chopped salad, of sorts, providing a perfect ratio of tomato, cheese, and basil with every bite.
A sprinkling of good quality salt, like fleur de sel or Maldon salt flakes, swirl of olive oil, and few shakes of red wine vinegar seals the deal. I sometimes skip the oil and vinegar, drizzling a bit of the Red Wine Vinaigrette from Dress It Up Dressing. It has become one of favorite kitchen shortcuts since I began working with them a couple of months ago.
Get the recipe for Classic Caprese Salad here.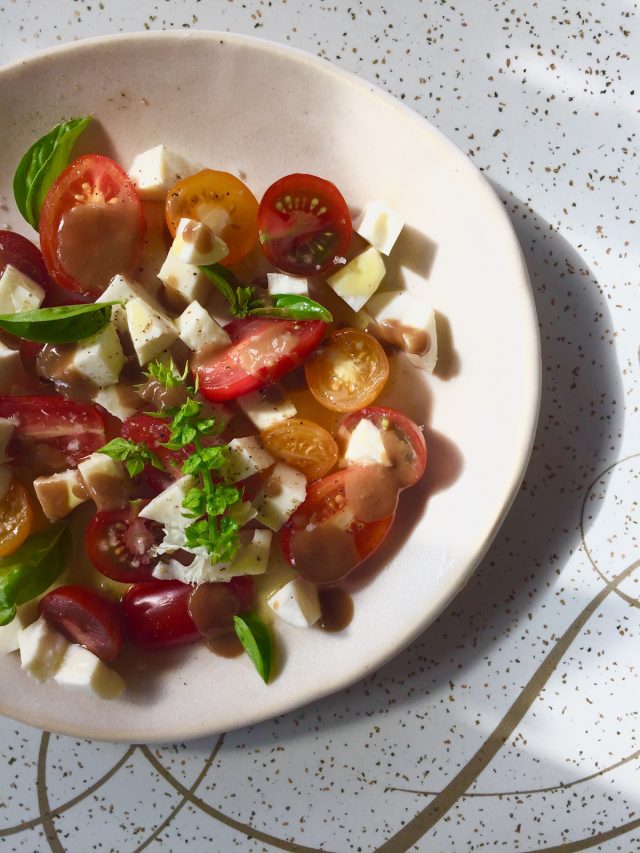 Some more tomato-inspired recipes from my friends at Food Network's Summer Soiree.
Feed Me Phoebe: Steamed Clams with Chorizo, Tomatoes and Kale
The Mediterranean Dish: 10 Fresh Tomato Recipes with a Mediterranean Twist
The Mom 100: Pasta with Fresh Tomato Sauce
Homemade Delish: Roasted Tomato and Poblano Salsa
The Wimpy Vegetarian: Easy Summer Tomato Tart with Artichoke Spread
The Heritage Cook: Tomato and Cucumber Summer Salad (Gluten-Free)
Devour: Praise Caprese with 6 Twists on Tomato Salad
Healthy Eats: How to Use Up Your Last Batch of Fresh Tomatoes
Creative Culinary: Fresh Tomato Summer Pie
In Jennie's Kitchen: Classic Caprese Salad
Napa Farmhouse 1885: Tomato, Peach & Melon Salad
Taste with the Eyes: For Tomato Lovers Only
FN Dish: The Best Fresh Tomato Recipes You to Make, Like, Right Now