Yes, I'm counting the days again. Panic set in last week, and I'm back to playing that number game. Soon it will be nine months. I know—it made me gasp for breathe too. It seems inconceivable. I find myself staring at his pictures lately, recalling memories, and they seem to have this blurry haze around them. I look at our wedding photo, and think "gee, that girl looks really happy".
And yet that girl used to be me.
I used to polish my nails sheer white. Now I choose brooding, dark shades of bing cherry.
I used to enjoy writing in utter silence, allowing my mind to focus on my thoughts. Now the silence is deafening. I cook and write, blasting King Crimson at levels that even my 25 year old assistant thinks are insanely loud.
In some odd way, his death is morphing into my rebirth. I was a kid when we met, only 21 years old. Our life together was my discovery phase. I learned how to love and trust. I found my passion, and he held my hand, cheering me every step of the wave.
Regardless of how mature I was when he met me, I became an adult with him. Grew into a woman. Now I have to learn how to be an adult without him, and to trust all over again.
It's like my system was rebooted from a hard shutdown. You know the kind tech guys tell you not to do, for fear of losing important information—the unsaved changes is how I like to think of them. I survived the major crash of my system, and am in the process of restoring my hard drive.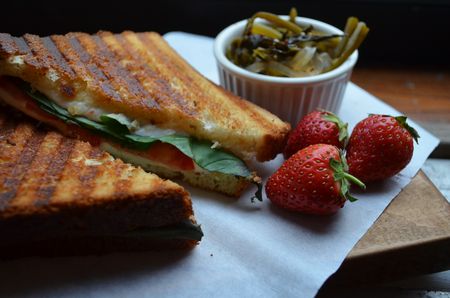 This is why listening to music has been a total mind fuck since he died. I flip through his vinyl, and wish I had sat down and asked him to tell me the story of each one that he had. When did he buy them? Where did he buy them? What did he think the first time he listened to them?
And why the hell did he have a Lawrence Welk album mingling with Fripp, Eno and Television? This bombshell from the man who I'd swear was Nick Hornby's inspiration for High Fidelity. Guess you never really know someone, so ladies and gentlemen, keep asking. Keep talking. In all seriousness, there's always something more to know about the one you love.
Just when I think I'm alone, he sends a reassuring sign. One day it was the J.Peterman catalog coming in the mail, completely unsolicited. The other day it was this flyer from the Guitar Store. Mikey used to keep a polaroid on the corkboard in his apartment back in Astoria of when he dressed up as Slash for a Halloween party, way before we met.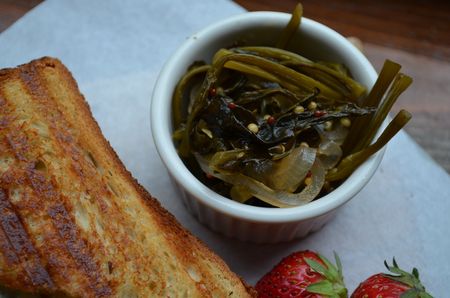 As many questions as I wish I had answers to, the one thing I knew undoubtedly was Mikey loved anything of the grilled cheese variety. He also loved anything pickled, but you'll have to wait until the cookbook comes out to get the recipe for those pickled broccoli rabe stems you see pictured here. Today all I have to share is a simple panini of fresh mozzarella, tomatoes and basil. It's a caprese salad tucked between two slices of bread that had then been stroked with a clove of garlic and brushed with a bit of olive oil. The whisper of garlic is just enough to make you raise an eyebrow and think it's familiar, yet noticeably different, which is exactly how I feel these days.
Caprese Panini
makes one sandwich
Two 1/2-inch thick slices of country bread or pain de mie
Garlic clove, sliced in half
Extra virgin olive oil, for brushing
4 slices of fresh mozzarella cheese
3 slices of very ripe tomato
3 basil leaves
Preheat your panini press.
Meanwhile, lay the bread slices flat on a counter or cutting board. Rub the garlic clove halves, cut-side down, onto the surface of the bread. Brush with a bit of olive oil. Turn the bread slices over to begin assembling the sandwiches.
Place two slices of mozzarella on one slice of bread. Top with the tomatoes and basil. Add the remaining mozzarella. Cover with the remaining slice of bread. Place the sandwich into your panini press and cook according the manufacturer's directions. Serve immediately.