This morning I hopped the subway after dropping the kids off at school to do the unthinkable. I bought understudy cupcakes for Virginia's birthday party tomorrow. I've been beating myself up all week about it. So many milestones have transpired the last 270 days. The first Cape Cod trip. My birthday. Our anniversary. Thanksgiving. Christmas. A new calendar year.
His birthday.
But their birthdays—that's a hurdle I don't know how to face.
The girls turn four and nine next Friday. The celebrations begin tomorrow with Virginia's party. Rather than host a huge shindig at our place, as I usually do, I decided to keep it low maintenance. It's at a local pottery studio. I chose 11:00 am to 12:30pm so I wouldn't have to worry about serving breakfast or lunch. It pained me to be running, hell sprinting, from feeding people. Cooking, feeding—that's how I show I care. For these birthdays, though, I sensed I'd need to hold onto every piece of my fiber to keep it together.
I resolved I would not bake the cupcakes either. If I choose to be an inactive participant in this milestone and not leave my mark on it, then it wouldn't count. I could fool myself into believing it's not really going to happen. The idea is absurd, but there's nothing logical about grief.
After 30 cupcakes had been tucked away in boxes, I crossed Essex Street and the handle broke. The boxes landed upside down. A lump in my throat, tears welling in the corners of my eyes, I thought it was a sign. It was Mikey, the man who incessantly teased "when are you going to start making your own water from scratch". He was looking down disappointed that I copped out and didn't "mom-up". I couldn't put my selfish grief aside and bake our daughter's birthday cupcakes.
I looked up, muttering "fuck you" to the sky, followed by a "you're the one who died" whisper.
The gal at the bakery was amazing. She packed up fresh cupcakes, all the while reassuring me it wasn't a sign. "Sometimes it's just a bag" were her words, and they echoed in my mind as I walked down Orchard Street in search of a good cup of coffee and place to read my book.
After my coffee pit stop, I made my way to the East Broadway station. Then I spied this store  down the block.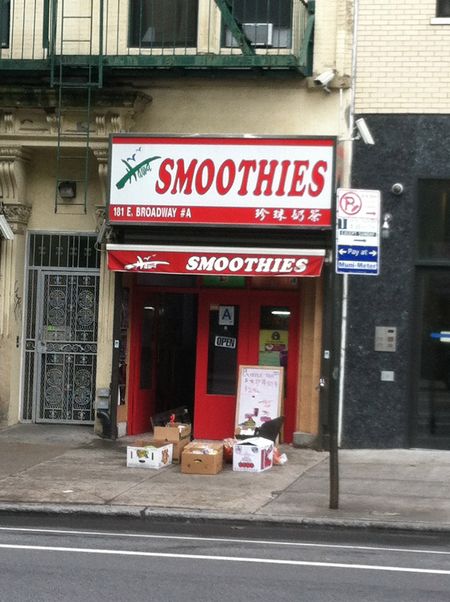 I kept walking, and found this store.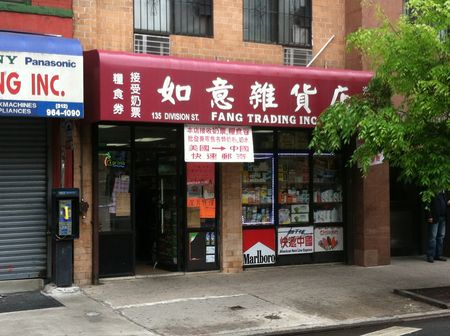 Within minutes I was standing across from here, tears trickling down my cheeks.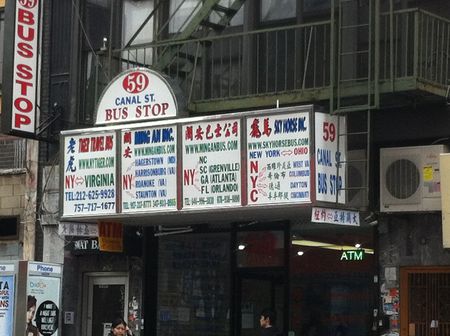 It all started as a family outing to the Big Apple BBQ last June. After loading our bellies with ribs and pulled pork, I told Mikey I wanted to walk a bit before going home. I wanted the girls to see the city as their daddy and I had in our early years together. We weaved our way out of Madison Square Park, through Chelsea, the Village, Soho and into Chinatown. After a rambling stroll, we decided to catch the A at Canal Street.
Well, Mikey decided. I pleaded to take a cab because the trains were rerouted due to weekend work. As we stood underground, deciphering schedule change signs, a young girl asked for directions. She had a baby wrapped in a blanket, his unclothed arms and legs spilling out the sides. He was very still. I asked if the baby was okay or needed to go to the hospital. She said he was fine, just sleeping.
Then I noticed she was barefoot. I looked at her eyes, mascara smeared and bloodshot from crying, and asked if she was okay. She said she just needed to find the bus to West Virginia. Her mother had prepaid for a ticket to get her home. We exited the subway, bought her some sandals and the baby a onesie at a merchant on Canal Street. I cradled Virginia in my arms and got in a cab with the young woman and her son while Mikey and Isabella walked to the address her mother had given her—59 Canal Street.
I didn't even know Canal Street loops around once you hit the Manhattan Bridge, but luckily we had an old time, street savvy cab driver. I handed her my phone and asked her to call her mother to let her know she was safe. Afterwards, she told me she'd just left her husband. His mother had pulled a knife on her. She grabbed her son and ran to the train station. They had just woken up, hence the pajamas she was wearing and nothing but a blanket for the baby.
She shared more details, but that's her story to tell.
We confirmed her bus reservation, then set out to buy a bottle and formula for the baby (Fang Trading) and get something for her to eat (Smoothies). Mikey and Isabella went in search of a clean shirt for her.
I found a restaurant nearby and asked if she could use their restroom to freshen up and change the baby. It was pushing 5:00pm and I knew the girls were tired but her bus wasn't until 7:00pm. Mikey looked at me. He knew I couldn't get on a train and leave her sitting on a particle board bench inside the store where the bus tickets were sold.
I sent him home with the girls, and waited with her until the bus eventually pulled up. I was still worried because she had to change to another bus late at night. I overheard a young man who was going to the same stop, making the same connection. He looked honest and kind, so I asked if he could keep an eye on her and let her use his phone if she needed to call her mom again.
I went home and hugged my girls tighter that night. I felt incredibly thankful that I was sharing my life with a person to whom humanity, compassion and lending a helping hand was also a natural reflex.
As I stared at 59 Canal Street today, I realized the real message Mikey was trying to send me. The cupcakes don't matter. That day last June, the example we set for our girls about compassion and caring—that's what they will carry in their hearts forever. How I continue to live my life, our life, the one we intended for our girls…that's where the substance lies.