cupcakes, cookies and brownies galore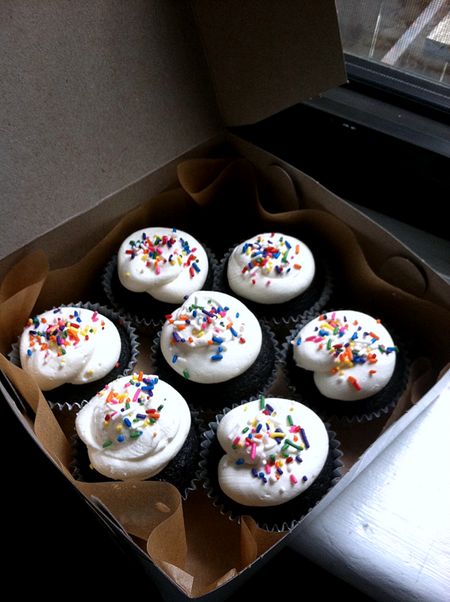 I've gone through more butter, eggs and sugar this week than any respectable person should admit. It's been for a few good reasons though, as you all know. So far, the tally is 24 mini-cupcakes for Virginia's daycare birthday celebration and two birthday cakes, one for each of the girls on the actual day of their birthdays. Later today, I'll be back in the kitchen baking another three dozen cupcakes for their party tomorrow.
Those cupcakes you see above were finished just before 11:00pm last night. They're for a different kind of celebration today. Liam was an amazing, kind, caring and brave little boy. He would have been seven years old today, but sadly he lost his fight with a rare form of pediatric cancer a few months ago. While his parents and sister are surely longing for him today, as I know they do every day that has passed since January 24th, they want us to celebrate his life and carry on his memory. They do not want his death to be for naught. They have suffered the pain of losing a child, yet they continue to work tirelessly to help raise funds for research to create hope for other families facing the same fight.
Today I'm bringing these cupcakes to the OXO offices in New York City. If you're local, stop by the 10th floor of 601 West 26th Street and you can finally taste one of my homebaked goodies and help a good cause. No worries if that's too far off the beaten path, there are plenty of bakesales happening throughout the city today. And remember you can always be a good cookie with the click of a button, so go DONATE NOW.
During the month of May, the GLAD Products Company is matching funds up to $225,000. It's not too late to organize one in your neighborhood, so get baking today!
DONATE NOW and let's beat pediatric cancer together.