how to make french press coffee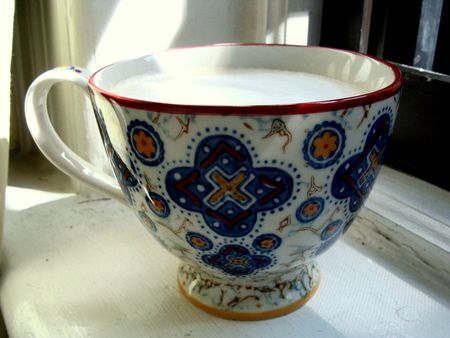 I have a drinking problem.
Not that kind, though it's no secret I do enjoy a cocktail or nice glass of wine.
It goes beyond the actual beverage. Perhaps we should call it a glass fetish—or obession. I don't know if one is really better than the other.
I'm a stickler for stemware, and have certain preferences for pretty much everything I drink. I hate mammoth martini glasses. Six ounces is way too much for a cocktail. A perfectly balanced blend of spirits is more suited to an old-fashioned three ounce cocktail glass.
Quality over quantity.
The same goes for non-alcoholic beverages. I love juice glasses! Yes, I used an exclamation point for juice glasses. Before you think me crazy, try it sometime. You'll see what I mean.
Beverages stay cold, just long enough for you to finish them. And they're darn cute, I tell you.
In fact, I find them irresistible.
But wait, I know what you're thinking. Get to the coffee already, lady.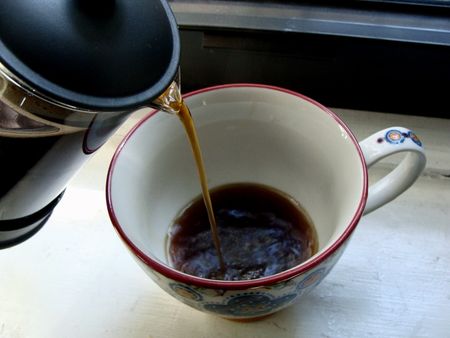 Well, my glass issues also extend to coffee and tea. They also apply to the time of day they're served.
My morning coffee or tea must be served in this mug. No other will do.
I prefer my evening tea in this mug—yes, it's really a White Castle cup! I see the irony in this. The girl who spends $8 a pound on grass-fed, local beef, drinking out a "buy 'em by the sack" mug. I've never even tasted a White Castle burger, but do have memories of their french fries and onion rings as a kid.
Now, this leads to my afternoon tea or coffee. All bets are off, and the host mug is usually a rotating cast of characters. Lately, I've fallen in love with big, bulbous mugs, gripped by a handle wide enough to snugly fit three fingers—my pointer, middle and ring finger, the thumb resting comfortably on top and pinky resting under the handle.
I warned you I had an obsession, and if you're still tuned in, then you probably deserve an award (or are contemplating an intervention).
Sooo, this leads me to a new acquisition. This pretty little mug you see above from Anthropologie. I bought juice glasses too.
Overcome with a coffee urge after talking at length about it with Sean over lunch, I came home like an excited child, eager to give my new mug a test drive. My intention was to disguise it as a selfless act and lesson on how to brew a perfect pot of French press coffee. I failed miserably, as evidenced in the inner thoughts of my neurosis spilled across the screen. If anyone knows of a support group, I'm all ears.
But first, I need to go wash my other new mug.
French Press Coffee
makes 10 ounces of medium-strong brewed coffee
Like coffee mugs, I have mutliple ways for making java—a coffee maker, two stovetop pots, two demitasse pots, one chemex and two French presses. My obsessions obviously extended beyond ceramics and glassware. This formula is based on my smaller press. Regardless of the size of your pot, the ratio is basically 1 tablespoon (6 grams) of medium-ground coffee (see slide show below) per 3 1/2 ounces (49 ml) of boiling water.
3 tablespoons (18 grams) medium-coarse ground coffee
10 ounces boiling water
Add ground coffee to a French press pot. Pour boiling water over coffee, cover with the plunger but do not press down. Let grinds brew for 5 to 7 minutes, depending on how strong you like it. Press plunger down and serve immediately. Steamed milk and sugar are optional.