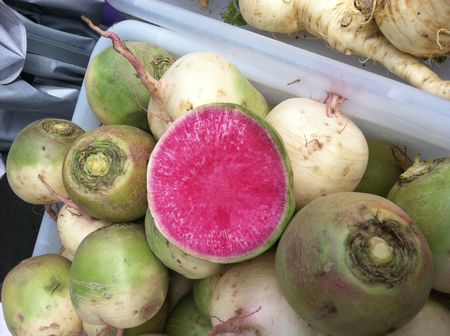 This week is shaping up to be a doozy, but in a good way. Today, I'm off to meet with my editor at Working Mother. It's going to be an interesting visit, given last week saw a major reorginzation and the letting go of the editor-in-chief, executive editor, managing editor and photo editor. This is a regular meeting to review cookbooks, but still, I take nothing for granted, especially in publishing.
Times like this are a necessary reminder that while life as a freelancer can be exhausting and nerve-wracking, at least I'm in control of my own destiny to a larger degree. Our managing editor had been with the magazine since 1988. I don't know how you begin to start anew after 22 years at a job. I always equate freelancers with sharks—we must keep moving or we'd die. Our survival is all about developing new relationships, in the hopes of having a few extra balls in the air in case one comes crashing down. Staff jobs are amazing for the regular paycheck, benefits, and who doesn't love a good title, but when you come to work on a Tuesday only to find out Friday is your last day, that leaves you in a most unexpected pickle—and not the kind you want to preserve.
Tomorrow welcomes a meeting of which I can't talk about, but let's just say I'm happy for it, regardless of where it goes. There's also an event with Kelly Ripa and Tom Colicchio. I'm partly excited but mostly self conscious of what to wear. Have you seen Ripa's biceps?
Friday ushers in my arrival to DC for Eat, Write, Retreat, I'll be speaking on a panel aptly titled "Beyond Your Blog". Just in case I'm too frenzied to pop back in this week, I thought I'd share a few things I've been enjoying lately to keep your appetite satisfied. But I do want to share a chickpea recipe sooner than later, so don't be surprised if I circle back for one more visit before I board the loooong bus ride to our nation's capital.
One of my new favorites is watermelon radish (psst—it's in the photo above). I developed a very fun recipe for the Love Your Veggies campaign, for which I'm a paid spokesperson. I've included it below. Sorry there's no pic—it was ready after the prime lighting for shooting was all gone. I promise you'll love it.
I love pasta—it's no secret. I suspect a few of you do too, so add this book by Domenica Marchetti to your queue. It's a definitive collection of excellently written recipes that is sure to be on your kitchen counter for years to come. So far, I've made the carbonara, and the girls loved it just as much as mama. Sadly the Mr. worked late, and I ate the leftovers for lunch the next day!
Homemade crème fraîche. Three more perfect words have never been uttered. No more shelling out big bucks for double cream to slather on scones. I even used it in this crepe from a couple of weeks ago. If you haven't tried your hand at it yet,  go visit Britt to see how easy it is to make. 
Ever since Iowa Girl Eats wrote about my no-yeast cinnamon buns a few days ago, I've been dreaming about them too. It's been a few months since I've made them, and I intend to remedy that this week. Gooey, fragrant, cinnamon-filled pillows of dough ready in less than hour—why not?
Ice pop season is here. I can't wait for these to arrive in the mail. I think the kids will be thrilled too.
Watermelon Radish, Cilantro and Feta Cheese Salad
Serves as many as you want
Recipes are helpful in the kitchen, but with a salad this fun I decided to keep the measurements more flexible, so you can make as much or little as you need. The dressing stays fresh for up to 3 days in the fridge, which is a time-saver on busy nights.
My intention was to serve this as a grown-up side salad—I figured the girls would want nothing to do with it. Once I sliced it, though, and Virginia got a glimpse of the bright pink flesh, she pulled her step stool alongside and asked for a piece.
As I cut them into matchsticks, and tossed them with a lime vinaigrette, she plucked pieces from the bowl at lightening speed. I thought for sure the sharpness of the feta I added at the last minute would deter her, but she kept on going back for more.
Isabella came in when she heard the word watermelon, it being her favorite fruit. While she had no desire to touch the salad with it's tangy lime dressing and dots of feta cheese, she did ask to try a plain piece of the radish. After a few bites, she announced "not bad". In kid speak, that's music to any veggie-loving mama's ears.
For the dressing:
2 tablespoons freshly squeezed lime juice
Sea salt and freshly ground pepper, to taste
1/4 cup extra virgin olive oil
2 teaspoons honey
For the salad:
Watermelon radish, cut into matchsticks
Fresh chopped cilantro
Feta cheese, diced into small cubes
To make the dressing, add the lime juice, salt and pepper, oil and honey to a medium bowl. Whisk vigorously until mixed well. May be made up to 3 days in advance and stored in the refrigerator in a tightly sealed jar—just give it a shake before using.
To serve the salad, add the watermelon radish and cilantro to a deep bowl. Add desired amount of dressing, and toss well to coat. Transfer to a serving plate and dot with the cubes of cheese.
Check out some more great veggie and gardening tips from my fellow mom panelists at LoveYourVeggies.com.