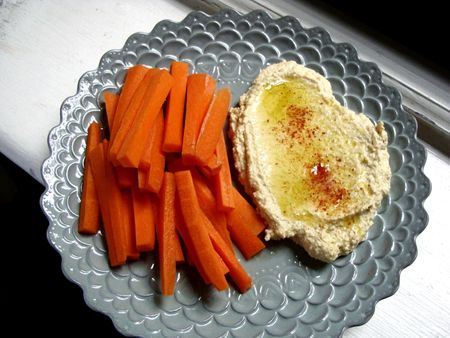 A few years back a good friend, who happens to be Armenian, said my hummus reminded her of her mother's. She wasn't alone in her enthusiasm recently. The hummus was a hit at the girls' birthday party last weekend. Another friend's husband said I should open a shop selling it. While I'm not ready to make that move just yet, I did decide to share the secret to making really great hummus.
It's all in the beans.
More precisely, in how you cook the beans. Sure, you can just use water. But adding a few aromatics to the pot transforms them above and beyond the canned variety. Thanks to Olga, I started adding a bit of olive oil too—my heavens talk about upping the ante folks.
In the end, these chickpeas are anything but lazy, and if you must know why I decided to call them lazy it was because I don't normally measure the ingredients when I cook them. I do it all from memory and slight of hand. I was going to post the recipe as such, and then felt a twinge of guilt. Lately I've gotten some of the sweetest emails from readers as far as New Zealand, Australia and South Africa (and some very lovely correspondence with this sweet gal in Boston, before you think my U.S. readers are any less wonderful).
Well, it would've been downright selfish of me to not take the extra minute to measure out a few beans. So now there are no excuses. Go make some chickpeas. Use this recipe to turn them into the hummus you see above. And while you're swiping at it with your pita, carrots or flatbread, know I'll be doing the same thing in my little corner of the world here in Brooklyn, NY.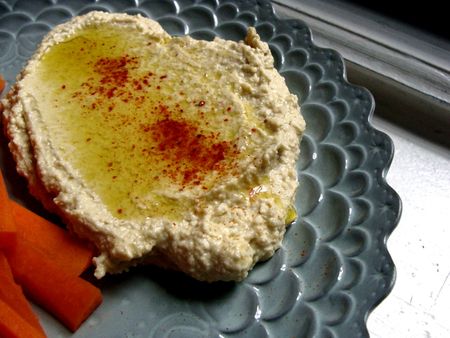 p.s. I'm hoping to make this fundraising event on Monday for Cookies for Kids' Cancer. If you in town, it's a very worthy cause, the hostess is as sweet as she is beautiful and kids are welcome. Do look for me and say a big hello, too. If you can't make it, you can always make a donation here to help support the fight against pediatric cancer.
lazy girl chickpeas
makes a bit less than a quart
There's really nothing slacker about this recipe, except that I don't soak the beans overnight. After years of fearing cooking beans from scratch because of the time involved, I learned you can skip the soaking all together and just add extra time to the clock while the beans cook. Sure you can easily buy a can of chickpeas, but after one taste you'll be a convert too.
1 cup (7.5 ounces/210 grams) dried chickpeas, picked over & rinsed
4 cups (1 litre) filtered water
1/4 cup good quality extra virgin olive oil
1 bay leaf
1 clove garlic, peeled & smashed
1/2 teaspoon (3 grams) sea salt
Freshly ground black pepper, to taste
Add all the ingredients to a medium-sized pot. Bring to a boil, then cover, reduce heat to low, and let beans gently simmer until tender but still toothsome, 45 minutes to an hour. Let cool, pour chickpeas and their cooking liquid into an airtight container and store in the fridge up to 3 days. No need to discard the garlic or bay leaf, just pick around them as you spoon out what you need.