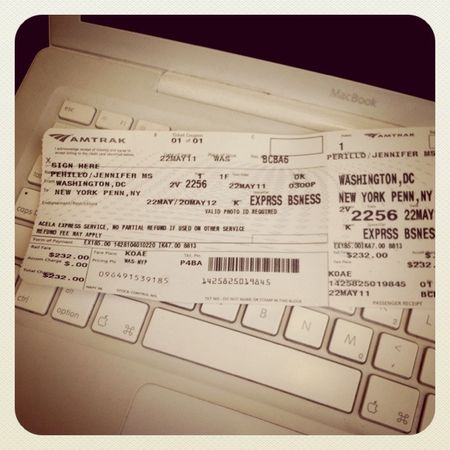 I'm on a train, rolling through the outskirts of Maryland, making my way home from D.C. This would have been the better option for my arrival too. Instead I took the bus, emerging looking as if I'd been on a fishing trip. My jeans tucked into forest green galoshes, and a navy slicker thrown over my arm since it was raining when I left New York.
Normally the planner, I hesitated making my travel arrangement to Eat, Write, Retreat. Something was gnawing at me every time I thought about getting to D.C.
I love flying, but in this case it wasn't the sensible choice. So that left me with two options—the bus or train. Neither appealed, so I just left my plans until the last minute.
I still hadn't figured out that feeling. The underlying reason why this choice, an easy one compared to so many others I've been up against in life, was paralyzing.
After a five and half hour bus trip to get here, I decided my hard work deserved a reward—a comfy seat, reliable wi-fi and the opportunity for hot coffee. I booked a ticket on the 2:20pm train back to New York. I went a step further and even popped for a business class seat, figuring that would make the trip less daunting.
The 2:20pm wasn't meant to be. Rather than wait an hour for the next train, I upgraded to the Acela. I promised the girls a kiss goodnight, and those are the kind of commitments you try to keep at all cost.
I started thinking about the upside to missing my original train. It meant I had a few more minutes with Shauna and Domenica. I got to spend some time getting to know Joe. All in all, it was worth it, the delay a blip in my life really.
As I settled into my seat and stared blankly out the window, it hit me. Suddenly, the reason why I hesitated for so long was clear. The last time I took a bus trip was to see my father. I'd found out he was dying from pancreatic cancer.
The last time I rode Amtrak was when I left him at the hospital, with the promise to return a week later. The doctors said he had two to six months left, and I'd planned to take a leave of absence from work, and stay with his wife and daughter in Pennsylvania until the end. We had so much lost time to make up for, having not spoken for five years.
I got a call three days after that last train ride. My father was in a coma. There would be no last kiss. No final hug. Instead I would have to settle for a 27 hour vigil, watching his glazed over pale blue eyes lost in space. Tiny breathes slowly gasping past his lips. He had a DNR, so all I could do was watch. Make sure he wasn't alone.
I felt the moment of his last breath, watched as a peace washed over his body. I waited a moment before calling the nurse, his wife and my mother. I had shared him long enough, and decided that was going to be my moment alone.
As I sat on the Acela this second time around, I struggled desperately to fight back tears. Fearful what other passengers would think if they saw me in such a state. Then no longer able to be strong enough, a tear trickled down my cheek. I missed my dad.
Then I realized something even more heart-wrenching—I'd never cooked for him. He walked out of my life when I was 15, on the cusp of my awareness about food and dabbling with the enjoyment it could bring. The trickle that clung to my cheek became a downpour, and I gave into the moment. A spiritual person might believe he is looking down and knows the woman I've become. Since that's all a grey area for me, the reassurance simply isn't enough. Today there is no recipe to share. There is just a memory, and the promise of kisses that I have to keep.
I'm coming home girls.