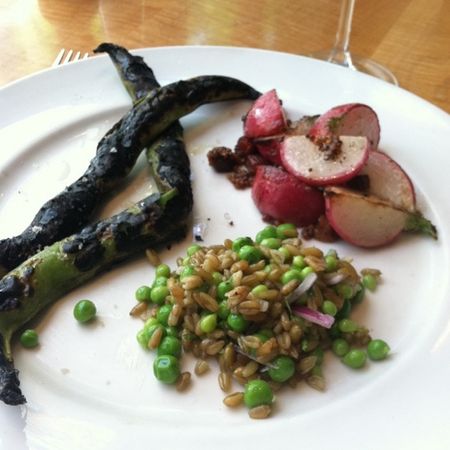 "Chef is just another word for boss."
It's a simple statement, likely to get some of you riled up, especially if you forked over tens of thousands of dollars for culinary school. Yet, you can't deny it's truth. Those words were uttered by a very wise, innovative person, Tom Colicchio.
The first time I watched Top Chef, I was struck at how his "character" was portrayed. Make no mistake, anyone cast on the show is there to fit a certain role. It's no surprise that reality television is a highly orchestrated affair.
But I digress, though you're all used to that by now.
The point is, Tom Colicchio is actually a generous person. We sat together at many a family meal, the time at which staff eats before dinner service begins in the restaurant business. While there was a sense of hierarchy in the kitchen (I worked front-of-house), the in-between times he was one of us. In a way he is still one of "us" today.
Raise your hands if you're not a trained chef? Hmm, I thought so.
Guess what? Neither is Tom, yet he has done amazing things with food, including being a supporter of the sustainable and local food movement, long before it was the fashionable thing to do. He has earned the level of success he's achieved, and though it's not likely we'll all reach that stratosphere of fame internationally, there's no reason we can't be the boss and master of our own kitchens.
Here's a bit of advice for pretty much everything you approach in life. Own what you do. Believe in yourself, and do not let preconceived notions of yourself stop you from excelling at what you want to do, whether you project them or others think it of you. This last bit of wisdom is a knee-jerk reaction to all the boo-hooing about attending food conferences, but it also applies to cooking.
Yes, you are bound to have a failed recipe or two…or three, four, five. The fact is cooking is a learned skill for most people, as is language.
During my panel at Eat, Write, Retreat, someone asked "when is a recipe your own" if you're constantly referencing cookbooks. My answer was "put the books away". Simple, yet scary for many I know, but crucial if you want to be taken seriously for your creativity and be considered a go-to person for original recipes.
There's much debate about all recipes being derivative, and I think that's just hogwash. I mean, yes, of course you won't be the first person to develop a recipe for "the best" piecrust, but if you're offering insight into a new technique, or put a different twist on it, then don't let the derivative police stop you from unleashing your creativity.
So where the heck am I going with all this is an appropriate question right now. My head is a jumble of ideas the last few weeks, some of which I decided to spew across these pages. My real point though, is to always stay focused and believe in yourself.
And if you want to learn how to think like a chef and see food in a different light, now is the perfect time. Take the advice we give parents with picky eaters, and browse through your local farmers' market or get lost in the supermarket. Pick up a new ingredient. Smell it, taste it, then imagine how it would work with something in your pantry. Don't make the risk so high that you may find yourself ordering takeout for dinner. Maybe do something inspiring with the vegetable or other side dish, so you won't find yourself scrambling if it doesn't work, after all one missing side doesn't make a difference.
While I was at the event with Tom, someone asked what he recommended if you could only buy one pot or pan. He retorted back with "why would you only want one," I chuckled thinking of the drawers in my own kitchen. Thanks to my work with the Love Your Veggies campaign, remember I'm a paid spokesperson, I get to make one cook's dreams come true and stock their kitchen with these essential items—yes, it's worth over $1,000!
All-Clad d5 Stainless Steel 7-Piece Cookware Set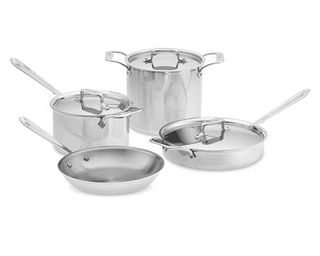 Le Creuset 4 1/2-Qt. Round Dutch Oven AND Small Rectangular Baker

de Buyer Kobra Adjustable Slicer
And of course some Hidden Valley Ranch products—I know there must be a few fans out there.
So what do you have to do for a chance to win? I'm pretty confident in my social standing, so no need to force friendships with tweeting, facebooking and following—though I do love to connect in all those places too. If you want to visit the Love Your Veggies site and learn more about the almost one millons dollars they've given in grants to help build school and community gardens, then that'd be swell too. The Clorox company is doing so much to help kids, and I wish more companies would follow suit.
Entering the giveaway is easy and only requires two things from you.
1. Leave a comment, sharing one ingredient or cooking method that you want to experiment with but are frightened to take the plunge. The comments will be open until 11:59pm on Tuesday, May 31st. The winner will be selected using random.org, and please only one entry per person.
2. Make a promise to yourself that you will conquer that fear. Now, this part is more an unspoken pact between you and me. I always keep my word, so I hope you will too. You may end up not liking said ingredient, or realize the hype surrounding said technique isn't worth the hubbub. On the flip side you might just have found your go-to ingredient, or new way of way of doing things. Either way, you will have grown as a cook and learned something new about yourself.
Have a great holiday weekend, and let's remember to be thankful for all the service men and women who make it possible every day to enjoy time with our family and friends.
p.s. One more bit of information to share. You may have noticed the new badge over there on the right for Bloggers Without Borders. Please take a minute to learn about this new charitable endeavor started by Maggy, Erika and Aimee, then donate what you can to help those in need.