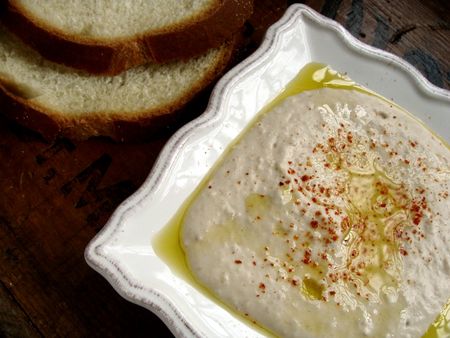 Would you think me totally crazy if I said hummus has become a comfort food?
The simplicity of homemade flatbread and a creamy bowl of hummus quickly cures hunger pains when I'm in the midst of a crazy work day.
In the early evening, a smear along with some cut up carrots curbs my pre-dinner snacking (I recently tacked a photo on the fridge from my skinny days for swimsuit season inspiration).
And the kids finally love it too. I've written lots of articles about snack foods for kids, and hummus inevitably makes its way into them, but until a few weeks ago Isabella would dab her finger in the bowl, then wrinkle her nose.
What's so different about my hummus now?
I've been cooking beans from scratch, and no matter what anyone says about brands, when it comes to beans the best ones will always be the simple pot you put up on your own stovetop.
I avoided cooking with dry beans for years. Something about the "soak overnight" instructions felt like too much planning. And when I did try making them, the cooking time always took twice as long as any instructions I'd come across.
Then I discovered the problem. The first person to ever write the recipe must have slept for 10 hours. I mean, don't we all interpret "soak overnight" to be during our sleepy time?
I average six hours a night, sometimes less. So my overnight isn't nearly enough time for the soaking to have any real effect. That's when I decided to skip it all together and just increase the cooking time.
The other secret I learned recently is not to take the cooking liquid for granted. Melissa wrote about her bean technique a few weeks ago, but it wasn't until Olga reminded me about the olive oil trick that I remembered to tinker around with my own method.
Well, that pot of navy beans I made last week yielded the creamiest, most tender beans I've ever eaten. I wouldn't add the oil to my pinto beans because I prefer a sturdier structure for those guys, but for a tiny white bean, or their heftier cousin, cannellini, a little bit of olive oil offers infinite potential.
Ok, maybe it wasn't a tiny bit.
Perhaps it was more like 1/4 cup.
Yes, that's what it was—plus 1 cup of dry white beans, 4 cups of cold water, 2 cloves of garlic, along with a generous pinch of sea salt and fresh, finely ground black pepper. I tossed it all into a 4-quart pot, brought it to a boil, then reduced to a simmer and cooked them until tender, about an hour.
That is how I made my navy beans last week, and I'll make them the same way today.
Monday is bean day around here. I put up a few pots while I set about cleaning the house. Virginia is home on Mondays, so I don't feel the stress most people do to start the work week. I accept what gets done, gets done—the rest can wait until my week officially starts on Tuesday, when she goes to daycare.
Since I usually make a few pots without a thought or plan of what I'll do with them during the week, there's always the worry some will go to waste.
Last week I had a hummus craving, but was fresh out of chickpeas. I looked at the silky white beans in the fridge, with a thick slick of olive oil on top and thought "why not". I didn't dare rinse and drain them like most recipes tell you to do.
I simply spooned out a cup's worth, letting the cooking liquid cling to the beans, and followed my regular recipe for hummus. The result was rich, creamy and lead to a surprising discovery over the weekend. You'll have to wait before I share that one with you.
First, go put up a pot of beans.
Then go make this hummus, and be sure to save a few spoonfuls. I'll be back in a few days to let you know why you need them.
A Not So Simple Pot of Beans
Don't let the title of this recipe fool you. There's nothing fussy or difficult about cooking beans from scratch. It's what you add to the pot that elevates them from humble peasant food to culinary excellence. The cooking liquid is quite flavorful too, so feel free to stir it into soups and sauces in which you plan to use the beans too.

1 cup dry navy beans, picked over and rinsed
4 cups cold water
1/4 cup extra virgin olive oil
2 cloves garlic, peeled
Generous pinch of sea salt and finely ground black pepper
Combine all of the ingredients in a 4-quart pot. Bring to a boil over medium-high heat, then reduce flame to lowest setting. Cover pot and let the beans cook at a gentle simmer until tender, about an hour.
Remove the pot from heat and let the beans cool. Transfer to a container with the cooking liquid, cover and store in the refrigerator for up to one week, or freeze for up to two months.
What the heck are navy beans?
I wondered the same thing for a long time. Since my mom doesn't like beans, my exposure to them was non-existent as a kid. I'm pretty sure I didn't have my first taste of them until my teen years. I tend to be a literal person and assumed all along that navy beans were, well, darker hued, like black beans. They're actually tiny white beans, and lucky for me I can get them at the farmers' market from Cayuga Organics.
Note:
if you plan to add the beans to a soup or other recipe in which they will cook longer, then reduce the simmering time to 25 to 30 minutes, for a more al dente bean. This way they won't get mushy when you cook them again the second time.