By now, you've probably figured out I'm a bit obsessive about cooking from scratch. Michael used to tease me, and ask when I was going to start making my own water. There is a hazard to this, though, and in my case it started with a simple pot of beans. Most cooks will agree that there is no worse fate for a pot of beans than overcooking them. Beans should have a little bite to them; kind of like al dente pasta. You know their just right when you bite into them, and they give way ever so gently, but still require some chewing, and don't just collapse in your mouth. They should hold their own, so to speak, when combined with other ingredients, as in the Chickpea, Parmesan and Fennel Salad in Homemade with Love.
Making hummus, though, requires a contradictory approach to cooking chickpeas. In this case, you want them to surrender their fight, which is the real secret to creamy homemade hummus. As the editors at Food 52 wrote recently, they should break up easily when mashed between two fingers, and be "almost, but not quite mushy". The latter being a very fine line, in case you were wondering. What this means for me is that cooking chickpeas for hummus presents a problem. It means I actually need to make a separate batch of chickpeas—one for most other recipes, and another for when I'm craving hummus. Perhaps it's the repetitive nature that bothers me most.
I'm an advocate of canned beans in a pinch, but one taste of hummus made with a batch of home-cooked chickpeas years ago, and I was ruined forever. So, for the last few months my compromise has been buying store-bought hummus. I can hear the collective gasps; I'll give you a moment to pick yourselves up from the floor before I continue. (waiting…waiting…okay can we move on now?)
Yes, I buy already-made hummus on occasion. I know, I could use canned chickpeas, but I simply don't like it made with the canned variety (and I've tried a few different brands). As I get older, I realize I'm not willing to compromise on flavor.
I'm not going to beat myself up for buying hummus because that would be pretty silly. I'm just going to try and plan better. I tend to wing most everything in the kitchen, even holidays and parties. Instead, I'm going to take my own advice, and shore up my freezer pantry with two kinds of cooked chickpeas. That sounds a bit over the top, even for me, but I never claimed to be sane.
Now onto more intriguing things, like trying my hand at homemade pita again. I made my first batch this weekend, and have some dough ready to rise while I walk the kids to school. Before you ask, yes puffing has been a bit hit or miss, but my thoughts on that are for another post coming soon. Happy Monday everyone!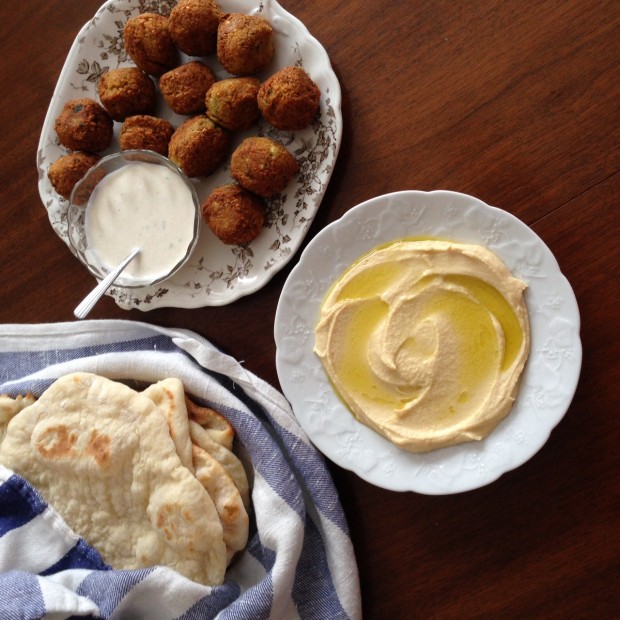 Creamy Homemade Hummus
Makes 6 servings
Music Pairing: Beginning to See the Light by The Velvet Undergound
It has been said that removing the tiny hulls from the chickpeas makes for a smoother, creamier hummus. I tried that craziness once, and didn't see any noticeable difference worth the time and effort. I did, however, try this technique for cooking my chickpeas, and think it's well worth the extra time after tasting my recent batch of hummus. It's brilliant, actually, and a great compromise. Rather than remove every skin, about half of them come off on their own, albeit with some coaxing. I'll warn you, though, that there will be a lot of foam to skim off. You also don't want to stray too far from your stove when it comes to a boil, or you'll have a mess to clean up as the foam cascades over the top of the pot (a reaction from the baking soda).
According to Ottolenghi and Tamimi, the baking soda acts as an abrasive that helps release the skins. I think it also helps soften the chickpeas quicker, too. I didn't find the skins to simply float to the surface on their own, though. It took some frequent stirring, and skimming. I also strained my chickpeas from their cooking liquid (reserving it, of course, in a jar), so I could pick out the remaining skins that couldn't be easily skimmed off (there were quite a few!).
Admittedly, it is a very fussy way to cook chickpeas, but it really did yield the smoothest hummus I've ever made. My solution will be to make a double batch, and freeze it in ready-to-make portions. If Homemade with Love was your introduction to cooking beans from scratch, this is a good intermediate exercise to "up your game". A word about equipment— you really do need a good powered food processor or blender. I recently bought an 1100-watt Ninja blender at Macy's for less than $100, and it's been a great kitchen investment. It serves double duty as a blender and food processor, freeing up valuable counter space at my house upstate (which has perhaps the world's tiniest kitchen, in a house, that is).
2 cups (400 grams) cooked chickpeas (made using this method)
1/4 cup (60 grams) tahini
1 small garlic clove, peeled & smashed
1/2 teaspoon fleur de sel
Freshly squeezed juice of one medium lemon
Pinch of ground cumin
1 to 2 tablespoons reserved chickpea cooking liquid
Extra virgin olive oil, for garnishing
Add everything, except for the cooking liquid, to the bowl of a food processor or very powerful blender. Pulse a few times, to break up the chickpeas, then turn it onto a steady process until the mixture becomes smooth (you may need to stop and scrape the bowl a few times). Add the reserved cooking liquid until it reaches the desired level of creaminess.
Serve at once, with a bit of olive oil drizzled on top. Leftovers may be stored in an air tight container in the fridge for up to three days.