falafel success + a creamy tahini sauce recipe
I didn't taste my first falafel until my mid-twenties. It seems unthinkable, especially living in New York City. My family wasn't very adventurous in the food department, though, the most exotic cuisine being Chinese food (and mostly not very good, either). Any parent will tell you that eating habits, and palates, are created from an early age, as well as food phobias.
I often wonder what my relationship to food would be had I never met Michael. He gave my appetite, the same gift he gave my heart. Michael opened my eyes to trusting it was okay to try something I'd never experienced. The fear of the unknown is often more difficult to overcome than the unknown itself.
Long before I secured my first passport, he took me on international adventures, one bite at a time. So, yes, it was with him that I ate my first falafel. It's street food at its finest, when prepared lovingly. One of our favorite places to go was Fatoosh in Brooklyn Heights. They had two locations back then, a small outpost on Henry Street, and the other on Hicks Street, both off Atlantic Avenue, essentially around the block from each other. I always thought that odd, and wasn't surprised when the Henry Street location closed a few years later.
The setting was far from fancy, but the hummus was so smooth and creamy. The pita bread always warm, fluffy, and fresh from the oven. It often served as an edible teething toy for Isabella. It's been years since I've been there, but from what I've read of their reviews online, it seems their reputation still stands true. I've had a wicked craving for falafel lately, but past failures left me feeling shy about attempting it again at home. Just a few weeks ago I tried a supposedly foolproof recipe, but in the end, the savory little orbs fell apart as soon as they came in contact with the hot cooking oil.
I wanted to cry, feeling the pressure of not having a back up dinner plan. Instead, I took a deep breath, slapped on a smile, put the mixture in a bowl, and told the girls it was falafel taco night since the mixture resembled a mock meat filling. Now, I should preface that falafel was going to be a hard sell to begin with. As with my own upbringing, I tend to cook the same old standards at home, especially since Michael died. It's stressful enough being a single parent; I just want need dinner to be a relatively peaceful event. The girls may be used to eating a varied diet outside of the house, and my table may always be set beautifully, but the cast of characters served up are usually the old guard, sure to get a standing ovation with every performance.
Just because I'd been craving falafel didn't mean they would embrace it with open mouths. A surprising thing happened with that dinner failure. The wrinkled their eyebrows, sniffed a spoonful before piling it into the pita bread, and then declared they loved it. For a moment, I thought they were trying to be nice. I'd told them about the mishap, and they could see I was crestfallen. When they went for seconds, though, I knew they were being honest. My falafel may have been a crumbly mess, but the seasonings and spices that I thought would cause mutiny turned out to be a hit.
Over the next few days, my mind was still occupied with what went wrong. In researching a few more recipes, it started becoming clear that using cooked chickpeas is a no-no. There are many recipe out there that call for them, but the fact is that they're too delicate, and make for too-moist a mixture to stay intact when fried. The secret is incredibly easy, provided you plan accordingly—you need to start with dried chickpeas, and soak them overnight.
This one recipe stuck in my mind, from a recipe developer I trust, yet I put my falafel making whim on the back burner. My cravings always hit at night, when it was inevitably too late to start soaking chickpeas. The simple answer would be to just set them up the night before, but I get scattered in the chaos of cleaning up dinner, and getting bedtime going. By time the last goodnight kisses have been placed on the girls' foreheads, chickpeas and falafel are the furthest thing from my mind.
A few weeks later, the girls and I loaded up the car for a road trip to visit one of my best friends in North Carolina. I made sure to pick up cannoli from Court Pastry, fresh mozzarella from Caputo's, prosciutto di Parma, cacciatorini, and jars of my favorite pureed tomatoes to make some marinara sauce. She's recovering from surgery on her right arm, limiting her ability to cook for a while. No worries, I arrived seven and a half hours, and 500 miles later, armed with an Italian specialty store in my trunk.
When I walked into her kitchen she told me she had some chickpeas soaking that she'd brought back from their trip to Spain last summer. My head whipped around, a bewildered look on my face. "Are you kidding me?", I asked her. I told her about my falafel follies, and said it's been on my mind for weeks. There's obviously a reason she's part of my Core.
That first night we enjoyed a spread of charcuterie, cheeses, and spaghetti with a creamy lemon sauce. The next night, I set forth armed with a recipe I felt was sure to work, finally. Dinner was a success, even though making the tahini sauce caused Todd to break out in a sweat. I've since worked out my own creamy tahini sauce recipe, and have now moved on to making warm, fluffy pita right in my own kitchen. My advice as soon as you finish reading? Go soak some chickpeas. I'm heading downstairs now to do the same, and plan for my next craving.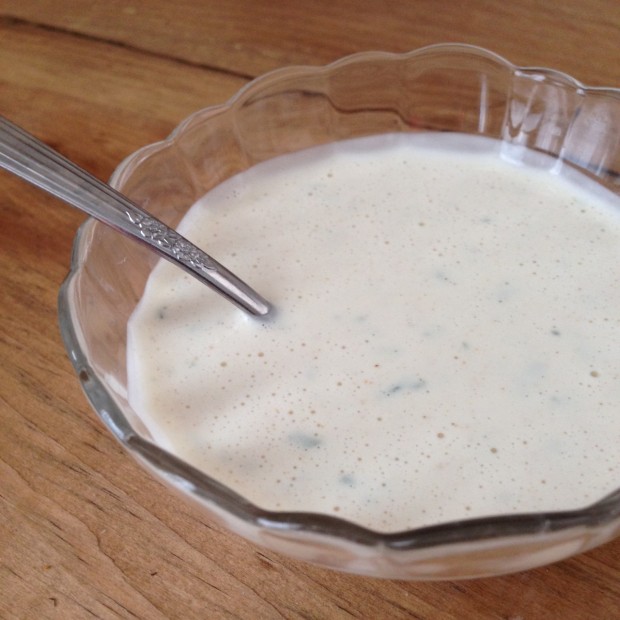 Creamy Tahini Sauce
Makes 3/4 cup
It sounds a bit crazy, but I've found that tahini varies wildly in flavor depending on the brand. I'm perplexed by this because it's just ground sesame seeds, so my guess is it matters where the paste is made, and where the sesame seeds are from, maybe? Some brands are too harsh, and have a bitter after taste. The ones I prefer are creamier, and more nuanced in their flavor. In recipes like this one, where the tahini is the main ingredient, it will definitely affect the final taste. This recipe was tested using Al Wadi tahini. I also like the Sahadi's brand sold at their store on Atlantic Avenue here in Brooklyn.
1/4 cup (60 grams) tahini paste
1/2 cup (150 grams) plain Greek yogurt
Small garlic clove
Generous pinch of salt
1/4 teaspoon ground coriander
1/4 cup freshly squeezed lemon juice (a medium, juicy lemon worked for me)
Handful of flat-leaf parsley, chopped
Add everything, except for the fresh chopped cilantro, to the bowl of a blender. Blend until smooth, and well mixed. Pour the dressing into a serving bowl, or container if not using immediately. Stir in the cilantro. Let the dressing sit for a few minutes so the flavors can meld, or store in the fridge for up to four days.
A big thanks to Tori Avey for a falafel recipe that finally worked! Get the recipe here.