devil's food cupcakes + rich chocolate frosting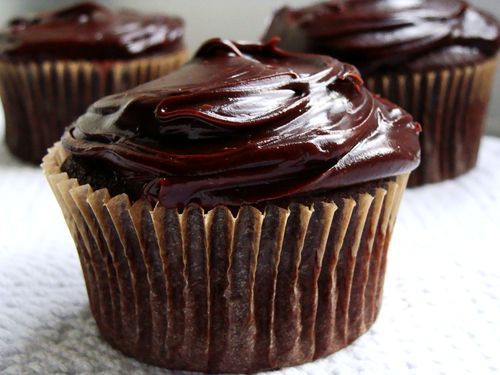 Since I consider honesty one of my strong suits, I must confess I'm eating one of these cupcakes while I write this post. I needed sustenance to get through a late night of playing catch up after the school chancellor declared a snow day. I love my girls, and while I more often than not try to stop and smell the roses, next week is winter break. Needless to say I'm starting the month on a deficit when it comes to available work time.
These cupcakes have super powers. I'm convinced of that, so please don't burst my bubble. I can't help but smile while licking the rich, creamy frosting from my teeth after taking a bite. Yes, I like to lick the smudge of frosting off my fingers too. Oh dear, I can only imagine the spam that last sentence will illicit.
But, back to the cupcakes. I didn't research the origins of naming a cake devil's food, but I'm guessing it has something to do with the irresistible taste. I know a thing or two about both baking and eating this type of cake. In fact, I'm an expert on finding the best in New York City—outside of my own kitchen now that is. I remember telling my girlfriend my weight gain was the equivalent to eating our then four-year old daughters back when I was pregnant with IRP eight years ago, with a raging chocolate cake craving.
These cupcakes are also very accommodating, and stay fresh stored on a cake stand loosely covered with plastic wrap. I happen to be sitting right next to said cake stand, and since will power doesn't rank up there with honesty in strong suits, I'm eating ate one. I keep adding extra push ups and crunches to my workout routine…once I get started again. The current count must be four-digits by now.
Oh, yes the cupcakes. Well, I'm sure you heard about them if you follow me on twitter or are a fan on Facebook. My mission began two weeks ago when the Mr. told me he wanted a ring ding inspired cake for his recent birthday celebration. I made three cakes in four days. Then decided to make another one and these cupcakes a few days ago, after his birthday. Call it good measure. Or maybe it was a premonition of the impending snow day. They made the girls very happy, especially the ones with sprinkles. This glaze topping reminds of the same cupcake they used to make at my favorite neighborhood bakery that closed six years ago *sniff*. They used to sell them for only 30 cents—35 if you wanted them with a creamy center.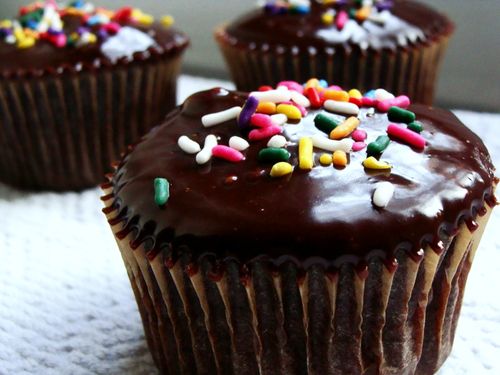 I had intended to post my recipe for scones this week but then realized Valentine's Day was coming up this weekend, and what better way to say I love you than with a homemade chocolate treat. No candy thermometer needed. Leave the chocolate tempering for another day. This weekend, bake up some of these devilishly intense tokens of your affection. There's no doubt the recipe came from the heart. And when you're done, keep the recipe in an easy to reach place because there's no doubt you'll want to bake, and eat them, over, and over, and over again.
Before we get to the good stuff, a few more things you need to know. For starters, I hadn't intended this post to be a novel. It's just that I wanted to share some very helpful tips, so here it goes. I promise your attention will be well rewarded.
You won't find any melted chocolate in this recipe. By trial and error, I came to the conclusion that it makes for a more dense cake, and I wanted a light, heavenly crumb (funny, considering I'm doing the devil's work). Not to say there was anything wrong with those test cakes. In fact, they were quite delicious and I will share them sometime soon. I was also aiming for a moist cake, and while many recipes use canola or vegetable oil for that purpose, I like to be buttered up, so relying solely on cocoa was a much better fit.
I really think the type of cocoa powder you use makes all the difference in the end result too. I love Scharffen Berger, and used the semi-sweet baking bars for the ganache, but for the cake, only Valrhona will do for me. You'll know what I'm talking about the moment you open a pack of it.
And, in case you're wondering, yes this recipe is also perfect for making a layer cake. Sadly, my photos didn't come out that great, so none to share…for now at least. Use my green baking tip and grease your cake pans with the empty butter wrapper and be sure to "flour" them with cocoa powder, to maintain the beautiful deep, dark color of your cakes. In fact, file this factoid away for any chocolate cakes you bake. And, that paper you see in the bottom of the pan is simply a circle I cut from a sheet of parchment paper (adhered after the bottom of the pan was buttered). You can also buy pre-cut circles too, so do put some sort of parchment to save any heartache when releasing your cake from the pan.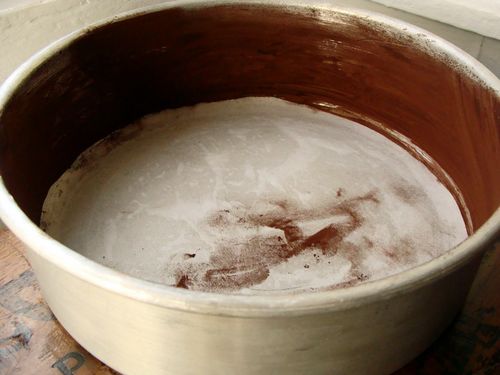 I could've been a bit neater considering how much Valrhona costs.
If there's one other important bit of advice I can give when making cakes, please do be sure to cream your butter and sugar really well. A friend was over while I was preparing the cakes for the big birthday party and she asked about overbeating cake batter. This was probably prompted by my nonchalant approach to letting the stand mixer whirl away for oh, say five minutes. I can see how that might be alarming. See, overbeating really only becomes an issue once the flour is introduced to the batter. That's when you have to treat the gluten gently to ensure a tender crumb.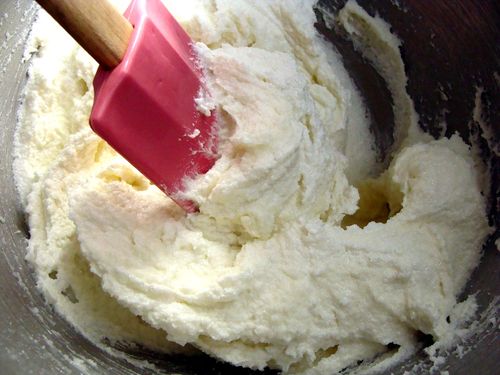 well-creamed butter and sugar
The same can be said about beating in the eggs. Frankly, I skip the "beat in one at a time" copy you see in most recipes because really it's just more important to make sure they are well beaten and incorporated into the batter. Go ahead, add all three eggs at once, and then crank the mixer up to medium-high until the batter-in-progress is past the point of looking curdled and has become a smooth, fluffy consistency.
the eggs have been well-beaten too
Flour. I can devote a whole post to this alone. After initial tests with all-purpose (APF), I can say you must, must use cake flour for this recipe. While APF works well for muffins, golden cakes and even other chocolate cakes, it was King Arthur's Unbleached Cake Flour that made this one so light. Brooklyn folks, I was lucky enough to stumble across it while shopping at Union Market.
Is there anything else I'm forgetting? Oh, yes the frosting. This is really a ganache inspired one, and it's a little different from my recipe for hot chocolate. Many ganache recipes call for simply whisking hot cream into chopped chocolate. I prefer a not too sweet cake, hence less sugar than in most recipes, but when it comes to a fudgy frosting. Oh, baby, bring it on. So I added sugar to my recipe. Feel free to leave it out if you like a more intense chocolate experience, and for that matter you can even swap in bittersweet chocolate for the semi-sweet. And that creamy looking tuft of marshmallow filling you see below? Well, that'll have to wait for another post. It's well worth the foreplay. Happy Valentine's Day.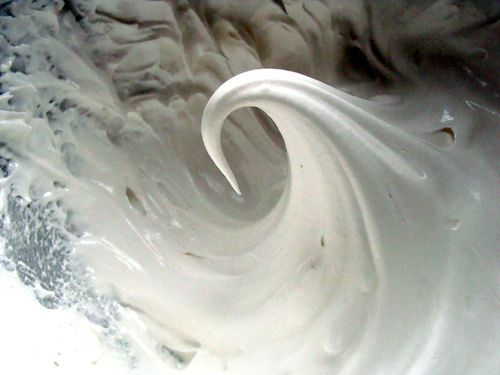 Jennie's Master Recipe for Devil's Food Cake
makes 36 cupcakes or two 9-inch cake layers
Yes, this recipe makes a LOT of cupcakes, so it's a good thing they store well in the freezer, tightly wrapped in saran and tucked into a ziplock bag. If you're making cake layers, then leftovers will not be a problem! Oh, and why am calling this a "master recipe". After my week of testing, it's hands down the best tasting and easiest to prepare chocolate cake recipe you'll ever need. And you'll notice the directions are ordered differently than usual. Most cake recipes have you mix the dry ingredients and then cream the butter and sugar. I'm always looking for ways to save a few minutes, so prefer to get the creaming process started and use that time to gather the dry ingredients. Just makes more sense, don't you think so too?
1 1/2 sticks butter, softened
1 1/2 cups sugar
3 large eggs, at room temperature
2 1/2 cups cake flour
3/4 cup cocoa powder, plus extra for coating pans
1 1/2 teaspoons baking soda
1 teaspoon baking powder
3/4 teaspoon salt
1 1/2 cups milk
1/2 cup brewed coffee
2 teaspoons vanilla extract
Preheat oven to 350ºF. In the bowl of a stand mixer, beat the butter and sugar until creamy and well combined (take a look at the pic above again).
Meanwhile whisk the flour, cocoa, baking soda, baking powder and salt together in a medium bowl; set aside. Mix the milk, coffee and vanilla in a small bowl or measuring cup; set aside.
Line cupcake tins with recycled paper muffin cups or grease two 9-inch cake pans. Place parchment circle in bottom of cake tins and dust sides of pan with additional cocoa powder.
Add the eggs to the creamed butter mixture, and beat until light and fluffy. Add half of the flour mixture to the butter-egg combo, and mix on low speed until just combined, about 15 seconds (this may take longer is using a hand mixer). Pour in half the milk mixture and mix on low speed again until just combined, about another 15 seconds. Repeat with remaining flour and milk. Scrape down bowl well, and beat on medium-high speed for 15 seconds more.
Fill cupcakes 2/3 full or evenly divide batter between the prepared cake pans. Bake cupcakes for 18 minutes and cakes for 35 minutes, or until a metal skewer inserted in the center comes out clean. Remove from oven and let rest on a cooling rack for 15 minutes. Remove cupcakes from tin or invert cakes, leaving parchment circle intact and let them finish cooling completely on the rack. This is also a good time to get started on the frosting.
Rich Chocolate Frosting
makes enough to frost one 2-layer cake or 36 cupcakes
Before we get to the heart of this recipe, I must thank Alice for opening my eyes to the fact that ganache can be used as a frosting once it's cooled and thickened. Frankly, I want to kiss her because that tip was all I needed to replicate the frosting on the cupcakes at The Chocolate Room, which have prompted a few 9pm strolls to fulfill a craving.
8 ounces semi-sweet or bittersweet chocolate, chopped
1 cup heavy cream
3/4 cup sugar
1 tablespoon corn syrup
Place the chocolate in a heat-proof glass bowl. Combine cream and sugar in a small pot and heat until very hot, just before it reaches the boiling point. Pour over chocolate. Add corn syrup and let stand for 1 to 2 minutes. Stir with a rubber spatula until smooth and all the chocolate has melted. Let cool for another minute or two to use as a glaze —simply dip the cupcake tops in and decorate as I did with sprinkles, or let cool completely, stirring occasionally to use as a thick frosting, which is better for filling and frosting layer cakes, but is divine on cupcakes too as you can see below.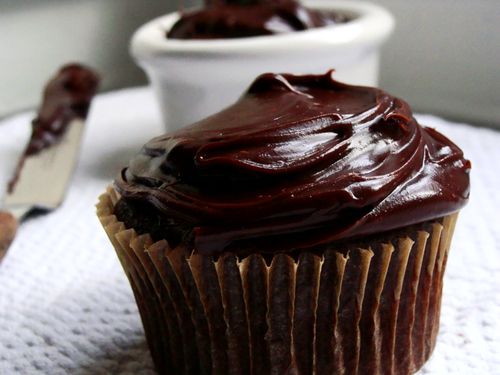 This little cupcake was frosted using the completely cooled ganache.
p.s. Because this recipe was inspired by and for my sweetheart, it only made sense to include it in Jennifer and Kelsey's Food is Love challenge. Get the details on participating and you might even win you some yummy Scharffen Berger chocolate too.