7-minute marshmallow frosting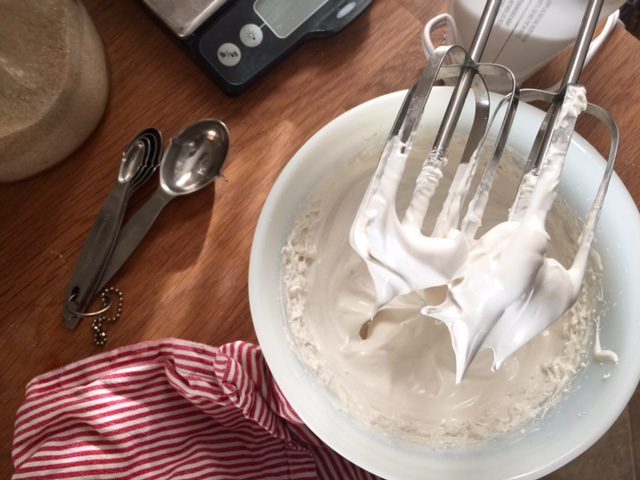 Remember those birthday cupcakes I mentioned in my last post? Well, I'm going to start by sharing my recipe for the best marshmallow frosting ever. Even better? It only takes seven minutes to make (no joke). Think of this as a cupcake cliffhanger.
Six years ago when creating that ring ding cake for Mikey, I made a seven-minute icing to use as the filling. What I loved most about the recipe is that it was no-cook. Most seven-minute icing recipes call for making a simple syrup of water and sugar, then drizzling it into the egg whites while beating them. I don't like extra, unnecessary steps, and this is one case when it's really wasteful from a time perspective. Cleaning dishes is also one of my least favorite chores, so if I can save time and have one less pot to wash, then it's a double win.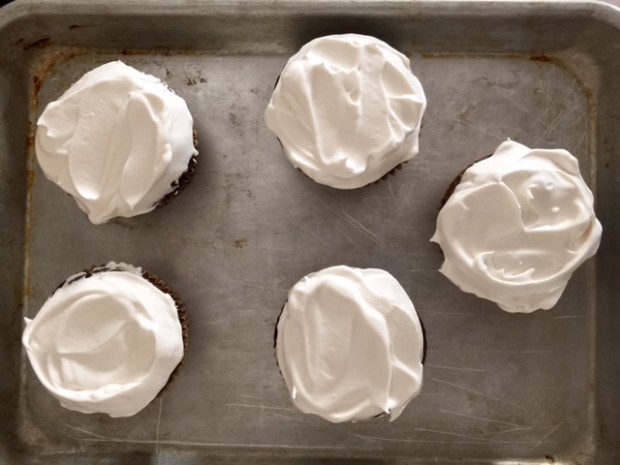 I knew the purpose of the simple syrup was to make sure the granulated sugar melted, creating a smooth icing, but wondered if simply adding boiling water would be enough. The stakes were pretty low here. There wouldn't too much in the way of wasted ingredients or time if it didn't work, so I gave it a go.
Looking at the photo below, you can see it works like a charm. Billowy, cloud-like, yet firm peaks of meringue-like icing. I told you, the best marshmallow frosting!
Forgive me while I sidetrack a moment here. Have any of you ever wondered what the difference is between icing and frosting? Yeah, me too. According to Williams-Sonoma, icing is usually thinner, glossier, and meant to act as a glaze. Frosting is thicker, fluffier, with more texture for coating cakes. By this definition, seven minute icing should be frosting, not icing, right?
Okay, so back to this recipe. While frosting the cupcakes (chocolate buttermilk recipe coming soon!!!), I got lost in the swirls and peaks while frosting them. The texture was so much like marshmallows, and I wondered…since this was a meringue-like frosting after all, could I run them under the broiler for a toasted marshmallow effect?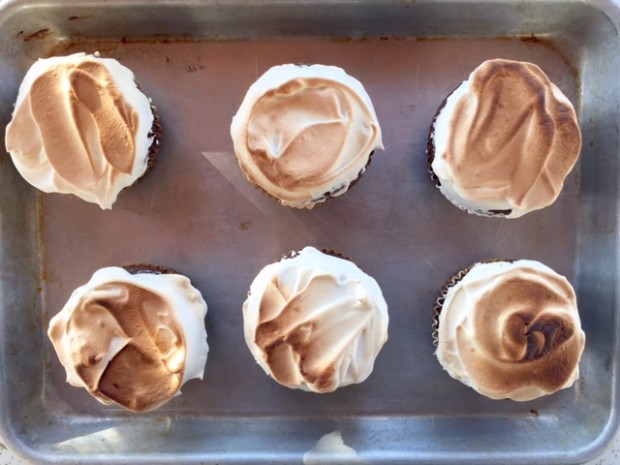 The answer is YES. So, that leads to my next question, why do we call it seven-minute icing when really it's marshmallow frosting? I mean, doesn't the sound of marshmallow frosting just make your knees all weak? And marshmallow frosting that only takes seven minutes to make; well that's a win-win.
Now, if you decide to toast the top of the your frosting, keep a close eye on the broiler. They'll easily go from beautiful to burnt if you don't watch them like a hawk. To do this for a cake, I'd suggest using a torch so you can get the sides nicely toasted, too.
Before toasting, the frosting is silky smooth. After toasting, it firms up slightly, and really takes on more of a soft, spongy marshmallow consistency. The girls went crazy for these cupcakes, and were incredibly generous with their "wow, you're a genius, mommy" compliments. They are two hard-to-please customers, and on a day that was filled with many mixed emotions, their squeals of delight were exactly what my heart and soul needed to feel nourished.
Seven Years Ago: Bacon & Eggs for Dinner
Six Years Ago: Devil's Food Cupcakes + Rich Chocolate Frosting
Five Years Ago: Lemon Poppy Muffins
Four Years Ago: Italian Fried Rice
Three Years Ago: Perfect Roasted Potatoes
Two Years Ago: 2-Ingredient Biscuits
One Year Ago: Chewy Fudge Brownies (dairy-free)
7-Minute Marshmallow Frosting
Makes enough to frost 12 cupcakes
Music & Video Pairing: A Marshmallow World with Dean Martin & Frank Sinatra
I went with a classic flavor here, and used vanilla extract. I think almond would be nice, too, but glad I resisted my temptation to use it since the girls aren't fond of almond extract (I love it!). I wonder what it would be like to add some cocoa powder to the recipe, for a chocolate marshmallow frosting. If anyone wants to give that a try, let us know how it turns out? My guess is 1 to 2 teaspoons could be enough without affecting the consistency too much.
p.s. I know the music pairing today is really a Christmas song, but trust me, it'll be the best two minutes of your day watching Dean Martin and Frank Sinatra twirling on stage.
1/4 cup (50 grams) granulated natural cane sugar
1 large egg white
1/2 teaspoon vanilla extract
1 1/2 tablespoons boiling water
In a deep bowl, add the sugar, egg white, and vanilla. Using a hand mixer on medium-high speed, beat the mixture until it thickens a bit, and begins to look glossy, 1 to 2 minutes.
With the mixer on medium-high speed still, drizzle in the boiling water. Increase the speed to high, and beat for 5 minutes until glossy, stiff peaks form when you lift the beaters from the bowl.