steel cut oats with caramelized onions & ricotta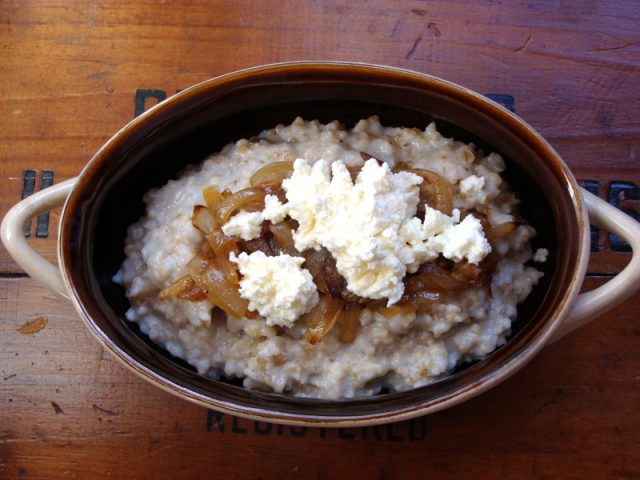 After weeks of testing devil's food cake recipes, followed by a special trip to get some cookies baked by none other than Dorie herself, and the boxes of Nunu's chocolate scattered around the dining room table from Valentine's Day, I've reached my limit. Yes, the girl with an insufferable sweet tooth has been broken. I'm sure this is just a temporary phase. How long it will last I'm not sure. Considering the Mr. and I are embarking on a brief kid-free staycation, my guess is there will be some pastry, cookie or other confection to woo me back. Until then, I started easing away from my addiction last week.
While I've been partial to oatmeal with fresh jam or dried fruits—you'll see what I mean in an upcoming post, I decided to take a savory twist. I love making and eating fresh ricotta (it's really easy I promise). And caramelized onions—well, who wouldn't want to eat those any time of day? One could say I've just swapped one addiction for another I suppose. Throw in the nutty flavor and pop of steel cut oats with each bite and it's such a delightful way to start the day. I'm not alone in this sentiment. Each morning, I ladle some into my bowl and snuggle up on the couch with the baby after the Mr. and IRP have left for school and work. Then we giggle and take turns lapping up this creamy, comforting concoction. So, yes, it's baby-tested and approved.
Soaking steel cut oats overnight significantly cuts down cooking time the next morning, but I go one step further. They heat so well, I just make a big batch to last a few days. A quick zap in the microwave with a bit of milk to reconstitute the grain's creamy texture means steel cut oats in less than two minutes. The Mr. is worried about us leaving with the impeding arrival of another snow storm. Heck, we're just going across the bridge to the big city. This screwy weather is what derailed our plans to relax in a spa in the blue ridge mountains, but I'm not letting a few inches of the white powdery stuff call off our plans all-together (and I know Jen would agree). Instead, I'll make sure there's a vat of this oatmeal so the sitter and kiddies will have energy for a good old-fashioned snowball fight.
p.s. I forgot to mention I recently added a pantry basics page. This is by no means comprehensive…yet. It's a work in progress at the moment but a good beginning peak into my home cupboard. Right now you'll learn what kind of salt I use, why I call for room temperature eggs in most of my baking recipes and an answer to the age old question of salt vs. unsalted butter.
p.p.s. I added this recipe to the Food 52 mix last week as part of their Best Porridge contest. I particularly liked Winnie's Okayu with Edamame, Porcinis and Matcha Salt—doesn't it remind you of risotto, Japanese-style?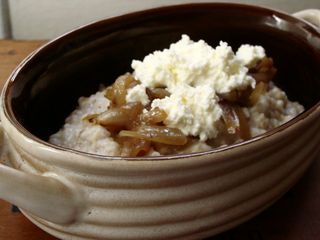 Steel Cut Oats
serves 6 to 8
I've been experimenting with making these in the slow cooker, but ironically enough, they cook to quick. In an ideal world, you'd put them in before bedtime and wake up to hot oatmeal. Unfortunately they cook in about two hours, and while I've gotten that little sleep on occasion, I much prefer at least five or six hours.
1 cup steel cut oats
4 cups water
pinch of salt
Bring water to a boil in a deep pot. Add oats and cook until they begin to thicken. Reduce to a simmer, and continue cooking, uncovered, until grains are slightly tender and water has mostly absorbed, about 15 to 20 minutes. Turn off heat, cover pot and let sit for 5 minutes before serving.
Make-ahead: Steel cut oats reheat very well, so I like to make extra this way we can enjoy them on busy weekday mornings. Store leftovers in a covered container. Spoon our individual portions into a bowl, adding a tablespoon or two of milk or water, then cover and microwave until heated through, about 1 minute does the job in my 1000 watt microwave.
Steel Cut Oats with Caramelized Onions & Ricotta
serves 2
Sure, this sounds decadent and like a lot of work, but it comes together pretty quickly if you have leftover oats in the fridge and you can always make a big batch of caramelized onions to store in the fridge too—they'll just need a brief reheat in the microwave.
1 teaspoon extra virgin olive oil, plus more as needed
1 small onion, thinly sliced
Salt and freshly ground pepper, to taste
1/2 teaspoon molasses
1 cup cooked steel cut oats
2 tablespoons fresh ricotta
Heat olive oil in a skillet over medium-high heat. Add onions and season with salt and pepper. Saute until they begin to soften and become golden, about 5 minutes. Stir in molasses, and a touch more olive oil if necessary. Cover skillet and reduce heat to medium-low. Cook, covered, until onions are very tender, about 10 more minutes.
Divide the cooked oatmeal among two bowls. Top with equal amounts of caramelized onions and fresh ricotta. Stir together with your spoon before digging in.