steel cut oats with ricotta, pistachios & raisins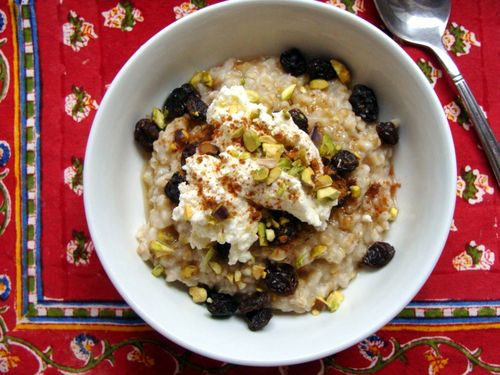 Oh my. Only 25 hours since the Mr. and I came home from our kid-free get away and it feels like a dream. Did I possibly have 48 hours of no whining? Well, of course not—the Mr. was with me. Seriously, though, we had a lovely time, and even caught up with a few best picture nominations, so I won't feel like too much of a shut-in come March 7th! It's certain to say those two days filled me fodder you're sure to hear about here soon. For now, though, my head is spinning.
I used to love Saturdays because they meant Greenmarket days. Now we juggle art class for IRP, the occasional birthday party—today being one of them, and and a visit from my in-laws. When all three coincide on the same day it leaves me a tad grumpy. I'm human, and don't think sugar-coating the craziness of motherhood does any of us any good. Art class is done, IRP is at said birthday party and my mother-in-law will be here in two hours. Did I mention it's her birthday too? Did I also mention that I refused to let the Mr. buy her a cake, yet I haven't baked one yet? The woman is turning 79 years old, and the least I can do is serve her a homemade birthday cake. But I'm here writing this instead.
Worry, not! I have a plan. A very smart farmer was selling frozen raspberries today. I'm going to make a lemon cake with them. The oven is preheating right now. But, I missed being here. I missed writing. I missed hearing my own voice, which odd as it sounds, I think so clearly when I'm here. The house is quite while the baby naps, and I needed some me time, so I thought I'd pop in for a visit. I bought lots of goodies at the market today for our Week of Eating in Challenge—oyster mushrooms, collard greens, ground pork, ground beef, eggs, half white flour from a farm in the finger lakes region, onions, apples, apple cider. I don't really have a meal plan, and frankly like it that way. There is so much routine and structure in my life already. I much prefer a well-stocked pantry that lets me be creative and spontaneous.
Well, it's time for me to bid adieu for now. I've got chicken marsala, fresh pasta and a cake to make for tonight's dinner. Here's a sweet counterpart to the caramelized onion recipe I shared earlier in the week. Raise a glass around 5:00pm and let's say cheers to a more relaxing Sunday.
Steel Cut Oats
serves 6 to 8
1 cup steel cut oats
4 cups water
pinch of salt
Bring water to a boil in a deep pot. Add oats and cook until they begin to thicken. Reduce to a simmer, and continue cooking, uncovered, until grains are slightly tender and water has mostly absorbed, about 15 to 20 minutes. Turn off heat, cover pot and let sit for 5 minutes before serving.
Make-ahead: Steel cut oats reheat very well, so I like to make extra this way we can enjoy them on busy weekday mornings. Store leftovers in a covered container. Spoon our individual portions into a bowl, adding a tablespoon or two of milk or water, then cover and microwave until heated through, about 1 minute does the job in my 1000 watt microwave.
Steel Cut Oats with Ricotta, Pistachios & Raisins
serves one
1/2 cup prepared steel cut oats
1 teaspoon brown sugar
1 tablespoon raisins
1 tablespoon fresh ricotta cheese
1 teaspoon chopped pistachios
Add cooked oats to a deep bowl. Scatter sugar and raisins on top. Add ricotta cheese and sprinkle pistachios on top. Serve immediately—I like to stir it all up so I get a bit of everything in each spoonful!