classic vanilla buttercream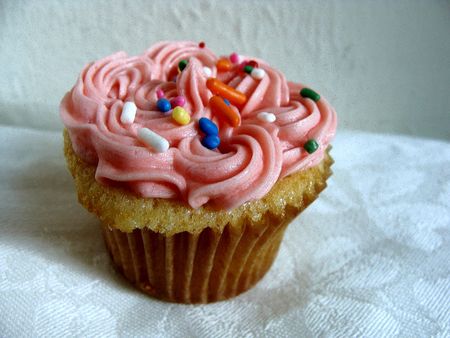 Eight years ago, around this time, I was in my 24th hour of labor. Nine hours later, I'd find myself screaming at the Mr., my mom and best friend "this kid is never going to come out". Three hours later, Isabella Rose Perillo came into my life, and it was forever changed.
Five years ago, around this time I was already holding her sister, Virginia Rae. She was barely three hours old. The circumstances leading up to her birth were worlds apart. I felt more confident. More sure of myself.
I also had a birthday cake to finish frosting just before Virginia came along. My due date was May 7th, the same exact one I had with Isabella. Like her sister, Virginia decided to be fashionably late.
As I went to the supermarket for a last minute ingredient, I wondered if the incontinent feeling I'd had all day meant my water broke. It never happened with Isabella, so I didn't know what the sensation would feel like.
I did what any modern woman would—I went home, googled "how do you know if your water broke", and found out there are a four membranes. A break in just one is possible, and would make you feel as though you were peeing your pants, one drop at a time—in my case for 12 hours.
I snuck into the bedroom, and paged the doctor.
Then I went back to decorating Isabella's birthday cake. In just four hours, she would usher in her 5th birthday. She would be sleeping, of course, but I would know the moment.
The doctor called back, and said I should go to the hospital.
I finished the cake.
Then I told the Mr. we might be having another baby that night.
As I sat in the maternity waiting room, I clutched my pillow, thankful I had remembered it this time around. When the sonogram showed my water had indeed broke and I would have to be induced, I burst into tears.
This would be the very first birthday I missed. I wouldn't be there to see Isabella turn five.
Before you get all misty eyed, I'll confess I did say "get this thing out of me" while in labor with Virignia. The Mr. will never let me forget this, and it's further proof that I'm not a saint.
In fact, anyone who knows me will agree I have a "tough love" approach when it comes to motherhood. I want my girls to grow up resilient, ready to take on the world and be capable of handling the inevitable ups and downs.
Still, as I placed this year's frosted cakes on the dining room table. I couldn't help but stare at them wistfully, side by side. Somehow these cakes made me feel joyful and a little sad at the same time. The girls will love them, there's no doubt, but these cakes put me one year closer to them eventually growing up and going out on their own.
So, if this thing called the internet still exists when you grow up girls, and you find yourself reading through the archives here, I want you to know something.
I loved you both the moment I knew you were growing inside me.
I've loved you every second of every day since that moment.
I will never stop loving you, even when I'm no longer here to hug and kiss you.
I will always be a part of you, and both of you me.
Happy Birthday babies.
Love, Mommy.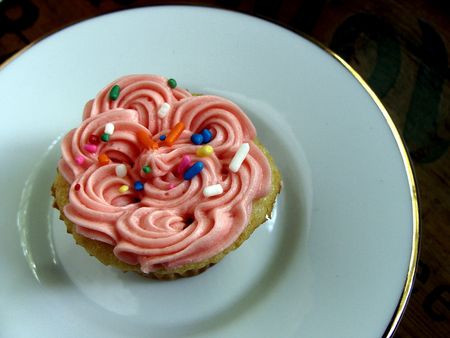 classic vanilla buttercream
makes enough to frost and decorate two 6-inch layer cakes or one 9-inch layer cake
Over the years I've tried many different buttercream recipes, and none worth writing about. Last year, I hit the jackpot. While most recipes simply call for butter and an obscene amount of powdered sugar, the key is adding a bit of cream to create a velvety textured frosting. The other secret—beat the crap out of it. Seriously. This adds air and volume to the frosting.
And in case you're wondering, there's no need to sift the sugar, provided you're using a sturdy stand mixer with lots of power. If you're setting out to do this with a hand mixer, I'd halve the recipe and do it in two batches, and expect it to take a bit longer too.

p.s. with all the baking necessary to pull off two birthdays on the same day, I enlisted the help of my friend Gail. If you don't know about her business One Tough Cookie, then you're missing out on the best decorated cookies. EVER. Not only do they look gorgeous, but they taste amazing. The smile on the girls faces when they saw these princess cookies was worth every penny.
3 sticks (12 ounces) unsalted butter, softened
16 ounces confectioners' sugar
2 teaspoons pure vanilla extract
1/4 cup (62 ml) heavy cream
Add the butter, sugar and extract to the bowl of stand mixer. Turn the mixer onto the lowest speed and mix until just combined. Increase the speed to medium high and beat until it begins to look fluffy, 2 to 3 minutes.
Turn off the mixer. Pour in the cream. Starting on low speed, so it doesn't splash, mix until the cream is incorporated into the frosting. Gradually increase the speed to medium high and beat for about 3 minutes, until the frosting becomes very light and fluffy. Use immediately.
Make Ahead Note:
Frosting can be stored in an airtight container in the refrigerator for up to two days. Let frosting come to room temperature before using, and if it appears to have separated, beat it on medium-high speed for a few minutes to restore the texture (you may also need to drizzle in a few drops of cream).