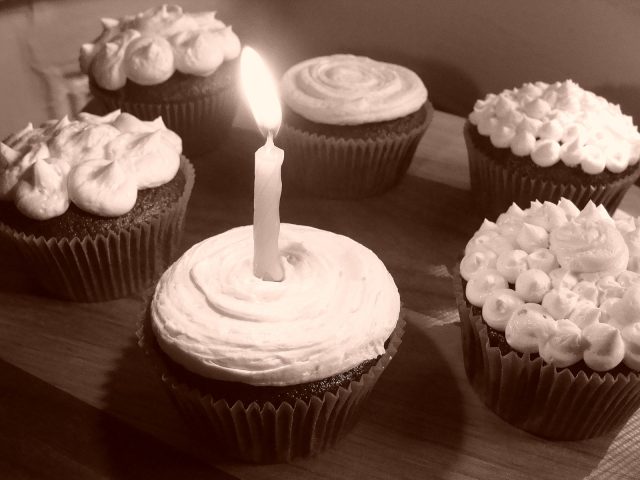 The Thanksgiving I was pregnant with Virginia, the Mr. took Isabella to the Macy's Parade. It was too good an opportunity to miss, with a window view that brought the floats and balloons to life. Since we host Thanksgiving dinner, I stayed home to cook.
While walking home from getting bread at the bakery, I began to imagine future Thanksgivings, when the girls would wake up and help me make the traditional cinnamon buns for breakfast.
Then I imagined how they'd feel coming home for a visit from college, running down in the morning. Beckoned by the scent of warm cinnamon wafting up the stairs to their rooms (we had finally moved into a house in this dream too).
And then, I imagined the first time they'd bring a special someone home for the holidays.
The next part was my downfall.
I imagined them going to their husband's family for Thanksgiving. I thought of the empty chairs that I'd have to face as we sat down for our meal.
Then I imagined their children. My grandchildren.
Then I imagined watching them from another place. I was no longer alive. My time on this earth had passed, yet I was still keeping an eye on my girls. Watching their families begin new ones too.
This all passed in a matter of three blocks, and by time I got to my doorstep, I was sobbing.
What a sight I must have been, four months pregnant, carrying bags of groceries, all alone on Thanksgiving morning.
And then, yesterday, I watched this commercial. It's as though the director read my mind.
It feels like the last seven years have been the blink of an eye. My dear sweet angel baby—as my mom calls her, turns seven years old today. Even crazier, is that her sister turns two.
Yes, my girls share a birthday. Sweet, indeed.
Though would you believe me if I said I was in tears the night I went into labor with Virginia? It meant for the first time in five years, I was going to miss Isabella's birthday. My face would not be the first she saw on waking that morning back in 2008.
I'm getting choked up just thinking about it. Oh, who am I kidding. My face is tear stained just recounting the Thanksgiving story.
I remember being so worried while I pregnant with Virginia. I was so smitten with her sister, the thought of having to share my time and love with another felt frightening. Would there be enough to go around?
Silly me, I know. See that's something you can only understand once you become a mother. Of course, there's enough love. Time becomes a bit of the villian, with the feeling like I can't spend as much of it with each of the girls as I want.
But, love? Well, there's no shortage of that.
And it is a trait I've passed down to my girls. It seems ever since pre-K, we've had a child with one food allergy or another in Isabella's class. Rather than see this is a burden, Isabella has challenged me to create new recipes that all of her friends can enjoy. She understands that sharing a meal, of any sort really, creates a bond. It's a show of love and joy.
For Josephine, we created Friendship Cookies. They are an egg-free chocolate chip cookie.
This frosting recipe is for Oliver. He is allergic to cow's milk. It bothered Isabella that he could never partake in the treats brought in for everyone's birthdays. She wanted him to finally enjoy a celebratory cupcake with the whole class.
I figured the cupcakes would be easy since I've been experimenting with baked goods using olive oil for the last month or so. I was deliciously, right, and you will soon get to see for yourself when I share the recipe for chocolate olive oil cupcakes.
The frosting was going to be the challenge, or so I thought.
How would I replicate that creamy classic frosting? Then I remembered the local healthfood store sells butter made from goat's milk.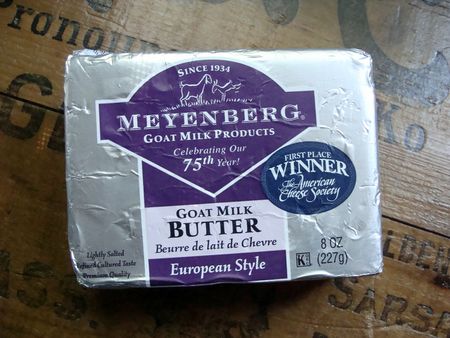 On opening the package, I was struck by the bright, white color. It almost looks like shortening or lard. The taste has that very distinct flavor reminiscent of goat's cheese. The baby didn't mind it a bit.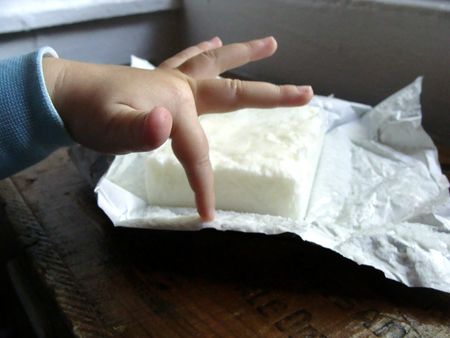 And if you're wondering just how good the finished frosting tasted, well, take a look at this face. It's one of the many mementos I'm adding to my mental memory box, because that is one thing I will always have—even after my girls go out into the world on their own. And when they come home, I'll be waiting there with arms spread wide, ready to give them the biggest hug imaginable.
Happy birthday girls.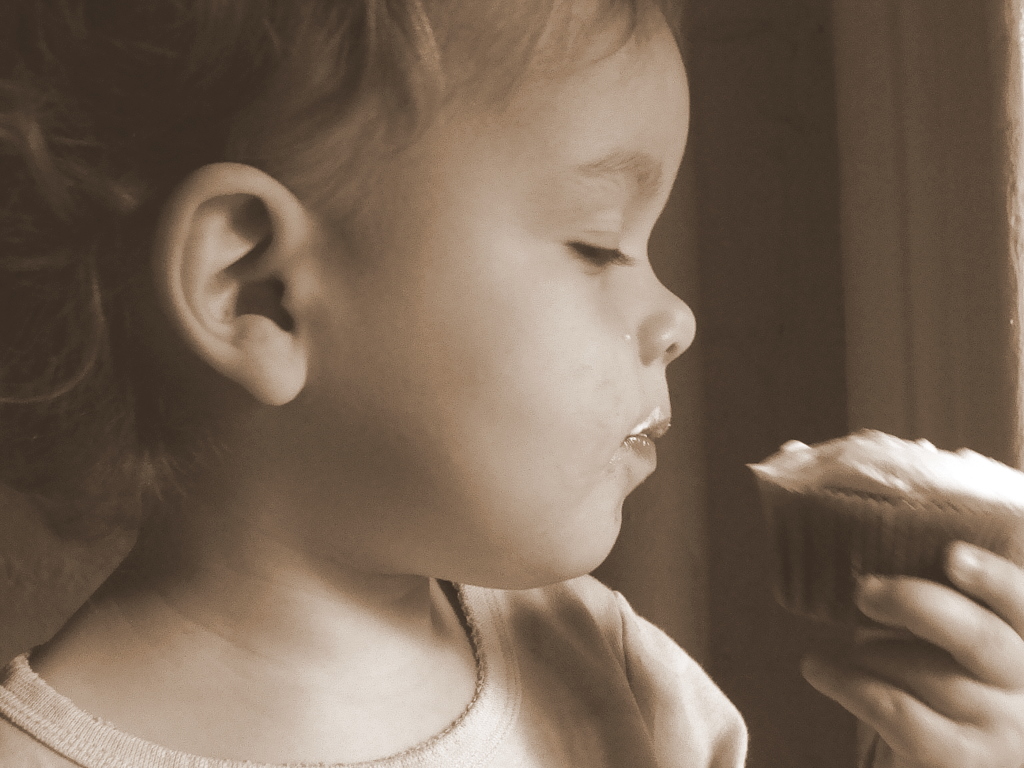 Oliver's Buttercream Frosting
makes enough to frost 36 cupcakes or one 2-layer cake
8 ounces goat's milk butter, softened
10 ounces confectioners' sugar, sifted
1 teaspoon vanilla extract
1 teaspoon almond extract
3 tablespoons almond milk
Add the butter to the bowl of a stand mixer. Beat until creamy, about 2 minutes. Add the sifted confectioners' sugar to the bowl (all at once is fine), making sure to turn speed down to the lowest setting. Mix until the sugar is mostly combined, then increase speed to medium high.
Scrape down bowl. Add extracts and beat on high. Scrape down bowl. Add the almond milk and beat on high speed until very light and fluffy, about 4 to 5 minutes. Frost cupcakes or cake as desired.