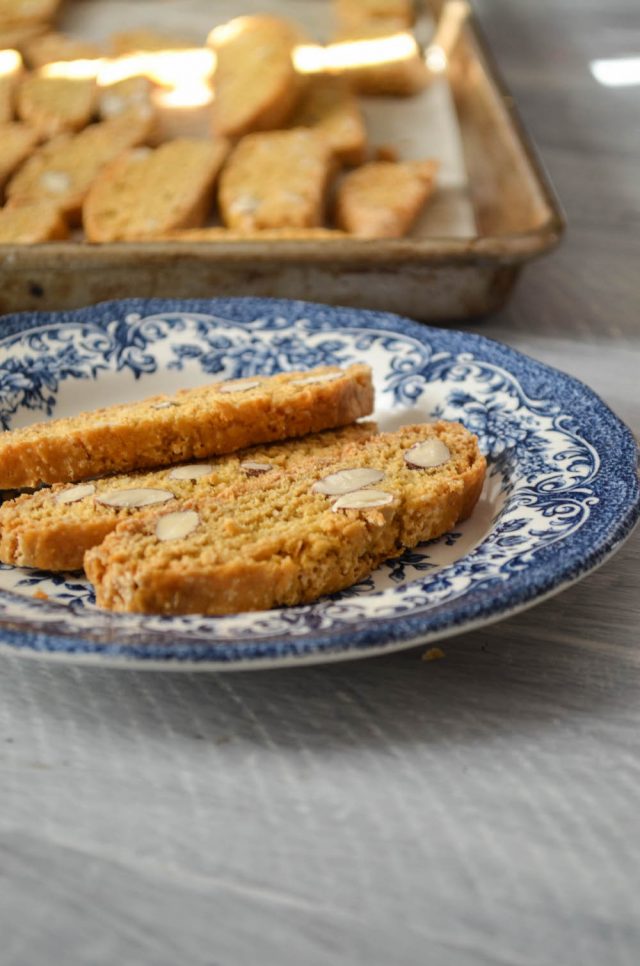 A few weeks ago I was at a friend's house working, and wanted to leave a homemade baked treat as a surprise before I left. A quick scour of the cupboards, and some quick thinking led me to bake biscotti. When all was said and done, it left me wondering why I don't bake biscotti more often. A few weeks later, I found myself at home, making these Almond Fennel Biscotti in my own kitchen.
Unlike the Chocolate & Dried Cranberry Biscotti I made at my friend's house, this almond version is closer to the traditional cantuccini you see in stores carrying Italian specialty products, with one exception. 
I wanted to fancy them up a bit for the holidays, so I crushed some fennel seeds I collected and dried from my garden this past summer. If you want to use anise extract, you can give that a try instead. And you can certainly leave it out if you don't like fennel.
Perhaps the reason I don't make biscotti often is because they're a twice baked cookie. The two step process only seems fussy when you think about. In reality, this is one of the easiest cookies to make from scratch. No special tools required as the dough is mixed by hand.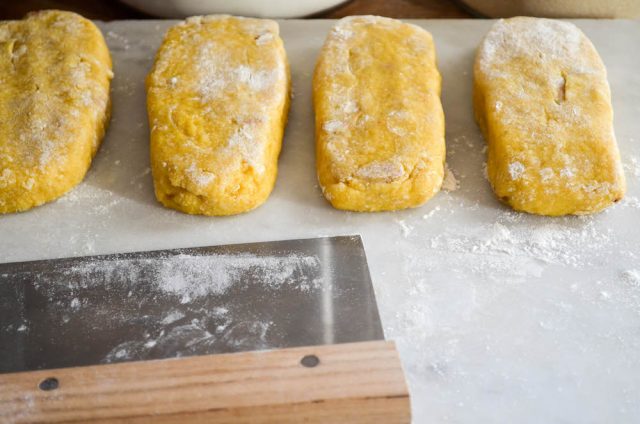 You shape it into thick rectangles, bake them, let them cool slightly, just enough to handle them. The bricks of dough get cut into slices (a serrated knife works best for the job), and baked a second time to crisp up, and dry out the cookies.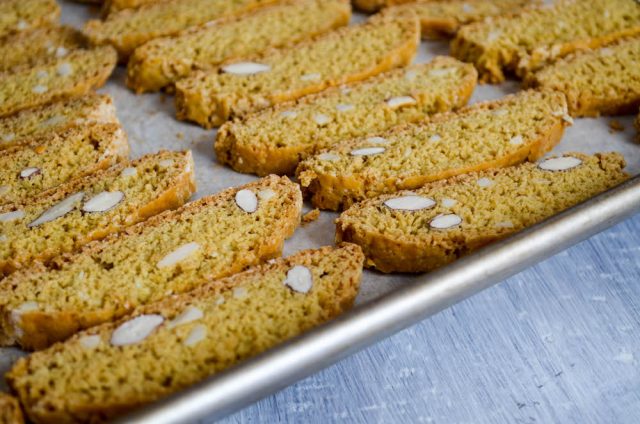 Since biscotti are meant to be hard "dunking" cookies, the harder they get the better, which is what happens as times goes by. These Almond Fennel Biscotti will keep for up to two months, though I imagine they'll get eaten much faster. The sturdy nature of the cookie also makes them ideal for packaging and shipping to friends and family for the holidays.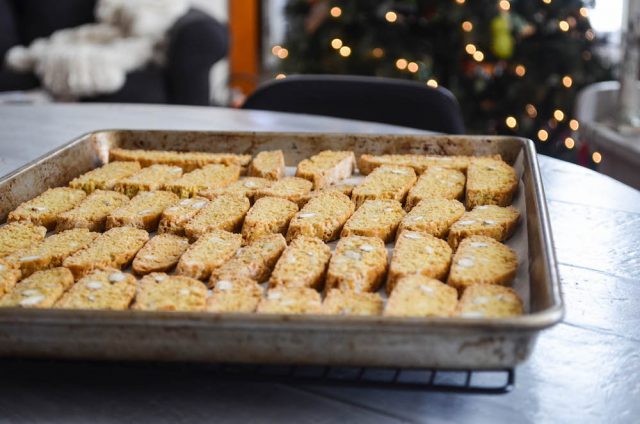 I use mason jars, and recycled glass jars like the one you see in the photo above (coincidentally, that's an old jar from canned Italian peaches). The glass jar helps protect them during shipping, though a tin would work just as well, and probably cost less to ship. Feel free to get playful with this recipe. Swap out almonds for another nut—pistachios or hazelnuts would be great. Lemon thyme and nutmeg are nice, and different stand ins for the fennel, though you'll need to determine the amounts based on your tastes. I can even see orange zest adding a refreshing flavor, and imagine dunking that in some espresso!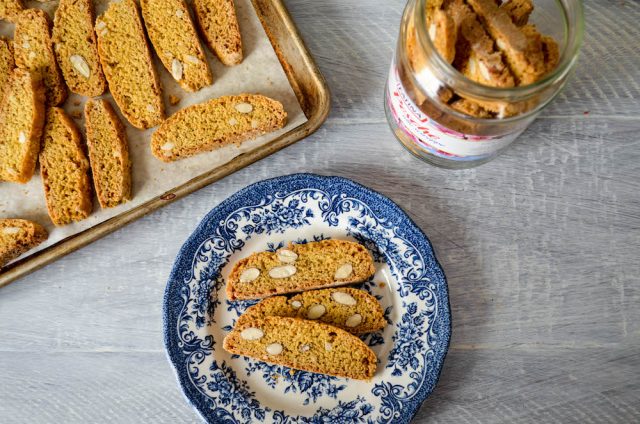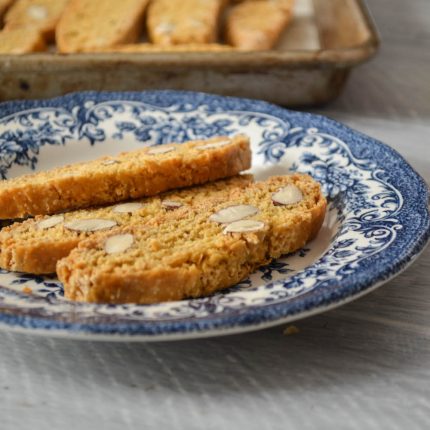 Almond Fennel Biscotti
Ingredients
2

cups

280 grams flour

1

cup

200 grams sugar

1

teaspoon

6 grams baking soda

¼

teaspoon

fine sea salt

Pinch

ground cinnamon

½

teaspoon

fennel seeds

crushed fine

Generous handful

42 grams whole, skin-on almond

Generous handful

35 grams slivered almonds

3

eggs

lightly beaten

½

teaspoon

vanilla extract
Instructions
Preheat your oven to 350ºF (180ºC). Line a sheet pan with parchment paper.

Combine the flour, sugar, baking soda, salt, cinnamon, and fennel in a deep bowl. Whisk to blend.

Stir in the almonds.

Reserve 1 tablespoon of egg in a small bowl. Add the remaining egg and vanilla to the flour mixture. Stir with a wooden spoon until just combined. Don't worry that the dough looks dry. Using your hand, knead it a few minutes until it comes together (I promise it will, even if it seems finicky at first).

Divide the dough into 4 equal pieces. Shape them into 5 ½-inch by 2-inch (14-cm by 5-cm) rectangles. Brush the loaves with the reserved beaten egg. Bake for 25 minutes. Remove tray from oven, and let biscotti rest for 10 minutes.

Slice into ¼-inch to ½-inch thick cookies (a serrated knife is sometimes more helpful here). Transfer the biscotti back to the sheet pan, arranging them in a single layer. Bake for 15 minutes, turning halfway through, until cookies are dried out a bit.

Transfer biscotti to a wire rack, and let cool completely before storing in an airtight tin. They'll continue to harden as time goes by. These are a wonderfully, sturdy cookie that will keep for a couple of months, and perfect for shipping during the holidays.
SaveSave
SaveSave