Latkes & Christmas Cookies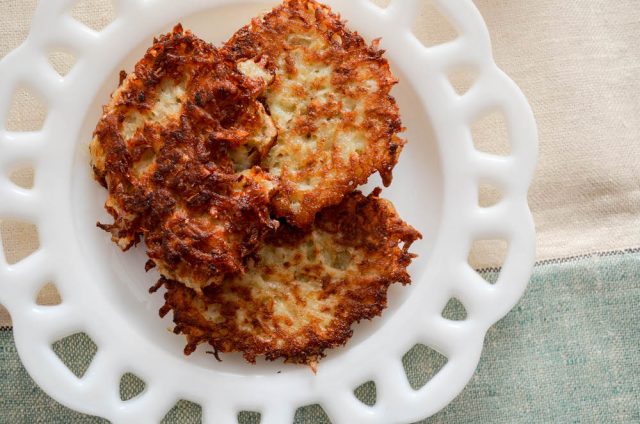 The title of this post is as contrary as the Christmas tree shaped doughnuts I bought to celebrate the start of Hanukkah earlier this week. Fitting since nestled next to the trio of menorahs stands a real, live tree, adorned with colorful lights and a lifetime of ornaments, each one a breadcrumb of sorts, connecting my past to my present.
It was a little awkward for me putting the tree up this time, each passing year feeling further from my Catholic upbringing, and Christianity in general. At the core of my belief system is to just be a good, kind, decent human being. Putting up a tree might seem harmless, beautiful as it is, and it certainly makes me smile as I sit here writing this post. I've not had a real tree in four years. It started to feel like too much work, the sticky sap, trimming it with lights, remembering to water it. 
We were in Brooklyn a few weeks ago, and while walking by the hardware store in my old neighborhood where we often bought our tree, I ran up, did a little happy dance from the fresh pine scent, and hugged one of the trees. Yes, I was literally a tree hugger.
Mind you, I've a pine taller than the one at 30 Rock in my backyard, and I never bother to hug it (but I do love it so very much).
My little tree hugging behavior led the girls to beg for a real one all day. I said no, no, and no. And then a few days later decided to surprise them. While they sat home tending to sniffling noses and sore throats, I went out  and pulled into the driveway a few hours later with a seven foot tree strapped to the roof, a tree stand and a roll of 400 rainbow lights in the trunk.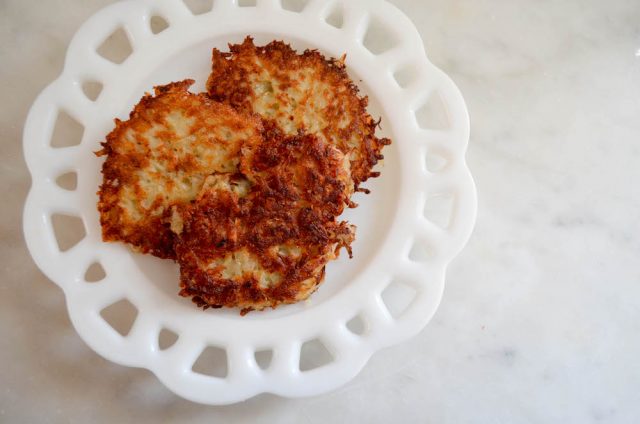 Sitting on an antique white washed wooden bathroom cabinet next to the tree are three menorahs, dreidels, and gelt. Each evening since Sunday, we've lit our candles, recited the prayers in Hebrew, and held hands.
The birth of Jesus has never played a part in our Christmas traditions, and therein is the confusion for me. If the religious aspect of it all has no meaning for me, do I have a right to continue the other traditions of baking holiday cookies, building gingerbread houses, and putting up that tree. I don't know what to make of it all.
What I do know is that it's okay to still be figuring this all out. In the meantime, I'm going to sling some sugar, butter, flour, and warm wintery spices the next few days to get my holiday baking underway. And in between, I'll be making latkes as we continue lighting our candles until Hanukkah ends in a few days.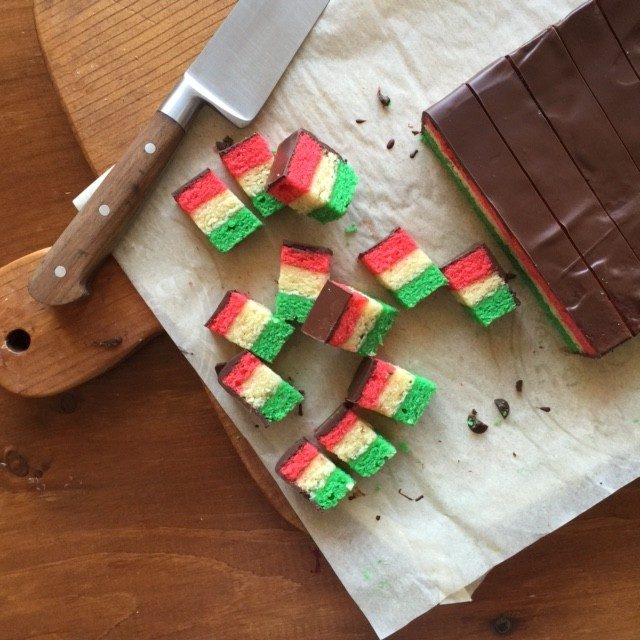 Some favorites from Decembers past
Homemade Latkes (there's a video of me making them here)
Sufganiyot (homemade jelly doughnuts)
Homemade Eggnog (a cooked version)
Almond Milk Eggnog (dairy-free)
Gingerbread Favorites
Chocolate Gingerbread Streusel Coffee Cake
Gingerbread Poundcake with Eggnog Glaze