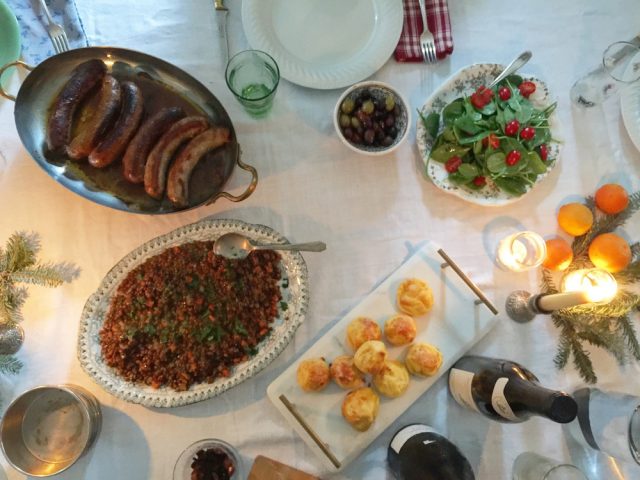 I had a thought while vacuuming the sofa earlier this morning. Not a new one, but a recurring one that began when I walked into Barnes & Noble a year or so ago, bombarded with cover lines and book titles promising to help me live my best life.
Happiness has become a commodity, yet anyone who's struggled with feelings of unrest for elongated periods of time understands the answer isn't one easily bought. This time of year we're usually inundated with new year, new you themes. The last few days the trend this year seems to be embracing the current "you". It's just another happiness white-washing in my mind, a way of placating yourself into happiness without any real insight and self-reflection.
Something old, something new, something borrowed, something blue—it's an old saying of things women gather for their wedding day. On deeper reflection it's reminds me of what balance really means. We're a collection of our experiences. Some days I feel like a tangled mess of wires. Some days I feel like I've got it all together—the memories neatly wrapped and stored where they belong.
Today is one of those days but had you asked me three weeks ago, I was a mess, feeling all the feelings. Some of the anxiety came from everything going seemingly good (crazy, I know). A job I love, kids happy in school, and being in love with someone who completes me in a way I've never experienced.
Of course the job I love involves a seven hour round trip commute each of the three days I'm in the office. The school that fulfills the needs of my children comes with a monthly tuition payment. And, well, this great love of my life lives 90 minutes away, and has a life and children of his own to tend to. None of it is perfect, and yet, I wouldn't trade any of it. There's a happiness and calm I've not felt in years in this perfect storm of imperfection.
And yet, I still ached for Michael. Missing him deeply, wondering what is wrong with me? People say it gets easier. They say it gets different. Time heals—that's the one liner everyone throws around especially in the early days of loss.
The point is that even in being happy it is possible to feel unhappy. Were you to weigh it on a scale, there's a good chance it would be an equal balance of both over the course of a lifetime. So why do we think—why do we buy into the fact that balance, as sold in magazines, books, movies, talk shows (do those even still exist?), is about happiness outweighing the murkier moments in life?
I write these words so easily. The real work ahead is to remember them daily, and hold myself accountable to no one else's standard of balance but my own. I live with love and sadness occupying the same chambers of my heart, and that is okay, even when it isn't.
On Christmas Eve I went into the garden to dig up some fresh horseradish to use in my cocktail sauce to go with the shrimp cocktail. Breaking through the hard, cold ground, scattered with dead plants I never had the chance to clean up before winter settled in, reminded me that below the surface, life was flourishing even though it wasn't visible. An important reminder for when we're feeling gloomy. There's life inside even when we think we're depleted.
I've no lofty new year's goals. I'm just happy to be here in this moment, bathed in sun streaming through the living room window, my laptop propped on my legs, finally taking a moment to get back into this space here. I actually just let out a huge sigh, feeling calm with each word I write. I've missed this space, and just needed to catch my breath from the new job and holidays.
This month marks 10 years. Ten years of writing here consistently. It seems inconceivable that Michael was only alive for three of those years, barely. He is so present in every post, every word, every recipe.
Isabella will be 16 in May, and is very excited at the thought of learning to drive. I wonder how he would feel about this. Come fall, we'll start the college search. There I go, getting ahead of myself, forgetting to stay in the moment. This moment, right here.
A few days before the new year, one of my best friends came up with her family. It was the most perfect afternoon, even with the rain and grey skies. Inside we stayed cozy with a candlelight lunch of lentils, sausages, salad, and a pavlova (that's the photo at the beginning of this post). As the days begin to grow lighter, I'm going to work at holding onto memories of days like that to sustain me when my inner light needs rekindling.
One last thing to share before I go. I was reminded this Sunday is the Epiphany, also known as Three Kings' Day. I'm hoping to make either this or this for Isabella to bring into French class next week, albeit a few days late. Figured I'd remind all of you of both recipes in case anyone out there wants to make one, too.
Many hugs and good wishes to you all for this new year that lies ahead. —xo Jennie