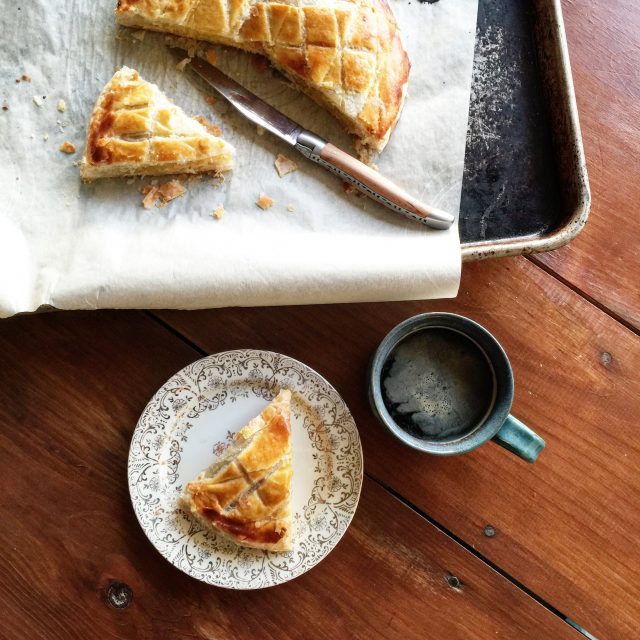 We learned a lot about French holidays during Isabella's time in a French Dual Language program back at our old elementary school in Brooklyn. One of my favorites is surely enjoying Galette des rois, a puff pastry cake with a creamy almond filling, served on January 6th to celebrate the Epiphany (the arrival of the Three Kings to visit Jesus). My friend who grew up in the south of France used to make a yeasty, candied fruit cake, which is more common in that region. I've never had that version, and will have to one day give that recipe a try.

This recipe takes a rather big liberty in that I'm using my Light Rough Puff Pastry (it has half the butter of normal puff pastry). In testing out rough puff pastry (say that fast three times!) recipes last year, I found that I liked this version with less butter better than the usual 1:1 ratio of butter and flour (go figure).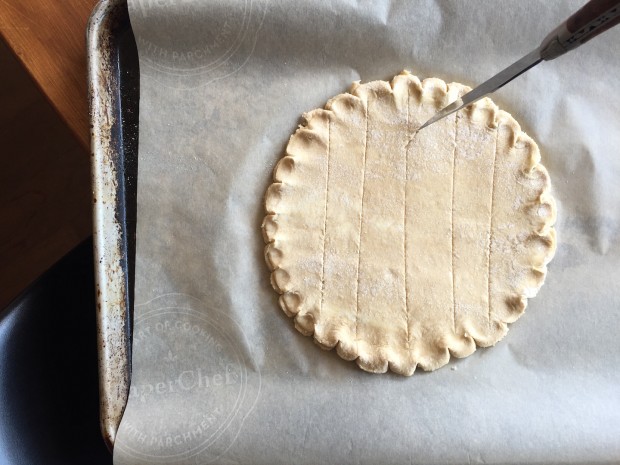 As usual, I forgot to order fèves, and Virginia is in no way parting with the ones she's won in years past (the winner gets to be king or queen for the day). So, instead, I'll use an almond or dried bean, so we can all have a chance at being royalty.
Seven Years Ago: Bacon & Eggs for Dinner
Six Years Ago: How to Poach An Egg
Five Years Ago: Fixing a Fussy Eater
Four Years Ago: Clementine Rosemary Marmalade
Three Years Ago: Oatcakes
Two Years Ago: A Hearty Winter Soup
One Year Ago: The B Side – Classic Pot Roast
Galette des rois
Makes one 8-inch galette
50 grams almond flour
50 grams granulated natural cane sugar
1 egg
14 grams butter, softened
Freshly grated zest of 1/2 orange (or 1 clementine)
1 batch Light Rough Puff Pastry, cut in half
1 egg yolk, beaten with a splash of milk
Preheat the oven to 375F (190C). Line a baking sheet with parchment paper.
Add the almond flour, sugar, egg, butter, and orange zest to a small bowl. Whisk until thick, creamy, and well-blended; set aside.
Lightly dust a counter or large cutting board with flour. Place one half of the puff pastry on the counter (leave the other piece in the fridge until you're ready to roll it out). Moving the rolling pin in one direction only (see puff pastry headnote), roll the dough out from one edge to the other. Turn the dough ¼, and roll again in one direction, from edge to edge. Turn ¼, and repeat this process until the dough is just a bit larger than an 8-inch plate (between 1/8-inch and 1/4-thick). Place a plate on top. Use a very sharp knife or pastry wheel, to cut the dough into a circle the size of the plate. Place the circle on the prepared baking sheet.
Spoon the almond cream filling onto the center, and spread to the edges, leaving a 1-inch border free of any filling (so you can seal it closed). Place the fève, or an almond, into the filling.
Roll the other piece of puff pastry, and cut it out, using the same technique mentioned. Place the remaining piece of dough on top of the filling. Press the edges closed, gently, but still firm enough so the filling won't ooze out.
Use the tip of a very sharp paring knife to create a pattern on top of the galette (see photos). Brush the top only with the egg yolk-milk mixture. Pierce a few holes in the top, to allow steam to escape while the galette bakes.
Bake for 35 minutes, until the cake puffs up, and turns a deep golden color. It'll fall as soon as you take it out of the oven, so don't fret. Let cool 10 to 15 minutes. May be served warm or at room temperature.