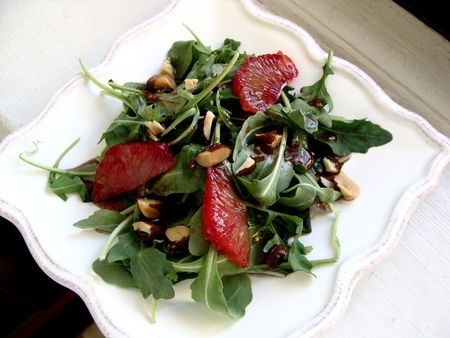 If I lured you in with the expectations of a silver bullet to blast away your kids' so called fussy eating habits, then let me apologize. There is no such panacea. Like their bodies, children grow into their palates. What they don't like today, they may very well love in 20 years—such is the relationship I now have with brussels sprouts.
And that food they obsess about right now? Well, don't be surprised when they turn their nose up to it tomorrow. As with their mood swings, these things change with the direction of the wind.
I'd like to tell you about a little girl I once knew. She survived on peanut butter & jelly sandwiches, some Sicilian salami and pasta with butter under an avalanche of grated locatelli cheese. The sight of marinara sauce on one single strand would set off hysterics. When faced with lunch at a restaurant known for their burgers, she opted for a meal of pickles and diet coke.
I'm not talking about either of my daughters.
That little girl—yes, she was me.
Want to know when I had my first taste of fried calamari, something we Italian-Americans are insane about? It was on my first date with the Mr. sixteen years ago. I was 21 years old, and he almost didn't believe I was really Italian.
I remember that first bite like it was our first kiss. I couldn't believe I'd shunned those crispy coated rings all those years.
As I look back, I have the Mr. to thank for my foray into new foods. Before I met him, our family meals revolved around Italian-American classics, take-out Chinese and American cuisine (what is that exactly, anyway?).
My first taste of Thai was with the Mr.
Same goes for Japanese and Indian food. I'll admit, I'm still not crazy about curry.
See, many parents have the habit of passing their own food preferences down to children. My best friend hates fish. She never cooks it or orders it when she goes out. How do you think her teenage kids now feel about fish?
Want to know how to really cure your kids' finicky eating habits? Step out of your own comfort zone. Try a new spice, vegetable, cuisine you have some preconceived notion about. That nervousness you'll feel just before you take a taste? That's exacty how kids feel when confronted with new foods.
Now take that memory and file it away. Remember it everytime your kids dismiss a food you love or think they should eat. The same joy a great meal gives you, can be a source of anxiety for so many others. Even grown ups.
My advice? Quit worrying and just get cooking. As a matter of fact, have the kids cook with you. Take them shopping with you too. Let them see there's a world of ingredients to choose from, and let them pick one to take home and try.
The first and only time Isabella ever ate mashed potatoes was when she made them after going to the farmers' market with me. She had no interest in them before that point. Then one night she asked if she could help, and away she mashed. That was all she needed to actually taste a forkful. In the end she decided she didn't like them, and I respected her opinion because she took the first step. She tried a new food, and at the end of the meal that's the best you can hope for.
Yes, I've really only skimmed the surface on what is most definitely a passionate issue for many families. Of course there are ways to make food more palatable, and really it's about presentation. A homemade bean dip served with veggies, crackers and a side of fruit constitutes a well-balanced meal in my book. Pasta with butter & peas and bunch of grapes. Yeah, I'm down with that too. Who cares if you're bored serving it. Make a separate sauce to toss your pasta with and maybe one day they might get curious enough to give it a try.
Spruce up salads, like I often do, with citrus wedges, dried fruit and nuts—kids love to pick that stuff out. Who cares if they eat the lettuce, or in this case arugula. More for me, right?
One thing I refuse to ever believe is that food needs to be dumbed down or simple to make it kid-friendly. And I will take that stance until the last breath leaves my body.
Some of Isabella's favorites from In Jennie's Kitchen.
israeli couscous with squash, pistachios & dried cherries
On a somewhat related note, go read Kim's recent post about teaching kids how to really make healthy food choices.
New on Simple Scratch Cooking—how to make steel cut oats.