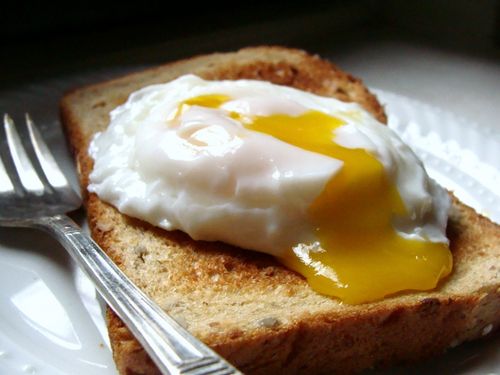 You know that feeling when you come across something so perfect you just want to tell everyone? Maybe even scream it from a mountain top? I had that moment during lunch yesterday. After a day of going into the city for a meeting, chasing sunshine before and after to snap shots of scones and a chicken and Meyer lemon tagine I'd made the night before (recipes to come soon, I promise), I realized what was causing my faint-like feeling. I was starving. Embarrassing as it is to admit, all I'd eaten was a nibble of some lemon yogurt cranberry scone and a cup of coffee—and it was 1:30pm.
Eggs are always my back up when I need nourishment stat since they're super quick to cook. Ah, but my Ten in 10 promise to start eating healthier creeped into my conscience. Did I really want to smear the cast iron with butter and fry one. Well, of course I did, but I was good. I decided to poach one and have it with multi-grain toast. Problem is I don't do it that often and always mean to teach myself the right technique. Simply Recipes has a good post on the topic and Epicurious has a great how-to-video. I mainly followed the Epicurious directions with the following adaptations:
I used one of those pump extra virgin olive oils instead of regular cooking spray.
As soon as the egg started to set, I took a cue from Elise at Simply Recipes and shut the heat off. I then gently placed the ladle at the bottom and let it rest there for 2 or 3 minutes while the yolk set.
I should mention my egg slipped out of the ladle much easier than the one on the Epicurious video—I was a bit worried when I saw how much they had to wiggle it. While Elise says it's best to use vinegar so the egg white congeals, the Epicurious method eliminates the need since the whole egg rests nicely in the ladle. There you have it. The news I couldn't wait to share. And it's just in time for your weekend brunch menu.