New year, new goals, right? I'm determined to add a workout routine to my 2010 calendar, but first need to get through sleep training the baby. I have the great fortune of an enormous kitchen by New York City standards. The downside is we only have two bedrooms, and any hope of sleep training goes out the window when child number two comes along. So, I've decided to take control of my eating habits until I can negotiate the puzzle pieces and carve out time to get the heart rate pumping (besides racing to rescue the baby from climbing stools, chairs and stairs).
Now, that doesn't mean I'm cutting out carbs, butter or sweets. Life is too short to not enjoy myself. I also tell myself it's my job to be surrounded by these ingredients. What I am going to do is work on portion control. I know that's where my weak spot lies. I know what proper servings look like after years of cooking for Weight Watchers' clients. I also did my time at WW meetings after the birth of my first daughter six years ago, and lost 20 post-baby pounds by simply adjusting what and how much I ate. The key is making lifestyle changes, as Lori so perfectly said last week when talking about Ten in 10 on twitter.
While you won't find me using artificial substitutes—I believe in eating real foods, I do love the challenge of recreating beloved recipes that retain the taste I crave with a healthier twist. The first change I'm making is to my breakfast routine. I'm from Brooklyn, home of the best bagels, and oh lord are they my weakness. Rather than have those doughy bad boys every other day, I'll start reserving them for a weekend indulgence, and making smarter choices, including these smoothies, for the rest of the week. I'm a whole milk gal, and that's one change I'm not ready to entertain, but you can certainly use skim or low fat if you like.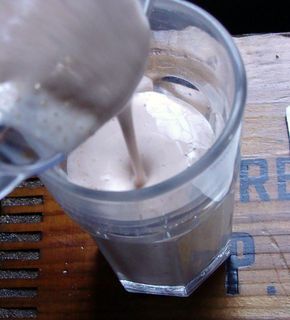 Granola & Berry Smoothie
makes one serving
Feel free to swap in your favorite frozen berries, and depending on the size of your blender you can easily double or triple this recipe. I use this granola recipe and prepare a batch without the dried fruit just for making this smoothie.
1/2 cup granola
1 cup frozen strawberries
1 cup milk
Add all ingredients to the bowl of a blender. Process until smooth.