pistachio, sesame seed & dried cherry granola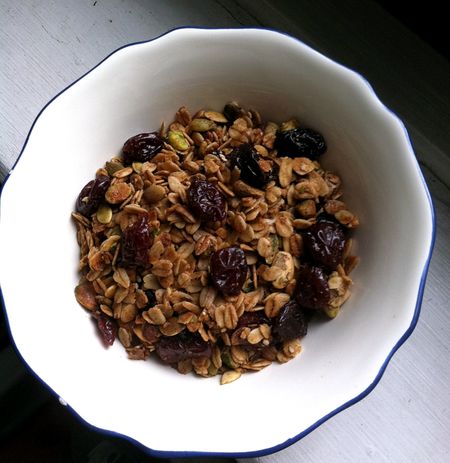 You know those movies that make you stop in your tracks? The ones that beckon you to stay up later than you should if the television happens to land on it just before bedtime. The movies that speak to you, striking a chord, so perfectly that you just have to stop what you're doing.
I was ready to tuck in—my reward for finally finishing tax preparations. My receipts all tallied. Bundles rubberbanded and neatly tucked in an envelope for the next seven years.
Away We Go happened to be on the channel with which my remote landed, and now here I am.
When the Mr. and I first met, parenthod was one of our early conversations. Neither of us ever expected to be a mother or father, but we had definite opinions about the brevity of the job. I was struck when he said all those years ago that parenthood should require a test first.
I understood exactly what he meant.
The idea that when a child comes into the world, it is just that—they are part of a larger force. The lives with which parents are entrusted to care for have an impact on the greater good. Each child born is like a little domino in the world, and with thought, love and guidance the hope is that their actions will create a place better than the one they were born into.
We are by no means perfect in our approach.
Both of us are still peeling away the layers of our own childhood in an effort to create the lives we wanted for ourselves. It's like a recipe, and we're constantly tinkering with the ingredients and formula trying to get it right.
New on Simple Scratch Cooking: 15-Minute Homemade Granola Bars.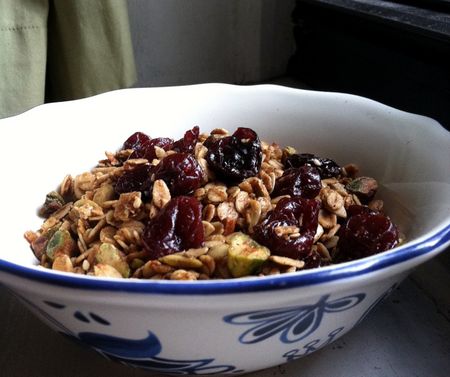 pistachio, sesame seed & dried cherry granola
makes a bit more than 6 cups
I've been making homemade granola for over 10 years now, and it's changed much over time. The last incarnation is one I was very happy with, but recently decided it was ready for the next step.
In hopes of making a healthier version, I've swapped in olive oil for the melted butter and nixed the sugar for a more natural sweetener—in this case pure maple syrup from the farmers' market. I add the dried cherries at the end, and let the residual heat from the oats plumps them up nicely, instead of further drying out in the oven.

3 cups (315 grams) old fashioned rolled oats
1/2 cup (62 grams) raw, unsalted pistachios
1/2 cup (60 grams) raw, unsalted pumpkin seeds
1 tablespoon (12 grams) flax seeds
1 tablespoon (11 grams) hulled sesame seeds
1/4 teaspoon (1 gram) fine sea salt
1/2 teaspoon (2 grams) ground cinnamon
1/4 cup (2 ounces) extra virgin olive oil
1/4 cup (2 ounces) pure maple syrup
2 cups (240 grams) dried cherries
Preheat the oven to 300ºF.
In a large bowl, combine the oats, pistachios, pumpkin seeds, flax seeds, sesame seeds, salt and cinnamon. Using a spatula or wooden spoon, stir to mix. Pour in the olive oil and syrup, and stir until the mixture is well-coated.
Spread granola in a thin layer onto a rimmed 11-inch by 17-inch baking sheet. Bake for 40 minutes, stirring halfway through. Remove from oven, stir in the dried cherries and set tray on a wire rack to cool completely. Store in a tightly sealed jar for up to one week.
Note: Buy a certified gluten-free brand of oats if you have celiac or a sensitivity, such as Bob's Red Mill.
Make It Your Own
swap in an equal amount of another dried fruit for the cherries—raisins, apricots and cranberries work well.
keep it cost effective with almonds or pecans instead of pistachios, using an equal amount.
try allspice instead of cinnamon, or mix 1/4 teaspoon ground ginger and 1/4 cloves for an aromatic burst of flavor.
substitute sunflower seeds for the pumpkin seeds