piadina, poached eggs + more of my favorites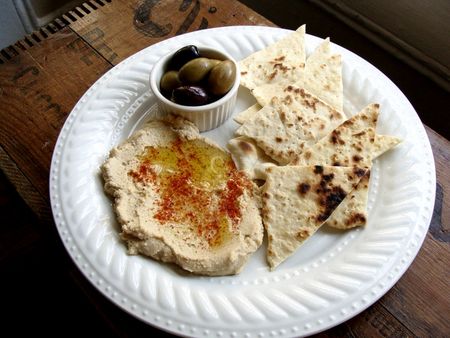 Every year I emerge from the miles of receipts and swear to turn over a new leaf, so the next tax season will be seamless. Alas, setting up some sort of sensible system has not made it off my to-do list.
This will not surprise Olga, as she's seen "the closet"…and I'm pretty she still loves me anyway. The Mr. though wrings his hands as our accountant appointment draws near. The fact that I'm even here writing is a sign of major procrastination. I'd snap a shot of the dining room table littered with my homemade tablecloth of papers but it's just too embarrassing. Right now I'm taking cover in the kitchen where it's all out of view.
I have some things to share and why should I let 10 to 15 years in the slammer for tax evasion keep us apart. Uncle Sam if your IRS goons are reading this, it's just me kidding around. I'll get my act together by next week. Same goes for you too, the love of my life, ever-so-efficient with his paperwork Mr.
All this busyness might explain why yeast-raised breads have been off my agenda of late. While I love making a loaf with a crusty exterior and soft pillowy inside, I'm not always the best at budgeting my time. I know it only take a few minutes to throw it together the night before, but by time the girls are tucked in, my eyelids hang heavy and hunger for sleep.
Yeast-raised breads, for now, feel more of a special ocassion sort of thing until I can get my act together. The fact that the floors were all vacuumed and mopped this week is the coup I'm more proud to hang my hat on.
We are by no means a family that can exist without bread, though. It just means I've been making a lot of "quick" breads, on my own terms. Tortillas, a variety of soda breads, focaccia, and now these piadina are part of the rotation. Since I like my bread super fresh, I can easily make them spur of the moment. I'm even cheating a bit and using the piadina as a flatbread with hummus. My tummy is none the wiser, and yes, the hummus is homemade, but no, I haven't posted the recipe yet (although this one is very tasty, so bookmark it for zucchini season).
While I'm sharing, those poached eggs you see above are my favorite breakfast. Virginia loves them too. I told the Mr. today I'll have to practive making them in a tea kettle so she can prepare them herself when she goes off to college. Thankfully, I have some time, though I know it will fly by faster than I care to really admit.
As for the technique, I have Heidi to thank. She opened my world to the wonders of soda bread, and her poached egg recipe now means mine come out just as beautiful, if not prettier than those served at a restaurant. She has a three-prong method, which I've edited down to using only two of the steps.
I bet you want to know how we both do it now, right? Well, add her book to your spring reading list—it's available early April. If you like the food I serve up here, then you will not be disappointed, so go order it now (it's only $13 on Amazon and more than worth the price of admission).
As some of you know, I made a few changes as the calendar ushered in a New Year. It's as though the fates knew something was brewing, because Heidi's book was just the push I needed to make it materialize. I'd like to think we'd be fast friends if we were neighbors, maybe even bake together now and again. Thanks to Super Natural Everyday, I've started looking at many of my old recipes in a new light.
The granola bars up there were pretty wholesome to begin with, but I've swapped in olive oil for the vegetable and nixed the agave nectar from the original recipe. The granola itself has undergone a transformation too. I now use pure maple syrup as the sweetener, eliminating the need for sugar, use extra virgin olive oil instead of melted butter, and am infatuated with the addition of sesame seeds to the mix—love the tiny little bursts that pop with each bite.
And now, there's that mound of paper we discussed. I'd better make sense of it before the kids come home and use it for an art project.