sweet cinnamon kale chips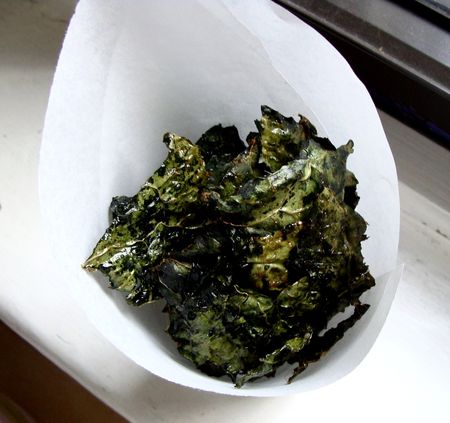 I'm very late to the homemade kale chip party. I've never been one to jump on the bandwagon, much preferring to walk to the beat of my own drum.
In this case, it was just plain silly behavior.
Truth is, will all my devotion to shopping locally and eating seasonally, kale was never a vegetable that evoked excitement. The pungent earthy taste is a slap in the tastebuds for first-time eaters, and then there's the worry of…um…how to put this politely on a food blog—well, the potty issue. Let's just say kale keeps you regular.
Sometime around the start of this year, a gorgeous bunch of lacinato kale caught my eye. It wasn't even at the farmers' market. It happened while strolling down the aisle of my neighborhood supermarket. Perhaps the deep green leaves seemed like a mirage in the midst of all the snow we were under during the month of January.
Maybe I just had cabin fever of the cooking variety and was ready to make a renegade purchase in exchange for the wanton pleasure of a leafy green. Whatever the calling, into my basket went a bunch of Lady Moon Farms lacinato kale. I gave myself a pep talk and rationalized that it was at least organic and grown on the east coast.
Sometimes my desire to do best for the planet and my local economy makes shopping for anything an agonizing experience. In the end, the kale won.
The first bunch never even came close to becoming chips. I'd decided to make my own riff on a Caesar salad, mixing up a lemony-Parmesan dressing. I've since fallen hard, and have no self-restraint. This salad, and variations of it, have become a regular on my plate almost every day.
The Mr. was a tougher sell. I'll admit raw kale can take some getting used to. In the beginning this was a love we didn't share. While I'm sure we could've easily gone our separate ways on this particular ingredient, I was determined to show him, somewhere, down deep, he had a love for kale as much as I did.
Salty, spicy and crispy are three things the Mr. cannot resist. So kale chips soon found their way to the top my priorities. Many recipes call for baking them at 300ºF for as long as 30 minutes, sometimes more. I understand the low and slow method when dehydrating, but for this ingredient it struck me as odd since like many leafy greens, kale has a high water content. A blast of of high heat seemed a more suitable choice, so I cranked the oven to 400ºF.
The spice blend was a shake of this and pinch of that, which included Ray Bradley's paprika, cumin and sea salt. You can certainly add the leaves to a bag to coat them with olive oil, but I like getting more intimate with my kale. Only a quick massage of them in a bowl with a drizzle will do. You can choose whatever vegetable foreplay floats your boat.
Now that I had the Mr. in my kale-loving camp, it was time to convert the kids. I baked up a sweet version, seasoned with cinnamon and sugar, convinced they'd be begging me for seconds.
No such luck.
Turns out Virginia loves her kale just like mama. Isabella can barely stand to look at it.
As for the Mr., now he has two favorite kale recipes—one savory and one sweet.
Follow In Jennie's Kitchen on Facebook and Twitter.
Sweet Cinnamon Kale Chips
serves 1 to 2
One bunch of lacinato kale, ribs removed and torn into large pieces
1 teaspoon extra virgin olive oil
1 tablespoon natural cane sugar
1/2 teaspoon ground cinnamon
Preheat oven to 400ºF. Line two rimmed baking sheets with silicon liners or parchment paper. Toss all the ingredients in a deep bowl until well coated. Spread the kale pieces in a single layer onto the prepared baking sheets.
Bake 9 to 11 minutes, rotating sheets halfway through, until crisp. Remove from oven and let rest 10 to 15 minutes, then transfer to a bowl and enjoy. These are best eaten the day they're made.