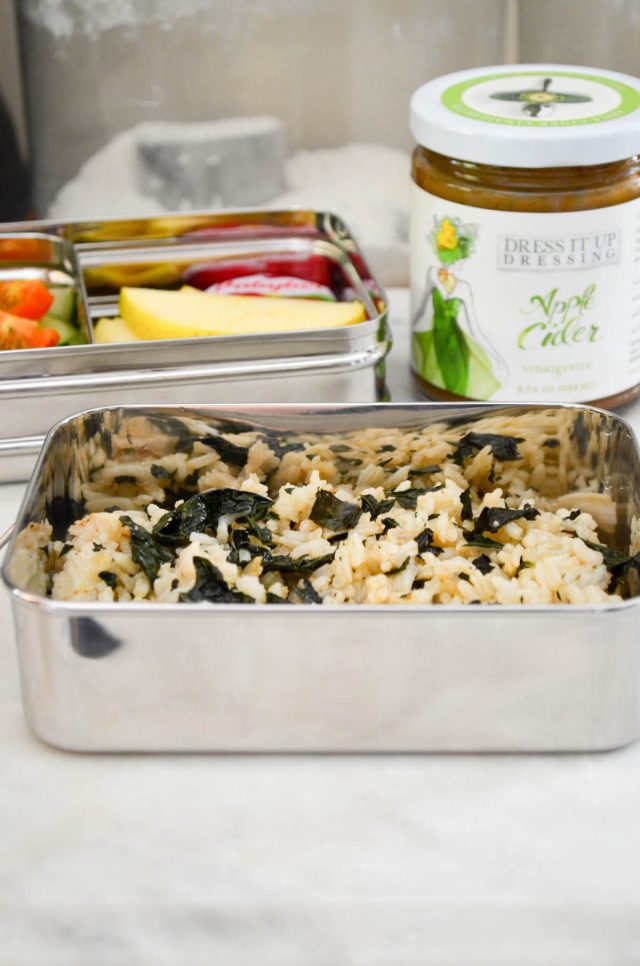 Admittedly, this recipe for Kale Sushi Rice Bowls is as authentic as using ketchup as sauce on your pizza. The inspiration, though, is from Virginia's deep love for maki rolls. She'd be happy with just the rice and nori (dried seaweed), so that's how this recipe came to be.
Instead of making proper sushi rice, I used leftover cooked white rice as a shortcut. I could've used seaweed snacks, but those packs are so insanely expensive unless you find them on sale. That's when the idea to swap in these Crispy Baked Kale Chips came to mind.
Virginia isn't a fan of fish, but if I were making this for myself, I'd totally add some poached or roasted salmon. Canned tuna would be great, too. You can even add some hard boiled eggs to really bulk it up.
That's the beauty of these Kale Sushi Rice Bowls—you can customize them as you see fit.
Some other ideas include chopped cucumber, black sesame seeds, and avocado. This original recipe was part of the project I worked on as a partnership between Dress It Up Dressing and ECOlunchox. You can find the recipe for my Kale Sushi Rice Bowls here.
ECOlunchbox provided complimentary samples of their 3-in-1 nesting lunchbox. All opinions expressed are my own, as always. 
Seven Years Ago: Twice as Nice: Vegetable Fried Rice
Six Years Ago: English Flapjacks —Brooklyn Style
Five Years Ago: How to Cook Perfect Scrambled Eggs
Four Years Ago: Thoughts on a Clear Blue Day
Three Years Ago: Hazelnut Thin Crisp Cookies
Two Years Ago: Sunday Evening Thoughts
One Year Ago: Honey Spice Cake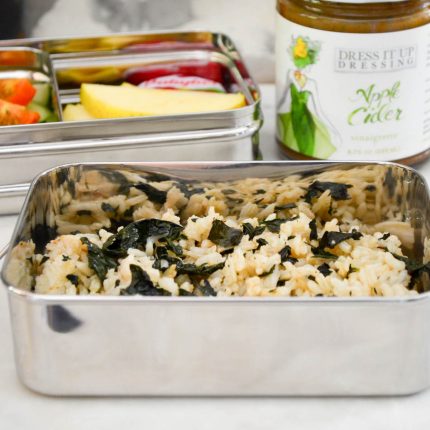 Kale Sushi Rice Bowls
Ingredients
Instructions
Add the rice, kale chips, vinaigrette, rice wine vinegar, and sesame oil to a small bowl. Stir until well mixed. Season with salt, as desired.
Some more kid-friendly menu inspiration from my friends at Food Network's Comfort Food Feast.
Devour: Embrace Your Inner Kid with 5 Fun Flips on Pizza
The Lemon Bowl: Skillet Mexican Street Corn
Homemade Delish: Healthy Back-to-School Lunches
Creative Culinary: Peanut Butter and Apple Oatmeal Cookies
The Fed Up Foodie: Spiced Pumpkin Donuts
A Mind "Full" Mom: 2-Ingredient Homemade Gogurts
The Mom 100: Tomato-Orzo Dill Soup
Healthy Eats: 7 Back-to-School Dishes That Kids Can Help Make
Taste with the Eyes: Black Bean Spaghetti Caterpillar For Kids
Swing Eats: Peanut Butter & Jelly Sandwich Cookies (Gluten-Free & Flourless)
FN Dish: Our Favorite A+ Afterschool Snacks
SaveSave
SaveSave