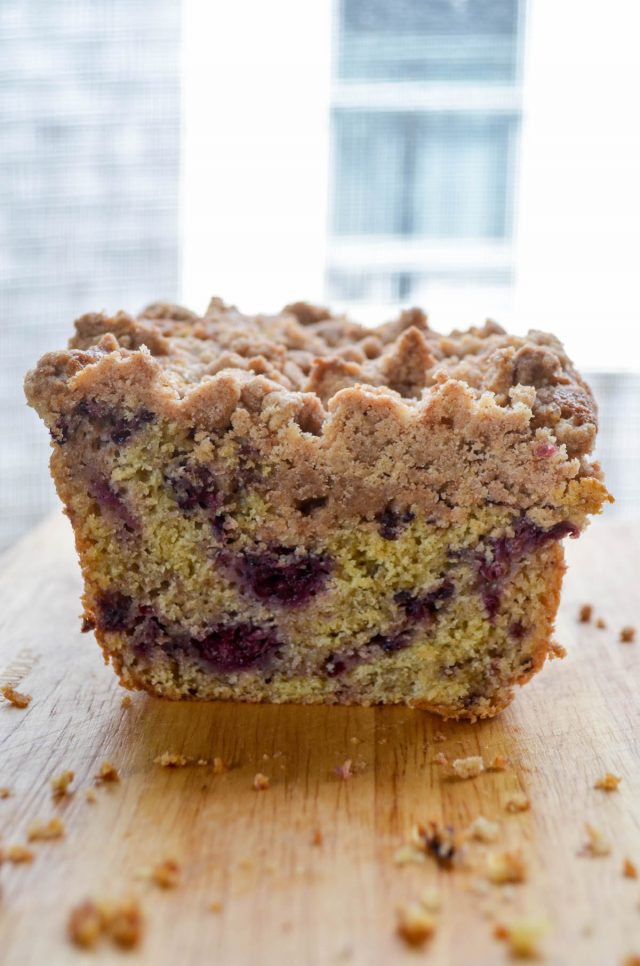 Don't you just want to dive into the screen looking at that photo up there? I'm not really trying toot my own horn here. I mean, that could be anyone's coffee cake, and if it looked like this one, I'd be weak in the knees. Coffee cake just does that to me, so it was no surprise I used surplus blackberries to make this Blackberry Coffee Cake while we were in Cape Cod a few weeks ago.
Let's talk about what makes an amazing coffee cake before we get into the specifics of this Blackberry Coffee Cake. Crumb topping is nothing to skimp on when it comes to making coffee cake. Honestly, a coffee cake with wimpy topping is enough to make me cry (I know, there are more important things to worry about in the world…).
My ideal is a 2/3 cake to 1/3 crumb topping ratio. I've even been known to make it 1:1. In some ways, the cake is just an acceptable reason to eat the crumb topping. Here's the other fact to understand about the crumb topping—it needs butter, and more than you might realize.
Crumb topping is a go big or go home sort of game.
This is a relatively small cake, so we can get away with just half a stick. And before you ask, I've played around with using oils—olive and grapeseed. I wasn't crazy about either of them. You can use coconut oil, but keep in mind it will impart a coconut flavor to your cake. I think that would pair nicely with blackberries. 1. I didn't have any in my vacation pantry, and 2. My kids are not coconut fans.
Wondering, what made me contemplate making Blackberry Coffee Cake while on vacation?
I'd bought a pint of blackberries at the farmers' market in Provincetown. I'd eyed them a few days earlier at the Truro market from the same vendor, and finally caved. Blackberries are such a wild card. The best you can hope for is a good mix of sweet and tart ones; some for eating, some for baking or making jam. The odds leaned heavily in the tart camp with this batch.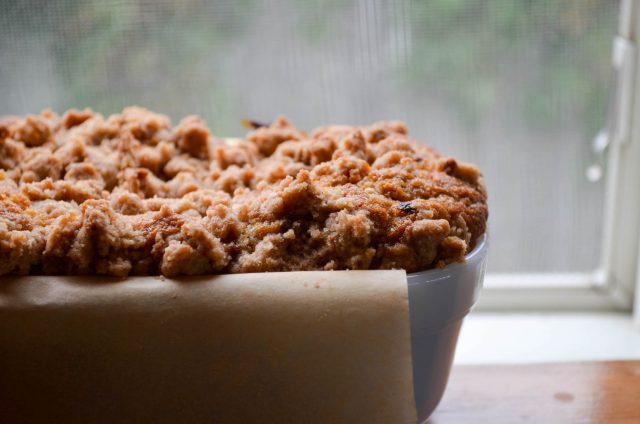 Even when I'm on vacation, my mind is still focused on not wasting, especially food. Incidentally, this week is Zero Waste Week, and the focus this year is on food waste. I feel like someone should've given me a ring from across the pond. Thankfully, a browse on Instagram this morning brought it to my attention. Soooo, that was a long-winded way of saying I had some blackberries to use up while on vacation. I didn't have jars to make jam, so this Blackberry Coffee Cake was the next yummiest thing I thought to pull together.
Feel free to swap in whatever berries you have hanging around the kitchen. You can adjust the sugar in the cake, too, depending on the sweetness level of your berries. Give 'em a taste test, and cut back a little, or add a bit more if you think it needs it.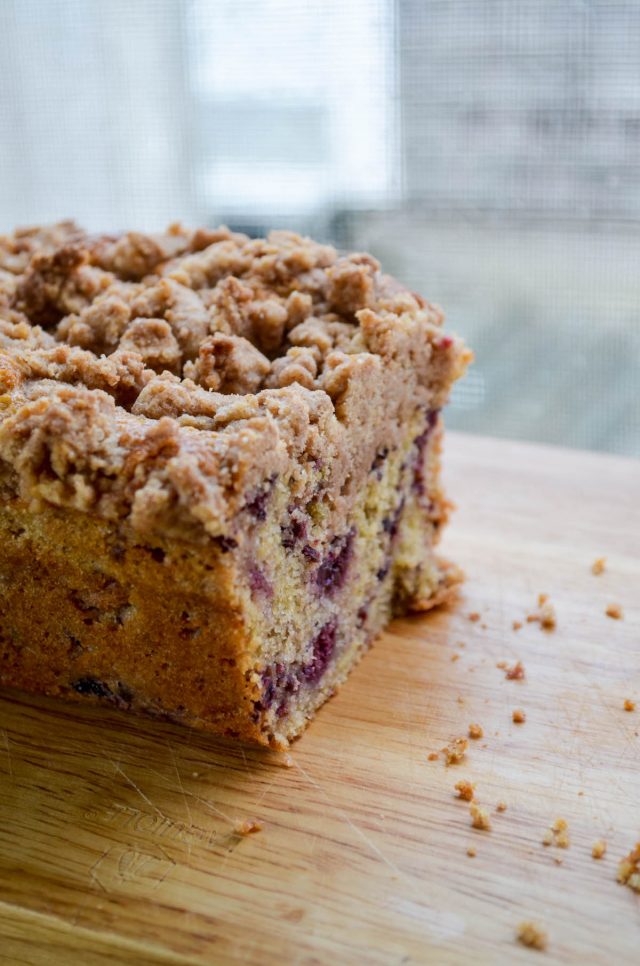 Seven Years Ago: Sunday Best: Homemade Waffles
Six Years Ago: 10-Minute Lentil Soup
Five Years Ago: In Search of an Anchor
Four Years Ago: Thoughts on a Clear Blue Day
Three Years Ago: Prosciutto & Fried Egg Tartine
Two Years Ago: When Life Imitates Art
One Year Ago: Whole Grain Concord Grape Muffins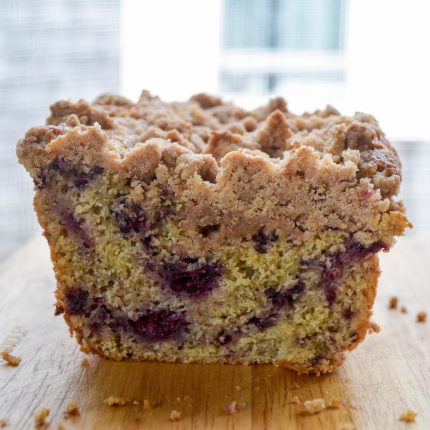 Blackberry Coffee Cake
I use whole wheat pastry flour in many of my baked goods. You can swap in an even amount of all-purpose white flour if that's all you have available.
Ingredients
For the crumb topping:

1/2

cup

75 grams whole wheat pastry flour

2

tablespoons

25 grams sugar

½

teaspoon

2 grams fine sea salt

½

teaspoon

1 gram cinnamon

4

tablespoons

56 grams butter, melted

For the cake:

1

cup

150 grams whole wheat pastry flour

1/2

cup

100 grams sugar

1 1/2

teaspoons

7 grams baking powder

1/4

teaspoon

1 gram baking soda

¼

teaspoon

1 gram fine sea salt

1

egg

1/2

cup

buttermilk

4

tablespoons

56 grams butter, melted

1/2

cup

blackberries

slightly crushed (a potato masher works nicely)
Instructions
Preheat the oven 350F (180C). Line an 8-inch by 2-inch loaf pan with a piece of parchment paper long enough to hang over the sides (this helps to easily lift the cooled cake from the pan).

Set about making the topping first. Add the flour, sugar, salt, and cinnamon to a small bowl. Whisk to blend. Add the melted butter, and stir until it forms a wet, sandy-looking mixture.

To make the cake batter, add the flour, sugar, baking powder, baking soda, and salt to a deep bowl. Whisk to blend. Add the egg, buttermilk, and melted butter. Use a fork to stir the batter just until it's combined, and there are no visible signs of flour (it's okay to see a few little lumps). Gently fold in the blackberries.

Spoon the batter into the prepared pan. Evenly scatter the crumb topping over the batter.

Bake 40 to 45 minutes, until the cake is golden, and a metal skewer inserted in the center comes out clean.