thoughts on a clear blue day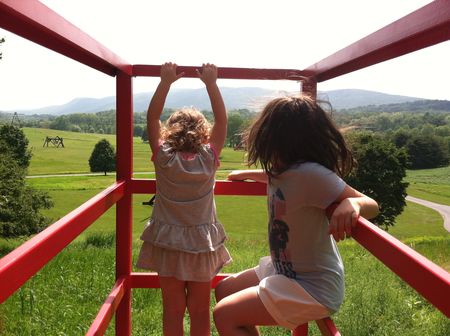 I attempted to read A Year of Magical Thinking this summer, but knowing I am living a similar reality—trying to make sense of something for which there is no logic, made it to hard to turn past page three. What did stick with me in those first few pages, though, is Joan Didion's comment that every tragic story starts with "it was a clear blue sky"…I may be paraphrasing that somewhat, but you get what I mean. And good heavens, why is that always true? It was supposed to be a rainy, gloomy day that Sunday last August. Instead the sky was plentiful with sunshine and cotton candy-like clouds.
I thought about Didion's words today as I remembered it was September 11th while walking home from dropping the girls at school. Truth is, I shouldn't even be here. I'm pretty sure Simon is waiting for me to bring a waffle iron to the photo shoot for my cookbook. We're on day two of the set to further bring Homemade with Love to life—and to a bookstore near you next March. Yes, it's a new title, and yes, March is only seven months away. In many ways, life feels like a dream state, and while many moments the past thirteen months have felt like a nightmare, this moment—well, it's the dream Mikey and I both shared coming true.
But back to my thought, and why I decided I needed these fifteen minutes to be here, in this space to share something with all of you. I remembered how calm and still that morning was back in September 2001. It was the first anniversary of my uncle's death and I was on my way to the cemetery to meet my mother and aunt. My uncle was like a father to me, and his death was a very deep loss for me. I often look at my girls and think of how much fun he would've had with them.
I made my way to the train after the first plane hit. None of us knew what was really happening, and my thick New Yorker skin figured it was just some accident with a helicopter. I needed to be at that cemetery. Mikey thought I was crazy, but knew he couldn't stop me. As I stood outside the station waiting for the train. Mikey called me on my cell. When I didn't answer, he walked to the train station to come get me.
We spent the rest of that morning watching the horrific events take place on television. Mikey was on the roof of our building checking on something when the second plane hit. He later told me he felt the force of it. That afternoon he went out with our car and drove along Atlantic Avenue offering people rides home—all public transportation had ceased. He asked me to stay home so I would be safe, and it would also make room for one more passenger in the car.
That is just one example of the kind of man Michael was—kind, gentle, caring and selfless.
As I was packing up our old apartment recently to prepare for the sale, I came across a piece of paper with the edges burnt away. It still has a vague scent of that day. It was an invoice from Cantor Fitzgerald. The paper had scattered, along with so many others, in our yard after the towers fell, and the plumes of smoke rushed over the river towards Brooklyn. We later looked up the gentleman's name, in hopes he had survived. He didn't. Mikey kept that piece of paper all these years, and now I hold it in my box of important memories. In some way, we both felt it kept that person's memory alive and in the present.
The kindness all of you have shown this last year, writing about our story, leaving comments about how me and my daughters are in your thoughts—that keeps a little part of Mikey alive, transcending time, space and even death. I just wanted to say thank you.