Concord Grape Honey Muffins
The seasons changed here with the subtlety of a brick falling from the sky. One day we were sweltering under heat and humidity, and the next the kids were huddled under blankets. Somewhere in between we had maybe a week of fall—not too hot, not too cool, though the humidity clung tight. And during that week, concord grapes were plentiful at the farm stand.
The window for them is so brief. Blink and you'll surely miss it.
Should you still find some at the farmers' market, this Concord Grape Honey Muffins recipe is a close relative to the Blueberry Honey Muffins here. All I did was seed the grapes, and swap them into the batter in place of blueberries.
Seeding the grapes can seem tedious, but for such a small quantity here, it goes by quickly. Every year I make a mental note to try seeding some, and flash freezing to see if I can store the grapes in this ready-to-use manner, and every year I never get around to it. I do happen to have some still hanging out in the fridge, and will update here if I finally get to test this out.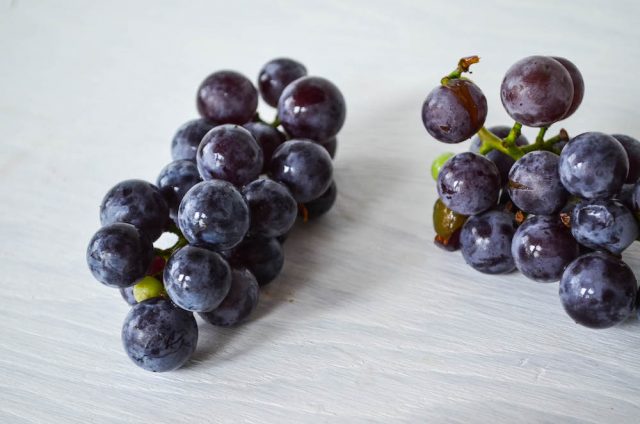 I love using this particular honey muffin recipe as a base with any fruit I have available for a few reasons
Using honey over sugar is a healthier alternative, for one. The muffins also bake up soft and bouncy. The honey helps keep them soft and fresh for a few days, too, whereas I find more traditional muffins are best eaten the day their baked.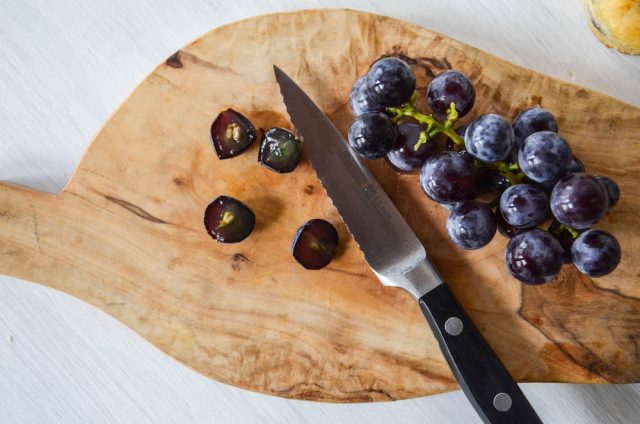 A note about the honey I use here. Any kind will do, really, but as I'm quite sure I've mentioned before, creamy churned honey offers a soft, delicate flavor. Whenever I'm out, and use regular honey, my kids can always taste the difference. I used to only be able to buy it when I went to Montreal, but I've noticed it's increased in popularity here in the U.S. (at least my little corner of the country). If you live in or near Great Barrington, Guido's Fresh Marketplace sells a great one, which I assume they buy in bulk, and package under their own label.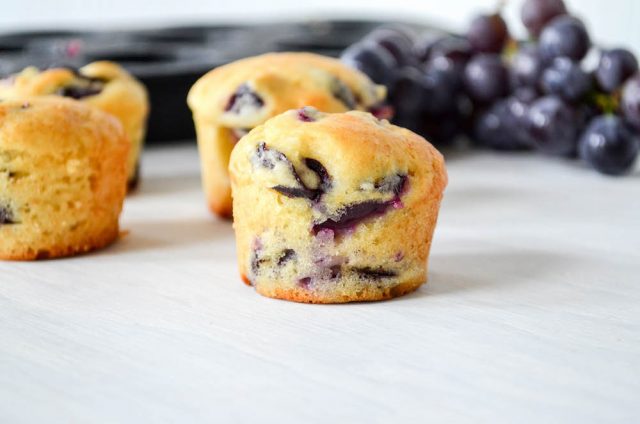 Concord Grape Honey Muffins
Ingredients
1

cup

150 grams flour

1 ½

teaspoons

7 grams baking powder

Pinch

of sea salt

¼

cup

60 ml grapeseed oil

3

tablespoons

60 grams creamy, churned honey

1

egg

6

tablespoons

90 ml milk (or almond milk)

120

grams

concord grapes

seeded
Instructions
Preheat oven to 350ºF. Grease a 6-cup muffin tin (or 12 cup mini muffin tip), or line with parchment cups.

Whisk flour, baking powder, and salt in a bowl.

In a separate bowl, whisk eggs, honey, oil and milk until blended. Pour over the flour mixture, and stir with a wooden spoon. Fold in the grapes.

Evenly spoon batter into the prepared muffin cups. Bake 25 minutes, until golden and center springs back when gently touched (you can also use the good old skewer test for doneness). Let cool slightly before serving.