chocolate snaps, and learning to cook again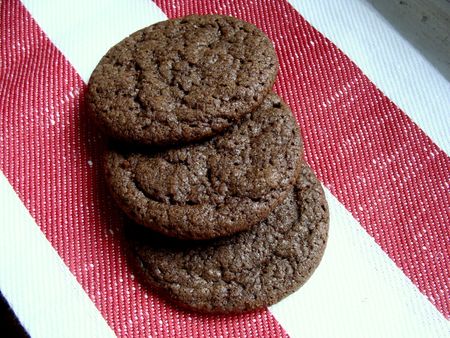 The weekends are tough. There's just no way around it. Sure I can make plans to keep me and the girls busy from dawn to dusk, but the truth is I don't enjoy running around like crazy. Saturdays and Sundays were always our time to relax as a family.
The only real plan I ever had was going to the market every Saturday morning. Thanks to some wonderful friends, I've been able to get back into that routine. I went to the market here in Carroll Gardens one week after Mikey died. I had no idea the emotions that would flood me—it was as torrential as the rain coming down that morning. As I looked about, staring blankly at tomatoes, peaches, and eggplants, tears welled up in my eyes, realizing that he would never again taste anything I cooked.
Much of my creativity in the kitchen has been on hold since August 7th. I've been cooking, but the candid, carefree nature with which I developed recipes is gone. Mikey was my inspiration, my muse and it hurts deeply to know I can't share in a meal with him anymore.
I've been trying to get back on that horse the last seven weeks. While I haven't shared any new recipes here, I have been cooking, and occassionally creating. Those new recipes are tucked away in a journal. I don't know when I will be ready to share them. There's some amazing stuff in there—a new banana biscuit cake, a variation on my concord grape muffins, a smoky zucchini & spinach ravioli dish.
And then there's my recipe for fried chicken. That's one I've kept close to the vest. Fried chicken was Mikey's all-time favorite. Sara, Maggy, Melissa, Olga, Erin and Kim can tell you just how freakin' crispy the skin is. Penny can even vouch for its goodness the day after—I'm guessing she ate it cold from the fridge, just as Mikey surely would've.
To help jumpstart my recipe development juices, I started reading through my older posts. I wanted to catch a glimpse of what it was like writing, and existing in general, while Mikey was still alive. I thought perhaps I could channel that energy, and I came across my recipe for chocolate snaps. I'm reposting it for you all to read. Both the recipe and words are very special, and reminded me that Mikey would want me to get back in the kitchen. He knew that for me, cooking was about so much more than feeding people. It was where I found my sense of self and purpose in so many ways.
Thank you to everyone for the emails, comments, tweets and amazing words of support. Here's a little peek into how the story of Mikey and Jennie first started.
***
We sipped cappucinos at a little cafe in the Villlage. It may have been my first, now that I think about it. The rain thundered down, and we decided to make a run for the Mr.'s office to wait it out before making our way home. Lightening lit up the room as it flooded through the large picture windows. Butterflies took flight and my heart raced. As the thunder roared, we had our first kiss.
I remember that evening as if it was yesterday, and while 16 years have passed, two little girls have blossomed, and for better or worse has been tested, I am lucky enough to still feel that tingle that took over my tummy all those years ago.
Our life is quite busy now, but the moment I hear the front gate open, or his key turn the lock, my heart still skips a beat, sending me back to that moment we had when I was just 21. That is the most special gift not sold in stores. That tells you this one is a keeper, the one with whom you are meant to spend the rest of your life.
I met him when I was just a girl, and he has watched me grow into a woman.
His wife.
The mother of his children.
His soulmate—not because of where we came from, but where we want to be.
In a way, he knew my dreams before I did. He certainly gave me the push to go after them.
A chocolate recipe the day after Valentine's may seem silly, but true love doesn't last just one day. It lives in every word and glance you exchange. Its life beats in the little sparks you feel when your hands brush across each other. When you love someone, what really counts is how you love each other the other 364 days. Mark this recipe a keeper— like love you want to cherish it more than just once a year.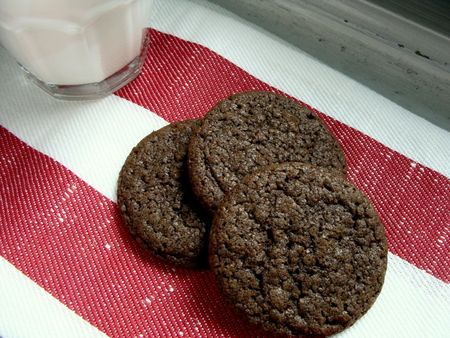 chocolate snaps
makes 90 cookies
This is the very first recipe I had published—so this is also an anniversary celebration. Ten years ago Rosemary Black from the New York Daily News contacted me to feature a chocolate cookie recipe for Valentine's Day. A few people asked if there was anything I'd change about the original. The answer is not really. I cut back a tiny bit on the sugar and have rewritten the directions slightly, but for the most part, this recipe delivered the goods just as I remembered from 10 years ago.
One new thing I've discovered is you can freeze the formed cookie dough drops, similiar to what I do with my chocolate chip cookies, so you can enjoy a plate of warm cookies whenever the mood strikes. Cold milk is optional, but highly recommended for dunking.
And if these cookies taste familiar, then you might have the same chocolate snap memory that beckoned me to develop this recipe in the first place. They were orginally made by Nabisco and even inspired this conversation on Chow a few years back. In case your still unsure if we're talking about the same chocolate snap cookie, then look at this picture and tell me if the box looks familiar.
1cup (129 grams) all-purpose flour
2 teaspoons (6 grans) cocoa powder
1/2 teaspoon (3 grams) baking soda
1/8 teaspoon (1 gram) salt
1/2 cup (86 grams) bittersweet chocolate chips
1/2 cup (4 ounces) butter, softened
1/4 cup (54 grams) sugar
1/4 cup (62 grams) brown sugar, light or dark
1 large egg, at room temperature
1 teaspoon pure vanilla extract
Preheat the oven to 350ºF. Line two baking sheets with parchment paper; set aside. In a small bowl, whisk together the flour, cocoa powder, baking soda and salt.
Place the choclate chips in a glass, microwave-safe bowl, and cook, uncovered, for 90 seconds, or until melted. Set aside to cool slightly.
In a large mixing bowl on medium-high speed, beat the butter and sugars until creamy. Add the egg and vanilla; beat for 1 minute until light and fluffy. Pour the melted chocolate into the bowl and beat for 1 more minute, until well-mixed.
Add the flour mixture, turn the mixer onto the lowest speed and mix until the flour is just incorporated. Stop the mixer and scrape down the sides of the bowl. Turn speed up to medium-high and beat for 30 seconds. The dough will look more like a thick cake batter than traditional cookie dough.
Fill a pastry bag and squeeze coin-sized dollops of dough 1-inch apart onto the prepared baking sheets. I can fit 24 cookies each on my half-sheet pans. Bake for 9 minutes, then remove sheets from the oven and let cool on the tray for two minutes. Using a spatula, transfer the cookies to the rack and let cool completely. Repeat with remaining dough, or see note for freezing formed cookies to bake at another time.
Freezer Note:
Place drops of dough onto a parchment lined cookie sheet—no need to leave too much space since you're not baking them right now. Place the tray in the freezer until cookies set, about 20 minutes. Place formed cookies in a ziptop bag and remove as much air as possible. Freeze for up to one month. When ready to bake, follow directions, adding 1 extra minute to the cooking time, for a total of 10 minutes.