Crispy Rosemary Roasted Chickpeas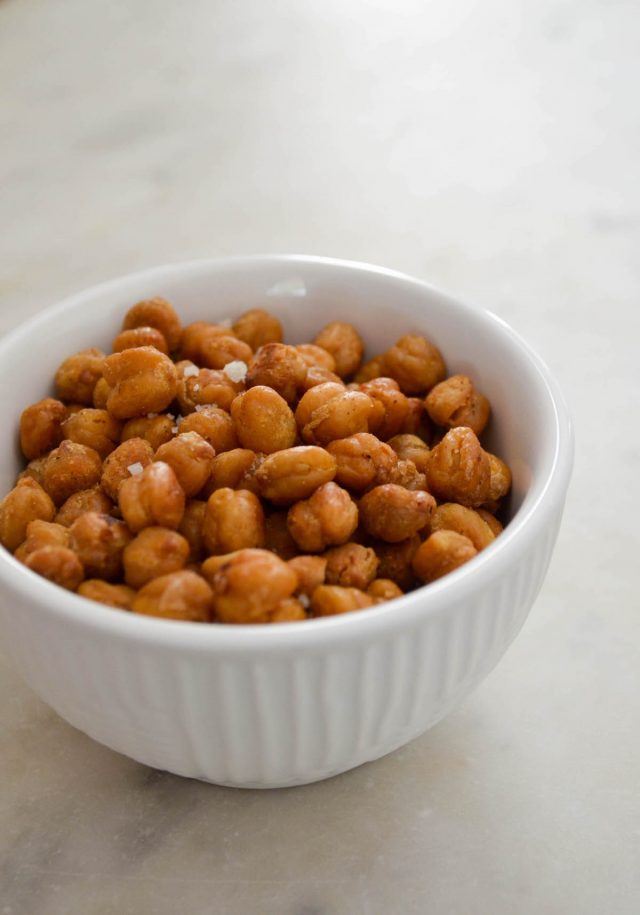 Every now and then I come out from under my rock and discover a new-to-me recipe that the rest of the world has known about, for like forever. That's exactly the case with roasted chickpeas. I heard about them for years, but it took a work project last year to finally get me making them. Those were not these Crispy Rosemary Roasted Chickpeas (but they have become a fast favorite).
Let me take a few steps back for a moment, if I may. Remember all those dairy-free and refined sugar-free recipes I was working on last year? Well, I'm excited to share more details about it now. It was an absolute pleasure to work with Tia Mowry on her debut cookbook, Whole New You: How Real Food Transforms Your Life, for a Healthier, More Gorgeous You. The official publication date is March 2017, but you can click here to pre-order it now. You'll find a killer roasted chickpea recipe in there, along with 100+ recipes that'll become fast favorites.
But, let's get back to these Crispy Rosemary Roasted Chickpeas.
They're one of the easiest snack recipes you'll ever meet, and make me think of Mikey. Me, I'd go straight for the cupcakes. Not him. He was a salty, crunch, savory snacking guy. I'd often hear him rustling through the cupboards late at night for something to satisfy his cravings. This is exactly the kind of treat he would've loved.
And you know what? I love the rosemary here, too. That herb and I have a complicated relationship. I refer to it as "that herb" instead of by name because I once told the girls my relationship with Rosemary is a delicate one, and they said, "Mommy, I thought she was one of your best friends". So, yes, I tend to distinguish between the herb and my dear friend of 20+ years. Also, the rosemary was totally Sophia's idea.
Rather than chop the needles, and mix them in with the chickpeas, I left the needles on the branches, and rubbed them with the chickpeas. It was just enough to scent the roasted chickpeas without overpowering them, a mistake I think too many chefs make in general with such an assertive herb.
One last note I'll leave you with—take the extra 10 minutes to peel the skins off the chickpeas. Rubbing them in a towel loosens them a bit, making the task a tad faster. But, trust me, it really is worth it. And if the kids like them, then you can make them work for their snack, and set them up with job of peeling them.
Are you following me on Pinterest?
You'll find all of my recipes, plus many more of my favorites there. Click here to follow.
Some boards people are loving on Pinterest.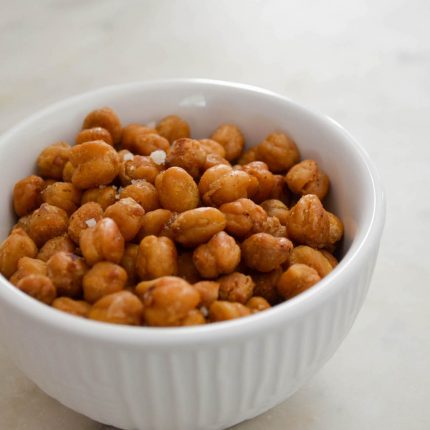 Crispy Rosemary Roasted Chickpeas
Ingredients
1

can

19-ounces chickpeas, drained & rinsed

2

teaspoons

olive oil

Sea salt

to taste

2 to 3

sprigs of rosemary
Instructions
Preheat the oven to 425F.

Add the chickpeas to a kitchen towel. Rub gently to dry them off; discard any skins that came apart from the beans. You can continue to remove the remaining skins, if you like.

Add the chickpeas to a 9-inch by 13-inch rimmed sheet. Drizzle the oil and salt over them. Add the rosemary. Stir to coat the chickpeas.

Bake for 28 to 30 minutes shaking the pan every 10 minutes, until the chickpeas are crispy and golden. Let cool, and remove the rosemary sprigs before serving. Store chickpeas in an airtight tin for up to 1 month.
SaveSave
SaveSave