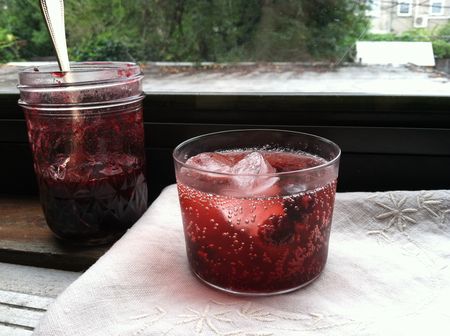 I've been intrigued by Lillet ever since Heidi posted this recipe. I've yet to try those buttermilk milkshakes, but did finally buy a bottle of Lillet a few months ago. I tried it both straight up, well-chilled of course, and as a spritzer with a twist of lime and seltzer—my lasting impression being that Lillet was not my thing. That changed last night, along with my mood, which heaven knows needed some tinkering with these last few days. I've been feeling "off" lately, like a balloon floating across an open sky, bouncing wherever the wind fancies. Try as I might, nothing seems to shake this constant sadness that tugs at my heart. Actually it wavers between sadness and anxiousness, the kind with which you wait for it all to go wrong, for your inner happiness to disappear at a moment's notice.
Grief bore down on my heart like a vice grip yesterday, and it ended with me in tears as my eyes scanned the empty dishes at the dinner table. They previously held homemade tortillas, beans cooked from scratch, and guacamole Virginia and I made together. But at that moment, while the girls were upstairs and I sat at the table staring at the extra chair that has sat empty for 13 months, all I could think was "why do I do this". The "this" being all the food I had just an hour before lovingly prepared.  Or was it really out of necessity and survival? I don't know— at that moment, all day long in fact, the idea that I've used cooking as an escape had been lingering in my mind.
Have I fooled myself into thinking all this cooking from scratch could fill the glaring void in my life? You can imagine the panic that began to set in, especially since I just handed in a manuscript about the very topic. I just wrote a book about cooking from scratch, and now I was questioning its very purpose.
And then the tears came pouring out when I realized that it wasn't cooking from scratch that I was questioning. There is no doubt that the kitchen has been my salvation. In moments where the whole world is spinning out of control, I can make my ingredients perform as expected. I can't control if my husband lives or dies when I go out for groceries, but I can make fluffy buttermilk pancakes every time guaranteed.
As I looked amidst the empty dishes at the table,  I began to remember the most important part of cooking, and that is the one ingredient my pantry seems to be running low on right now. When we enter the kitchen, we not only prepare a meal—we set out to nourish our souls and those of the ones we love. I stare at that fourth seat and my heart clings to the hope that it won't be empty forever. Unfortunately, sometimes that hope drifts into despair, and keeping my faith that this journey will lead me back to happier times is hard to sustain some days. I let my tears serve as dessert, then cleaned the dinner dishes, gave the girls a bath and tucked them in for the evening.
And then I went back into the kitchen.
Life may have handed me lemons, or in this case only half a lemon, but I'll be damned if I'm going to pucker up and go sulk in a corner. I'm not one to be beaten easily, so I decided to make a win-win situation out of that half a lemon I had sitting on the counter and the too-tart blackberries I bought at a roadside farm on my way home from Cape Cod.
The first time I learned about making conserves was in Bon Appetit last year when I read this article by Melissa Hamilton and Christopher Hirsheimer. I began making conserves out of any fruit I could get my hands on—raspberries, strawberries, blackberries, even apricots weren't safe in my presence. I had a nice little stock of jars going and then Mikey died, and my conserve-making came to a screeching halt. I must confess I threw all the jars away when I moved. The strawberries suspended in sweet syrup held no joy for me. They were made during a happier time, and I knew my heart couldn't survive a taste without wanting more…more of what my life was supposed to have in it.
Last night I decided to conquer conserves again. I was determined to make those blackberries my bitch and turn my mood around in the process. By evening's end, I found myself giggling softly as I stirred the pot of conserves on the stove, muttering to myself how silly I'd been thinking cooking from scratch was an empty escape. As I swiped my finger across the back of the spoon for a taste, I realized the conserves would be perfect for homemade blackberry soda.
After I made the soda, and poked at the berries in the bottom of my glass, I remembered that bottle of Lillet that was sitting in the fridge these last few months. And so, I went from feeling like all my work was for naught, that none of it mattered in my world, or anyone else's and emerged with not one, not two, but three recipes to share with you. That leaves the final score for today at Jennie: 3 and Grief: 1.
Blackberry Conserves
makes 2 cups
music pairing: Breathe by Alexi Murdoch
Aside from making homemade soda and cocktails, this fruity syrup is perfect for pouring on pancakes, waffles, or spooning onto a buttered baguette. I also had the thought today to make slushies with it—just add some conserves and ice cubes to a blender. I did this last year with my cherry conserves, which coincidentally is the last recipe I posted before Mikey passed away—perhaps a sign that everything really does come full-circle?
Come to think of it, this could be a great base to add to vanilla ice cream for a homemade blackberry ice cream too. Of course you can just pour it over ice cream and cut to the chase.

1 pint blackberries
1 cup (200 grams) sugar
3-inch by 2-inch piece of lemon rind (with the white pith)

2 sprigs of lemon thyme, leaves only (discard the reedy stems)
Pinch of fleur de sel
Add the blackberries and sugar to a deep bowl. Use the back of a fork to mash the berries—they don't all have to be completely mashed (I like to mash about half, for a chunky consistency).
Add the lemon rind and lemon thyme. Stir well until everything is combined and you have a juicy-looking syrup. Let the mixture sit at room temperature for about 1 1/2 hours, until it looks slightly thickened and the acid in the lemon rind and berries has mostly dissolved the sugar.
Pour the mixture into a 2-quart pot. Bring it to a boil over high heat, then reduce the heat to a simmer, with bubbles gently popping to the surface. Let it cook for 2 minutes, until the sugar is completely dissolved. Transfer to clean, sterilized glass jars and process in a hot water bath for 10 minutes for long term storage. You can alternately let the conserves cool, and store them in the fridge.
Homemade Blackberry Soda
serves one

3 ice cubes
3 tablespoons (55 grams) blackberry conserves
6 ounces (125 ml) of seltzer or sparkling water, from a freshly opened bottle
Add the ice cubes to an 8-ounce glass. Pour in the seltzer. Using a long iced tea spoon, stir in the blackberry conserves. Serve immediately, and with the spoon so you can scoop up the bits of fruit at the bottom.
Blackberry Lillet Sangria
serves one

Ice cubes
3 tablespoons (55 grams) blackberry conserves
4 ounces (125 ml) selzter or sparkling water, from a freshly opened bottle
2 ounces (62 ml) well-chilled Lillet
Fill an 8-ounce glass with ice cubes. Add the seltzer and Lillet. Stir in the blackberry conserves. Serve immediately.