7 Recipes to Make This September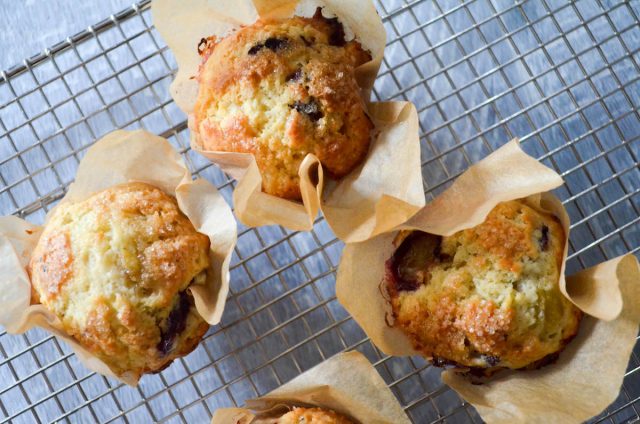 I'm still in a bit of denial that September is here. Somehow 2020 is 75% gone, seemingly evaporated into thin air. I was reminded of some favorite fall-ish recipes when I opened Instagram to see concord grapes at my favorite farm stand.
I'm saying fall-ish because by my calculations we've still got a couple of weeks left to go with summer, even if Labor Day and back to school are the unofficial harbingers of fall. If you've never made concord grape muffins then you need to remedy that stat. The season is brief—blink and you'll miss it.
Montgomery Place Orchards grows a seedless variety. Yes, you read that correctly—seedless concord grapes. You may not be that lucky, and you might find yourself cursing me as you meticulously remove ALL FOUR SEEDS from EACH GRAPE. I'm confident, though, that after one bite all will be forgiven.
I'm including a few more favorite recipes that find their way into my kitchen as September rolls around. New mamas will love the ease of homemade apple sauce. Both of my girls started solids during fall, and feeding them apple sauce I made was pure joy.
Bonus: you can use your homemade apple sauce to make these cookies!
If you grew up eating canned fruit like me, and enjoy canning or are curious about it, try my recipe for DIY Canned Pears. It's quite easy, and pulling a jar from the cupboard on a cold January day is always a treat.
Two years ago I started making my own apple cider vinegar. It's an easy, no-cook project, and might fit nicely into your homeschool or virtual school curriculum.
My other all-time favorite fall recipe to bake are apple cider doughnuts. Plan ahead since the cider needs to boil down into a thick syrup. You can do this step a few days ahead (maybe even double it so your future self will really thank you) and store it in the fridge to have ready when you want to make the doughnuts. I've only every baked these but you can also use this recipe as a springboard, and add the reduced cider, if you want to make fried apple cider doughnuts.
One last thing—and hear me out. Did you know you can make your own raisins? And that you don't need a dehydrator or fancy equipment? All it takes is patience and your home oven. Warning: it will spoil forever, and store-bought raisins will never taste the same.
Click here to read my new blog, Simmering.