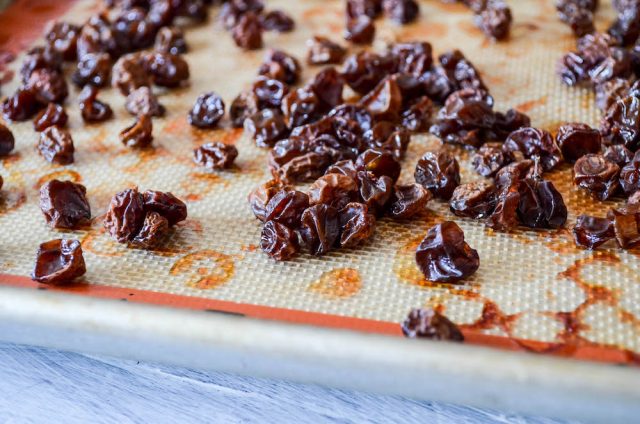 Homemade raisins. I know what you're thinking. I know what he's thinking; I see his eye roll, the funny, cute kind…the "oh my god, what is she up to now" kind of eye roll. I didn't set out to make raisins when I bought grapes from the farmstand last week, but this was a ridiculously easy way to make sure they didn't go to waste.
I came home on Saturday after being gone a few days, and the kids must've forgotten they were in the fridge (or maybe they just weren't in the mood for grapes?). After seeing this post on Instagram earlier in the day, the idea of making raisins was stuck in my head. Of course, Fabrizia was relying on the sun to get the job done. With all the wildlife in my yard, that was not an option. Perhaps if I had some protective netting and the weather was much warmer, this could've been a possibility.
But here I was, on a late Saturday afternoon, looking at a bowl of rather expensive grapes from the farm stand that felt a little past their eating prime, but still had some value beyond tossing them in the compost pile.
Why not use the oven on the lowest setting to take a stab at some Homemade Raisins?
I scattered them on a parchment lined tray, popped them into a 170F oven around 6:30pm. Peeked a few times before passing out around 10pm. Woke up at 3:00am, stumbled to the stove in the dark (um, I don't recommended doing that). Opened the oven, and they were getting there. Went back to sleep until 8am. Somewhere in between those hours the oven must've shut itself off. A safety feature maybe after being on for more than 12 hours?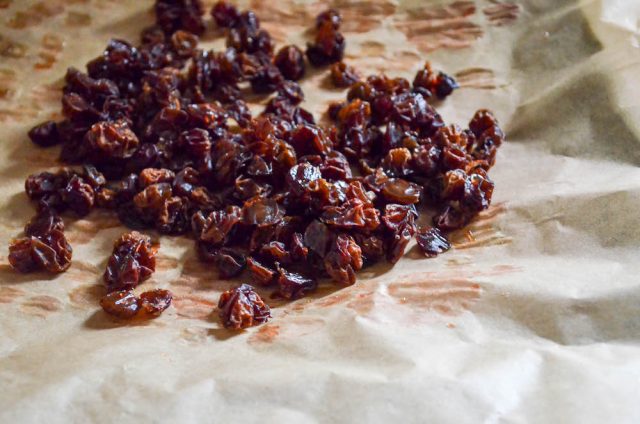 Let me tell ya folks, these are the best raisins I've ever tasted IN MY LIFE. Between the cost of farmstand raisins and propane to keep the oven going for 12 hours, they're probably the most expensive raisins I've ever eaten, too.
There's no way this is sustainable if you love raisins, but for our rather small raisin needs, this is a fun, hands off project to add to my annual preserving fiesta. Does anyone out there have a food dehydrator they love? An electric option would make more sense in some ways, but I would need a much smaller dehydrator than the ones I've seen around.
Oh, and in terms of storing these Homemade Raisins, I put them in a tightly sealed plastic container, and may store them in the freezer for a longer term option to keep them fresh. The only way my girls really love raisins is in oatmeal cookies, but I also use them in savory dishes—stews, braised vegetables, eggplant caponata, and can use them straight from the freezer in those instances. I might save this batch to use in my Christmas recipes, too. There's a stollen-like cookie I made last year from Classic German Baking, and I loved it so much. Adding homemade raisins to the dough would make them extra special.
I can also see this being a great science and math experiment with young children, for anyone homeschooling this year, or just looking for a non-device way to keep little ones entertained (grocery store grapes should work here, too). Have them weight the grapes before, and then the raisins after, then so a little subtraction to calculate how much water weight is lost. You can even try it with different variety grapes to compare the flavors.
One last note—I made two batches, because one batch was simply not enough (and I confess to having bought grapes specifically to make raisins!). The first time I used parchment paper, and it worked well enough. The juices that release during cooking did make a few challenging to peel off, more fussy than a fail. I would recommend using a silpat if you have one, as that's what I used the second time around, and there were no sticking issues at all.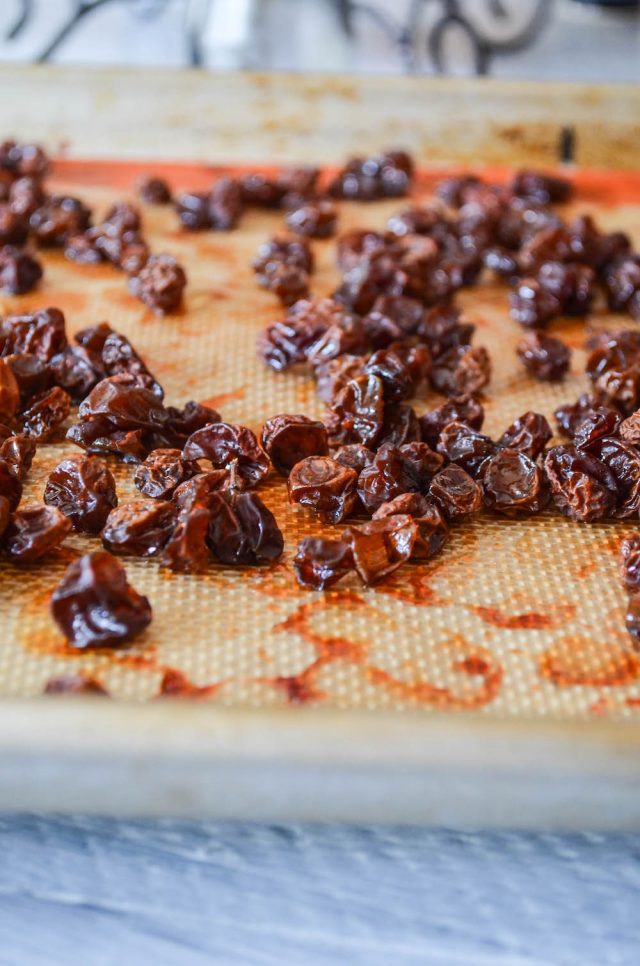 SaveSave
SaveSave