No Bake Crisped Rice Snack Bars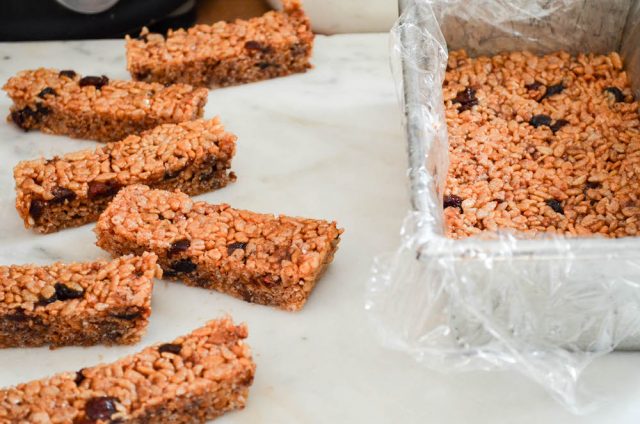 I spent Monday morning trying to prep for the week, and imagining what our new rhythms will be like once school starts on Thursday. I keep reflecting on our year of homeschooling, and it's only in the last week or two that I realize just how fast it really went by. That weighed on my mind while making these Crisped Rice Snack Bars, a treat I packed in their lunch boxes on this morning.
It was so freeing to live according to our own needs, and nurture ourselves last year in a way society's schedule doesn't allow. I saw our daughters grow exponentially over the course of these last 12 months. They are more confident learners, and more capable human beings. They're not afraid to ask questions or challenge answers.
Universities offer professors sabbaticals, a break from teaching, in which they're expected to do research that will enhance the value of their work, the object being to increase their effectiveness in teaching. But if we reach deeper to the origins of the word, it comes from Sabbath, a day of rest.
Even when we're resting, observing our faith, we're working on ourselves spiritually. The conscious act of not doing anything is actually doing something. So, why don't we value the idea of a Sabbatical as a norm? Personal development and professional development go hand-in-hand. Most people spend their whole lives rushing, without any real time to focus on their inner workings—it gets crammed into the wee hours of the morning, or we become night owls, struggling to nourish our deepest needs.
The recipe for these Crisped Rice Snack Bars is easy, much easier than wrestling all the thoughts that were on my mind while making them.
The idea for them came from the Marley Spoon event I attended last week. The staff there shared a basic recipe for DIY cereal bars which is basically 3 cups cereal, 3/4 cup add-ins (nuts, dried fruit, chocolate chips, etc.), and then a combination of sugars (both solid form i.e. cane sugar, and liquid form i.e. honey, agave, or brown rice syrup). This is my riff on that basic recipe, which ended up being dairy-free, gluten-free, and nut-free.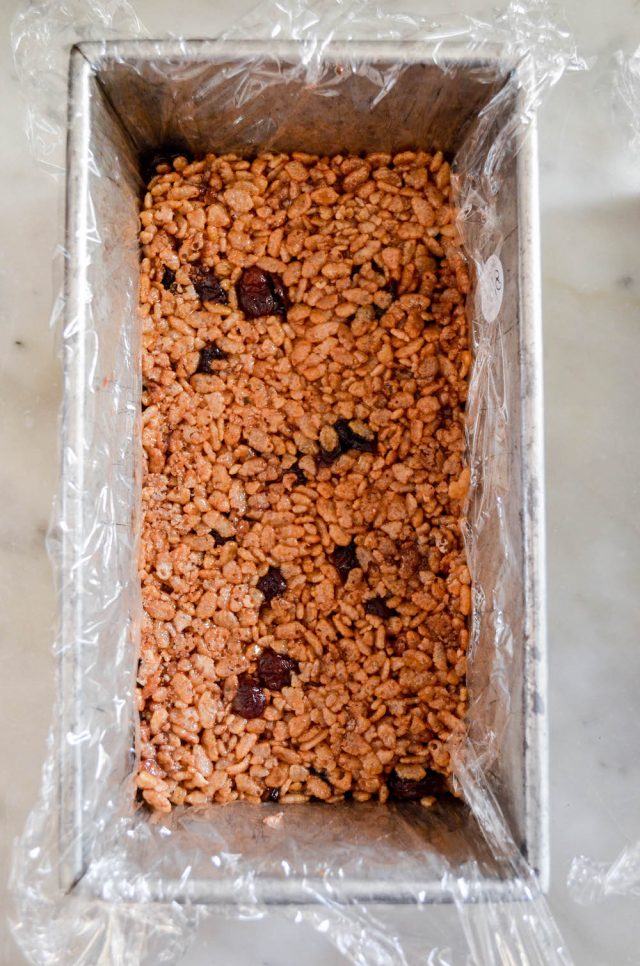 You can choose three cups of your favorite cereal, or mix of cereals, and 3/4 cup of your own add-ins, to put your own twist on them. It's a great way to use up those little bits of ingredients in the pantry, and in lingering cereal boxes (I have a strict only one cereal at a time policy because we have a tiny kitchen, and I dislike clutter).
I reduced the sugar in their recipe by half. Even at that two tablespoons feels like a lot, and in the future, I might try them with a little less, or even none, but my hunch tells me they need some of the solid form sugar to set properly. As an aside, when considering ingredients and liquid to dry ratios, sugar is technically a liquid because it dissolves in recipes. The form in which you use it affects the final outcome though, because in an application like this, melted granulated sugar will harden a bit when dried. I think coconut sugar would work fine, too, if you want to go with a refined sugar-free option.
In terms of the liquid sweetener, I chose honey for the flavor it adds in addition to it being a good binder. Brown rice syrup would be a good option if you want to make these vegan (I also swapped in oil for the butter in their original recipe). Hope everyone's entry back to school is a peaceful one!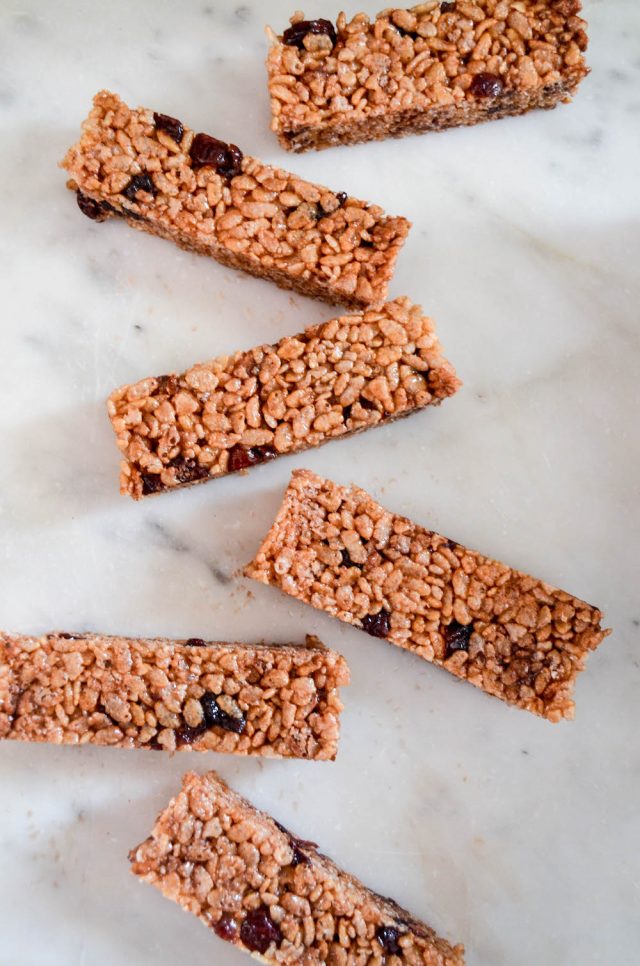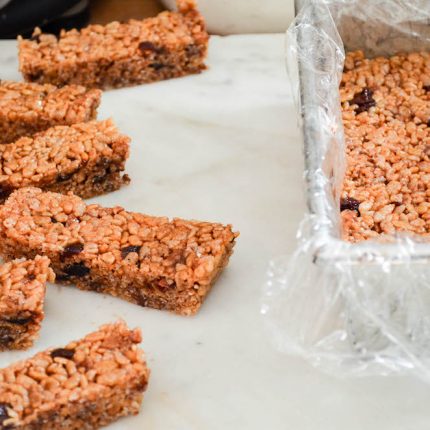 No Bake Crisped Rice Snack Bars
Ingredients
3

cups

121 grams crisped brown rice cereal

½

cup

53 grams juice sweetened dried cranberries

¼

cup

29 grams mini chocolate chips

¼

cup

canola or grapeseed oil

2

tablespoons

25 grams granulated natural cane sugar

¼

cup

80 grams honey or brown rice syrup

¼

teaspoon

sea salt

Pinch

each of ground cinnamon & allspice
Instructions
Line two 8-inch loaf pans with plastic wrap or parchment paper (honestly, plastic wrap really works best here).

Add the cereal, cranberries, and chocolate chips to a deep bowl. Stir to mix.

Combine the oil, sugar, honey, salt, and spices in a small pot over medium-high heat. Bring to a boil, and cook for 2 minutes until sugar has completely dissolved. Pour over cereal mixture. Stir with a rubber spatula until the cereal is well coated.

Divide the mixture between the prepared pans. Press down firmly into the pan (you want to really pack it in so the bars hold together when ready to cut). Let cool for 30 minutes. Cut each loaf into 4 to 6 bars, depending on what size you prefer. Store in an airtight container, or wrap individually in parchment paper for an easy grab & run snack to pack in weekday lunchboxes.
SaveSave
SaveSaveSaveSaveSaveSaveSaveSaveSaveSaveSaveSaveSaveSave
SaveSave