Salted Thyme Chocolate Chip Cookies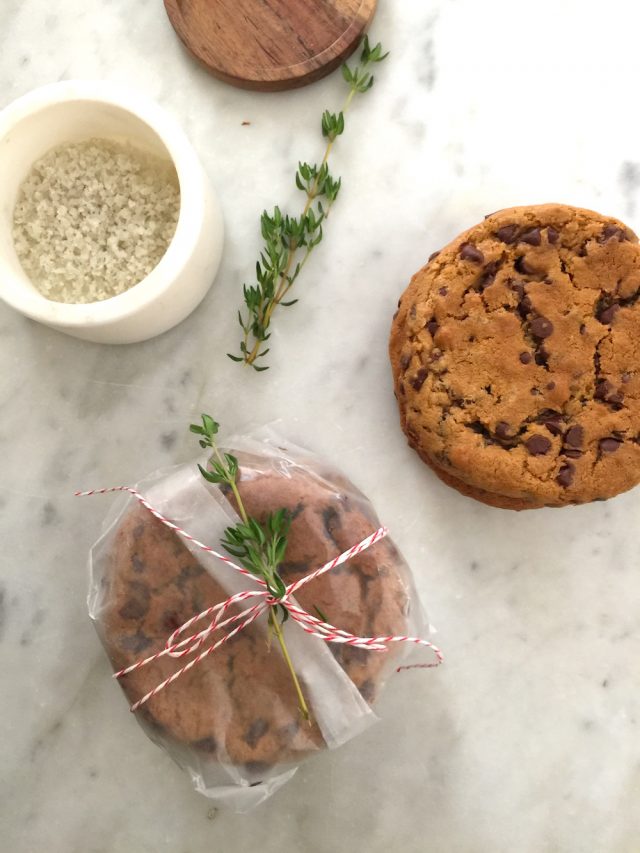 You're probably furrowing your eyebrows after reading the title of this recipe. I mean, who goes and ruins a classic cookie by adding herbs to them, right? Just trust me on this crazy combination of Salted Thyme Chocolate Chip Cookies.
I was skeptical at first, too. Curiosity got the better of me, though, when I came across this dynamic duo at the Truro farmers' market during my vacation in Cape Cod last year. I ordered one, figuring a dollar a cookie was a low-risk investment.
My first bite was eye opening. I fully expected to not like it, and half ordered it to prove myself right. Man, was I surprised at my delight. Even more surprising?
Isabella loved the salted thyme chocolate chip cookies, too.
Almost a year passed, those salted chocolate chip cookies always on my mind, yet never coming to fruition in my own kitchen. That all changed a few weeks ago. The herb garden is out of control, in a good way. I'm constantly looking for new and unique ways to use the bounty. This salted thyme chocolate chip cookie recipe is one more to add to the files.
I generally prefer a small, two-bite sized cookie. This time I went ahead and baked them two ways. My usual smaller size, and then I used an old-fashioned ice cream scoop to make larger ones. Wrapped in waxed paper, and tied with twine they made a lovely gift for the gals at the farm stand I go to in Red Hook, NY. With that in mind, you can see these cookies would be the perfect treat to tote for a weekend away if you're headed out of town for Labor Day Weekend.
Seven Years Ago: Oh, What a Glorious Morning Cake
Six Years Ago: Concord Grape Muffins
Five Years Ago: Chocolate Snaps, and learning to cook again
Four Years Ago: Blackberry Conserves
Three Years Ago: Apple Breakfast Bars
Two Years Ago: Sunday Evening Thoughts
One Year Ago: Honey Spice Cake
Here's some more recipes to make and take for your Labor Day festivities from my friends at Food Network's Summer Soiree.
Devour: A Tisket, A Tasket, 5 Recipes Fit For Your Labor Day Picnic Basket
TasteBook: Zucchini Cornbread Muffins
The Fed Up Foodie: Rustic Italian Grilled Polenta & Vegetables
The Mom 100: Artichoke, Feta and Roasted Pepper Couscous Salad
A Mind "Full" Mom: Easy Slow-Cooker BBQ Drumsticks
Dishin & Dishes: The Best Baked Beans -Slow Cooker/Crockpot
Creative Culinary: Cilantro and Serrano Pepper Mexican Rice
Swing Eats: Onigirazu: Gluten-Free Japanese Rice Sandwiches
FN Dish: Portable Labor Day Picnic Favorites (That Taste Even Better Outside)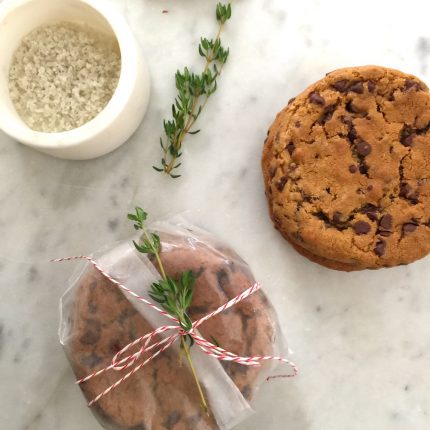 Salted Thyme Chocolate Chip Cookies
Be sure to reference the original recipe I based this one off of for important baking notes. Click
here
to see that recipe. I should also mention that I used mini chocolate chip cookies in this recipe because that's the only way Virginia likes chocolate chip cookies—don't ask, I don't understand it either! I've written it with just semisweet chocolate chips. Use what you like, or have on hand—mini, regular, semisweet, bittersweet, just go ahead and put your own spin on it.
Ingredients
1

stick

112 g unsalted butter, softened

1/2

cup

105 g firmly packed light brown sugar

6

tablespoons

90 g granulated natural cane sugar

1

large egg

at room temperature

1

teaspoon

5 ml vanilla extract

1 1/4

cups

200 g all-purpose flour

1

teaspoon

5 grams baking soda

3/4

teaspoon

4 grams fleur de sel

5

sprigs of thyme

leaves chopped (discard stems)

2 1/2

cups

470 g semisweet chocolate chips
Instructions
Preheat the oven to 350°F (180°C). Line 3 baking sheets with parchment paper (if you only have two sheets, just re-use the sheet from the first batch you bake; no need to change the paper).

Add the butter and sugars to a deep bowl. Beat until smooth and creamy. Add the egg and vanilla. Beat until well-blended. Add the flour, baking soda, salt, and thyme. Mix just until incorporated, and there are no visible signs of flour. Using a wooden spoon, stir in the chocolate chips.

Drop heaping tablespoons of dough (see note below) onto the prepared baking sheets, spacing the dough mounds 2 inches (5 cm) apart. You can also use an ice scream scoop to make larger cookies. Bake, one sheet at a time (important for cookies to cook evenly!), until the bottoms and edges are lightly browned and the tops look set, 10 minutes for small cookies, and 12 to 13 minutes for larger ones.

Let the cookies cool on the baking sheets for 5 minutes, then transfer the cookies to wire racks to cool completely.