Salted Tahini Chocolate Chip Cookies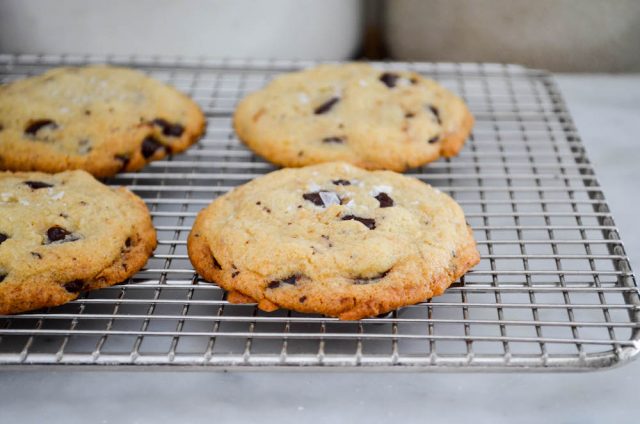 A few weeks ago I came across a recipe on the New York Times' website for Salted Tahini Chocolate Chip cookies. Intrigued, the tab for the recipe stayed open on my web browser for a few days until I finally printed it out. It then sat on my desk for a few more days, until one Saturday evening when I decided to do some night baking.
The recipe from Julia Moskin is pretty straight forward but I do have a few notes to pass on. One quirky thing I notice with a lot of recipes lately is they're written with the assumption that the reader is using a stand mixer. This vexes me.
I own a stand mixer, yet it's my hand mixer I tend to reach for more often than not. I decided to do a little Instagram poll to see how many people own stand mixers, and 87 percent of about 1000 people who responded own one. Considering the cost, I was quite surprised. But you know what? Most of those stand mixer owners confessed to using their hand mixer more, too! A diversion from the task at hand (baking these cookies), but I found this discovery interesting.
The cookie dough comes together pretty much as written, except I didn't see any need to beat the dough for a whole 5 minutes once the eggs were incorporated. Without a visual cue, why such a long beat? I found 3 minutes was enough to yield a fluffy, creamy consistency.
In terms of salt, this is where a metric measurement comes in handy, and I'd go so far as to say essential. Moskin's recipe called for 1 teaspoon of kosher salt. There's been many conversations about the two rival kosher salts on the market. I read a great article about this very topic just recently, and of course didn't save the link to share (sorry!). You can read a pretty good article here, though.
I didn't use kosher salt at all, as fine sea salt tends to be my "house" salt (amongst the five other kinds I keep on hand). I've included a metric equivalent for those that love baking by weight (and really the best way to bake in my opinion).
Last note, regarding the chill time Moskin calls for in her recipe. She directs to refrigerate for at least 12 hours to yield tender cookies. In my experience, chilling for that length of time, "aging" or "curing" as some people call it, is more about developing the flavor of cookies. Curious, I decided to bake them at various stages, making a few straight away with no-chill time, a few more after an overnight chill, and even more a day and two days later.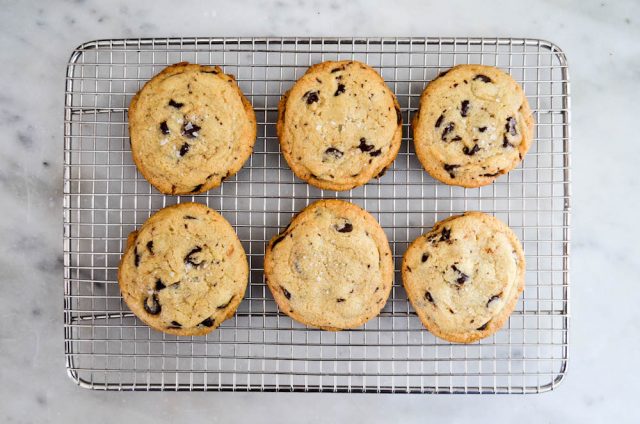 I found the results to be quite contrary. The cookies were most tender when baked straight away (no chilling). I also found the tahini flavor to be more pronounced with that initial, no-chill bake. As the dough aged in the fridge, the tahini seemed to be more subtle. Still a lovely cookie but not as assertive tahini-wise.
I also decided to use a smaller scoop to shape my cookies. I find little bites more manageable than a big, hulking cookie. I adjusted the baking time accordingly, and still found that to be tricky. The goal is to make a chewy cookie, but "just golden" around the edges took me way longer than it should've, and yielded a crisp cookie once cooled. After baking multiple batches, I found "barely golden" and "puffed in the middle" to be better visual indications of doneness to ensure a chewy cookie (don't worry, the cookie settles once cooled). I know it sounds like semantics, and perhaps I'm too much of a baking nerd, but "just golden" and "barely golden" are the difference between 1 to 2 minutes of bake time (that's at least a 10 percent deviation in overall time).
A few quirks aside (and maybe even only perceptible to me?), it's a great recipe, and one I'll be adding to my list of favorites. Hope your week is off to a good start! xx-Jennie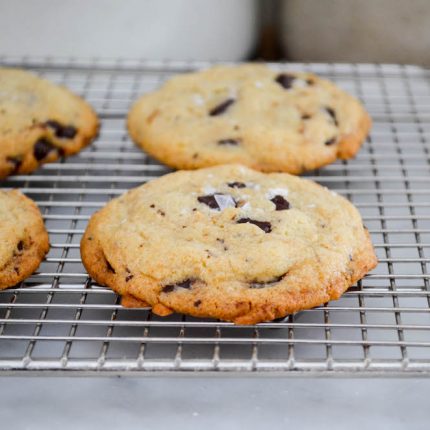 Salted Tahini Chocolate Chip Cookies
Ingredients
8

tablespoons

113 grams butter, softened

½

cup

120 grams tahini, well stirred before measuring

1

cup

200 grams granulated natural cane sugar

1

egg

1

egg yolk

save white for later

1

teaspoon

vanilla extract

1

cup

+ 2 tablespoons

150 grams all-purpose flour

½

teaspoon

baking soda

½

teaspoon

baking powder

1

teaspoon

7 grams fine sea salt

1 ¾

cups

230 grams bittersweet chocolate chips

Flaky sea salt

to finish
Instructions
Preheat the oven to 325ºF. Line 2 to 3 rimmed baking sheets with parchment paper; set aside.

Add the butter and tahini to a deep bowl. Beat, using an electric mixer, until creamy, 30 to 60 seconds.

Add the sugar, and beat on medium speed until creamy, 3 to 5 minutes.

Add the egg, egg yolk, and vanilla. Beat until thickened and creamy, 2 to 3 minutes.

Combine the flour, baking soda, baking powder, and sea salt in a small bowl. Whisk to blend. Add to the butter-tahini mixture. With the mixer on the lowest speed, mix in the flour until just blended in. The dough will be very soft.

Use a rubber spatula to fold in the chocolate chips.

Scoop the dough, 2 tablespoonfuls at a time (a cookie scoop is handy here!) onto the prepared sheet pans, 2-inches apart. Bake one tray at a time, until the cookies are barely golden around the edges, and still puffed in the center, 10 to 12 minutes.

Remove cookies from the oven, and sprinkle immediately with flaky sea salt. Let them cool on the tray for 2 minutes. Transfer to a wire rack to cool completely.

Notes: For a crisper cookie, bake 15 minutes. Dough made me made up to 3 days in advance, and baked as needed.
SaveSaveSaveSave