Into the whispering winds…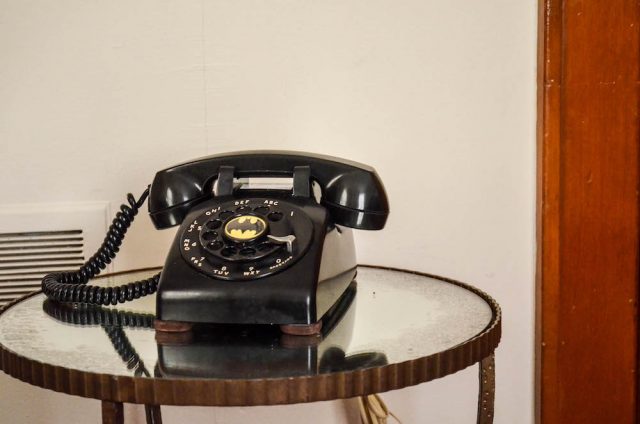 I'm in constant awe how the invisible dots of our lives connect us. Loss is unique journey, and yet the longing, the need for closure, which sometimes is really the desire to keep a connection open, is a commonality. Last summer, I was listening to a rebroadcast of This American Life. The theme was One Last Thing Before I Go, and part one was about a "wind phone" belonging to Itaru Sasaki in Otsuchi, Japan.
Sasaki set up an old English phone booth up on his property, a line connected to nowhere, the cord wrapped up and tucked behind, as a way to stay in touch with his deceased cousin. After the tsunami that hit Japan in 2011, leaving 19,000 people dead, some who lost loved ones began making pilgrimages to the phone booth.
This past Sunday, the girls and I went down to New Paltz to scour the antique center. Rotary phones were everywhere in the two shops, some even in working condition. Later that evening I was reminded of the phone booth in Sasaki's garden.
So, the next day after I dropped the girls at school, I made my way back to Water Street Market in New Paltz. Attention was paid to the little details of each phone. The way it sounded as I dragged my fingers through each hole, dialing his old cellphone. The weight of the receiver in my hand. How it felt wedged between the crook of my neck and shoulder.
Black or beige?
I settled on one reminiscent of the phone my nana had near her kitchen table when I was a little girl in Carroll Gardens, Brooklyn. Using the eraser of a pencil to make pretend calls was something I loved doing.
When I got home, I replaced the number in the center with a reminder of our real life super hero. Later that day after picking the girls up from the school bus, I shared the story of Sasaki's wind phone, then showed them what I set up in our own family room. We think the little desk in my bedroom might be a better home for it in the future. We'll see…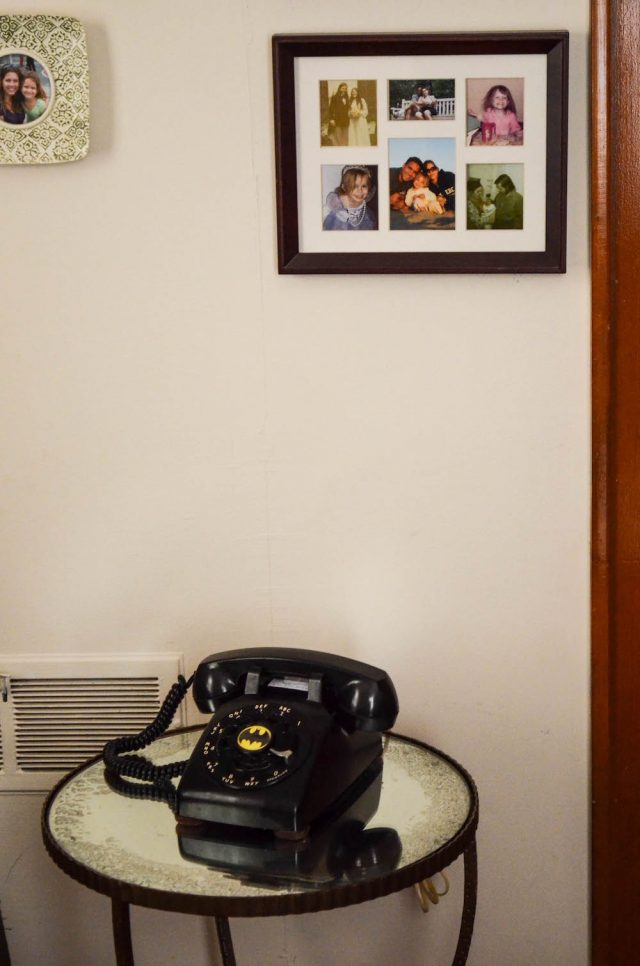 I'm not sure if the girls will ever use it. Perhaps this is just another one of my silly attempts to come to terms with my own grief, a truly impossible task. Almost seven years later I understand you never really accept it, you just somehow learn to live with it, leading a dual life of sorts, tethered between the here and now, and the past.
What is most surprising in giving the girls this gift for Valentine's Day is my own feelings about it. Knowing the phone exists provides a comfort I never expected. Death feels so permanent, so final, and yet when we hang up a call, only the verbal connection is severed. The words captured in the time spent talking bury into the burrows of our mind. Death is simply life's way of hanging up the receiver; it doesn't erase a person's existence from your life.
There are many ways I'll never be able to give our girls what they crave when it comes to their father, but just maybe a different kind of connection, a comforting one, can be built, their words carried through the whispering winds.
Listen to the full piece about Itaru Sasaki's phone booth at This American Life here.
You can also watch the original NHK World documentary about it here.
SaveSave
SaveSave
SaveSave